Date Filed

19/06/2016

Dingle, County Kerry, Ireland

Lat/Long

52° 08' N

10° 17' W

Content complete to – (Date | Place)

09/06/2016

Derrynane, Co Kerry, Ireland
<![if !vml]>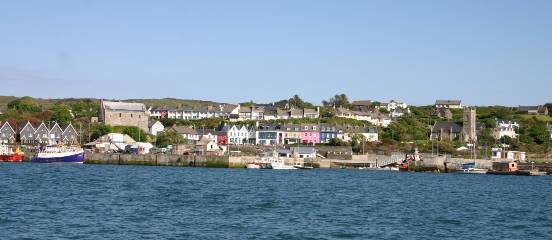 <![endif]>
Thur 2nd June.  Baltimore is the base for ferries to several islands so there was always something on the move, in or through the anchorage.  We dinghied ashore & found the shop a bit disappointing, as they were obviously awaiting stores.  We strolled around the harbour surrounded by colourful little houses & decided not to visit the 13C castle, home to a pirate exhibition!  So late morning we had hauled anchor & were weaving our way, mostly just using the genoa, between more islands, & shallows, as we crossed Roaring Water Bay.  Lunchtime we arrived at Schull Bay & picked up a mooring buoy.  9.4 nm.
<![if !vml]>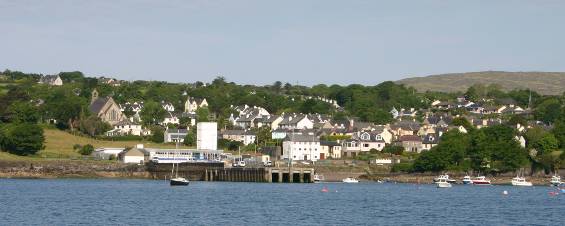 <![endif]>
Dinghy into the Harbour to pay our dues, then walked up hill to find a surprisingly large town & more facilities, so did some restocking.  Returning to the harbour we visited the local fish processing plant's outlet on the quay.  Very nice prawns for supper.
Fri 3rd June.  Dinghy on foredeck, main hoisted.  Relaxed start out through islets, just   genny working.  Then wind got lighter so engine on, genny furled.  Passed the entrance channel to Cookhaven.  Mid morning rounded Brow Head, the eastmost of 3 headlands at the bottom of the Mizzen Peninsular, then Mizzen Head itself, Ireland's most South Westerly point.  This has a most spectacular suspension bridge over a chasm between the mainland & lighthouse stack.
<![if !vml]>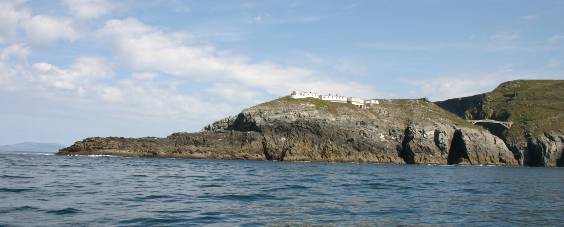 <![endif]>
Finally round 3 Castle Head well inside Doug's 11.45 am deadline which would have meant us bucking the tide & an unpleasant sea.  Across mouth of Dunmanus Bay, & round Sheep's Head into Bantry Bay.  Engine off, sailing again, poled out genny, then wind light & motorsail again.  Early afternoon anchored in Adrigole Harbour with seals cavorting around us.  28.7 nm.
<![if !vml]>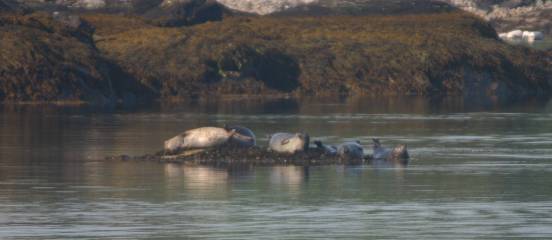 <![endif]>
We were barely anchored when an Irish Custom's Rib arrived alongside.  They were very pleasant & polite, & very pleased to be out of the Office & on the water instead.
Adrigole was very sheltered & pleasant.  The seals (grey, not the common we have at home) gathered on higher patches of mud or rock as the tide went out, & some Black Guillemots showed up.  We went ashore, but probably turned the wrong way for the village proper, but at least stretched our legs along a rhododendron lined lane, found the playing field & the church.  Later locals were kayaking & lads were jumping off the slipway.
<![if !vml]>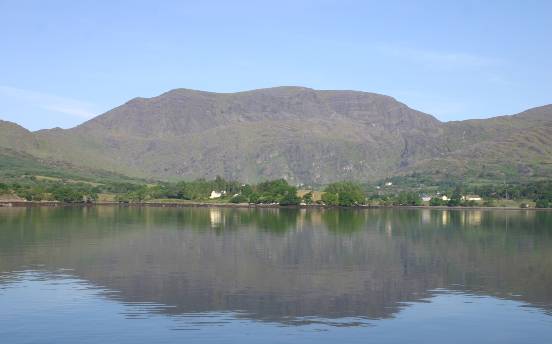 <![endif]>
Sat 4th June.  Late start, haul anchor & depart Adrigole using the seals as 'rock' markers.  Motoring as wind on nose & needed to charge the batteries.  Midday threaded our way between the rocks (again with their seal markers) into Glengarriff harbour & anchored in a pool SW of the pier.  11.6 nm.
The islets were covered in rhododendrons & it gave the impression that we were surrounded by floating oversize flowerpots.
<![if !vml]>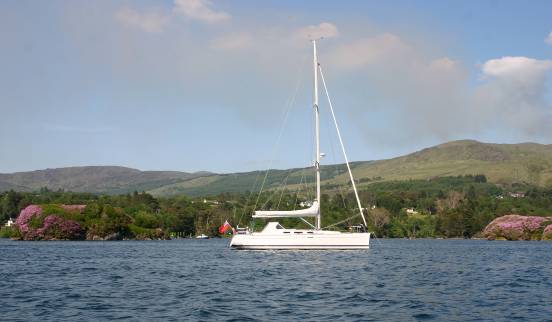 <![endif]>
That afternoon we went to look at the very busy town, followed by a dinghy tour of the harbour.  That evening a large 'Super Yacht' – "Air" – arrived, & anchored in the harbour entrance.  It came complete with a helicopter on deck & that made numerous flights during its stay.
Sun (5th June).  Took the dinghy to Garinish (Illnacullen) island to look round the house & gardens.  Developed over the last 100+ yrs by the Bryce family & their Scottish gardener the garden has its own micro climate so there are colourful displays most seasons.  Very pleasant, albeit we found the guided tour of the house rather intensive.  Drizzle started as we returned to the boat.
<![if !vml]>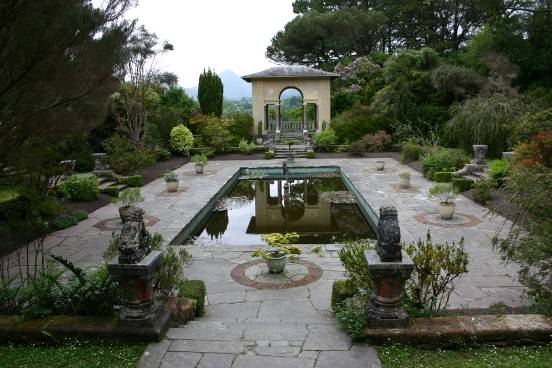 <![endif]>
Mon 6th June.  Bank Holiday in Ireland.  A prompt departure, motoring again to charge battery.  "Air" hauled anchor & departed too.  Grey & cold, lots of mussel farms on our route.  In Bantry Harbour some pontoons listed did not seem to be present/suitable so mid morning we anchored in the bay off Bantry House.  6.4 nm.
<![if !vml]>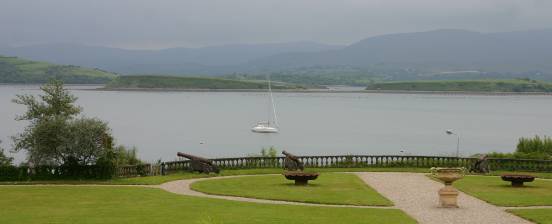 <![endif]>
Dinghy to the Sailing Club slipway & then a short stroll Tto Bantry House, much larger & grander than Garinish, but much more relaxed – wander at will with 'info' cards in every room.  The gardens were in process of restoration (& will be for some time), but having explored the formal bit we climbed 100 steps – good view,
<![if !vml]>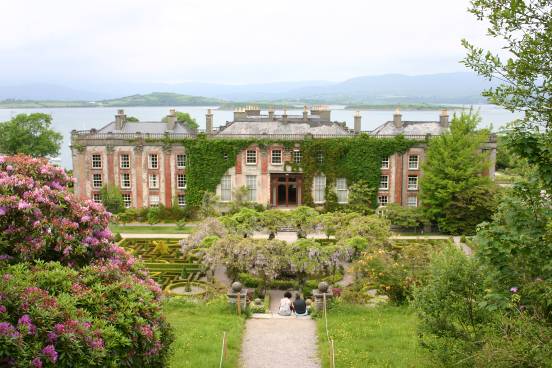 <![endif]>
then did a longer walk to find the walled garden.  Didn't realise we were there at first as it was the size of a field!
Then on to Bantry town with its drying harbour, long 'square', & further up, on the site of an old mill, a water wheel.
<![if !vml]>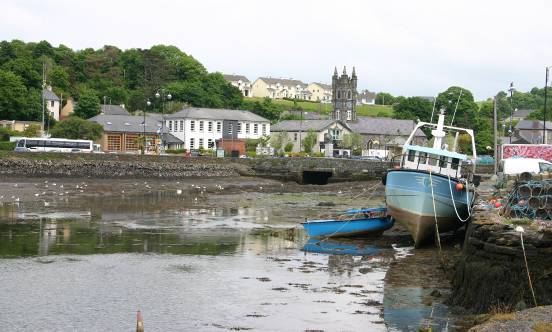 <![endif]>
Back via the Bantry House estate to the dinghy.
Tues 7th June.  Prompt departure from Bantry, a grey day, motoring in light wind, out over the shallow bar of the Southern entrance. Mid morning motoring, wind still light, Roancarrigmore Lighthouse was abeam to starboard.  An hour later we crossed paths with the outbound Rerrin ferry in the entrance channel, & once in tied to a pontoon in St Lawrence's Cove marina on Bear Island, opposite Castletown Bearhaven on the mainland.  There was a beacon marking a rock just ahead to port!  14.3 nm.
<![if !vml]>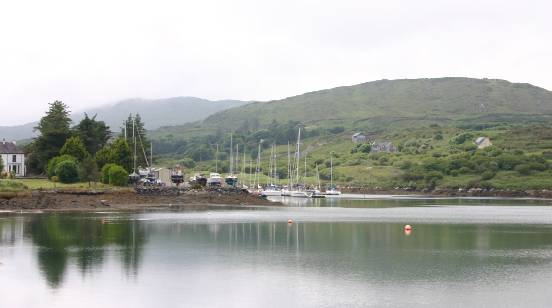 <![endif]>
N.B. Bear seems to have various spellings – Bere, Beara – presumably in translation from the Gallic.
That afternoon walked the 3 mls Rerrin loop of the Beara Way which overlooks picturesque Lonehort Bay, then round Lonehort Battery (guarded by barbed wire fences, its own moat, & some goats) on the eastern tip of the island & finally back to Rerrin & marina.
Next day (8th June) walked out westwards on the Beara Way. Various Martello towers in sight (mostly square, not round like our local ones).  At a standing stone took a path that weaved its way up the hills to the high point (about 250m) then down & up again to a signal station, & on past an amazing pond, still at around 200m, covered in water lilies, to look down on the lighthouse at the island's western tip. 
<![if !vml]>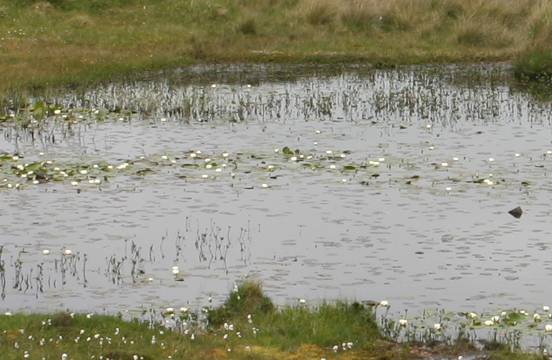 <![endif]>
We only met a few other folk, but were amused by an American lady who reckoned she had found the love of her life if she could convince him the same.  From the lighthouse the route was close to the coast to Derrycreveen Pier (the other ferry to the island) & its Lookout pub/restaurant.  After a very nice lunch they gave us a lift back to the marina, saving our legs a further 3 mls on top of the 8.1 mls we had already walked.
Thur 9th June.  A prompt departure under engine from St Lawrence's Cove.  They had a small cruise ship unloading passengers for a morning of 'island' activities & I'm sure our departure left more room for the flotilla of ribs that were doing the ferrying.  Out of the Cove we hoisted sail & by mid morning we had passed our walk of yesterday, out of Bantry Bay & past Black Ball Head.  The sea was very confused & very uncomfortable until we rounded Crow head & turned  into Dursey Sound.  This has a cable car across it linking Dursey Island to the mainland.
<![if !vml]>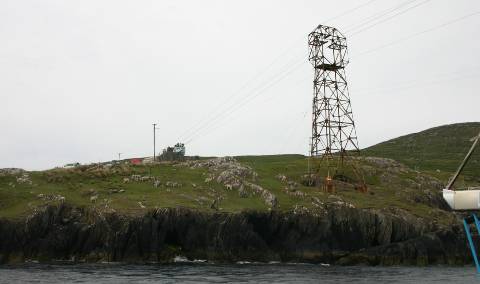 <![endif]>
This has enough clearance for us, even when the car is there, but it was even more reassuring to see the car in its station.
We also furled the genny in the narrow part of the sound to control the speed (slow down a bit!).  We crossed  Kenmare Bay, the sails came down after we cleared Lamb's Head, & we  threaded our way through the rocky entrance of Derrynane Harbour, using leading lines, into a small sheltered pool & picked up a mooring with the 'dog' rowing to thread the line, while Doug heroically hung on to it with the boat hook.  27.6 nm.
Rowed to the sandy beach & strolled to Derrynane House, once the home of Daniel O'Connell & now a museum to one of Ireland's heroes.  Surrounded by gardens, now a Historic Park, adjoining a glorious golden sand beach, no swimming because of currents for a lot of its length, it still made a nice route back.  Then across a causeway to Abbey Island with its ruined Abbey & graveyard before heading back to the boat.  It rained later.
<![if !vml]>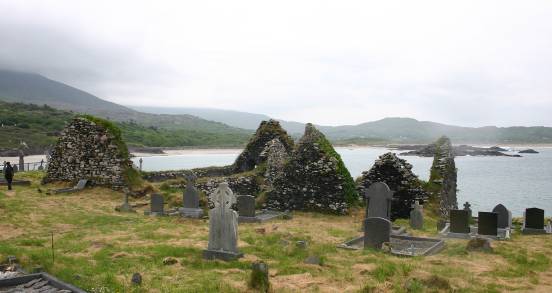 <![endif]>