Date Filed

14/06/2016

Dingle, Co Kerry, Ireland

Lat/Long

52° 08' N

10° 16' W

Content complete to – (Date | Place)

01/06/2016

Baltimore, Co Cork, Ireland
Thur 26th May. Left Scillies mooring after an early lunch, & a 'merci' to the French for the fish.  Out of the sound, the wind a nice NE 4 we hoisted sails & the boat was charging.  Tea time put some reefs in to make motion more comfortable, it didn't seem slower - the boat still bounded along.  Mid evening a large green tanker passed ahead, he altered course very helpfully to give us a nice wide berth.  As night fell the wind dropped a little, so reef out & we ran the engine to give the battery a charge for the nav lights.
27th May.  Various fishing boats about & Doug altered course during his watch to avoid a reported net.  By 9 am we were entering Cork Harbour & found a berth at the friendly & efficient marina run by Royal Cork YC at Crosshaven (several miles out of Cork city).  140.1 nm.
We had a stroll round Crosshaven, a reminder of racing days for Doug & new to me.
A misty murky evening set in so supper in the YC & an early night.
Saturday (28th May).  We bused to Cork City for sightseeing.  On an island sandwiched between 2 arms of the river Lee, it was a very lively, bustling place after our recent venues.  We were amazed to find the English Market chock full of goodies, didn't buy as didn't want to carry them around all day, but why don't we actually have markets like that in England now?
<![if !vml]>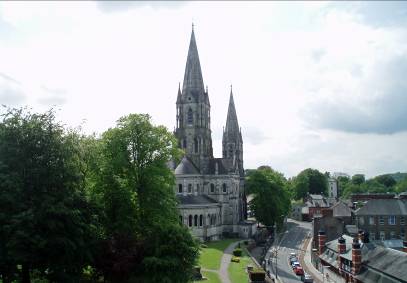 <![endif]>
Also a lot of bridges, several churches, St Fin-Barre's, Church of Ireland, Cathedral (full of history & art, extensive stained glass windows & 2 organs – one set low in a pit so as not to obscure a rose window) & an Elizabethan Fort (awaiting repairs but good for views over the City).  In our wanderings we also found a chandlers for some boat bits & a very nice fish lunch.
Back in Crosshaven it was busy with sailors packing up after racing & junior training.  It looked very well organised with good equipment & lots of keen kids.
Sun 29th May.  A mid morning departure & the racing fleets (cruisers & dinghies) & others just out for a jolly, were gathering in the bay in large numbers.  A pleasant light airs sail then around midday the wind went astern so sails furled & motor on.  Gannets were diving near headlands.  Early afternoon we arrived at Kinsale Bay with its forts guarding the entrance.  A boat left the outer pontoon of the YC marina, Doug remembered his Mediterranean skills & we shot into the space.
18.1 nm.
Behind us 3 boats were rafted & the inner one wanted to leave.  No one was on board the middle one & the outer was leaving the boat longer, had a better berth promised & didn't want to move until that was available.  Only the Harbour Master knew all the details & he was missing.  After a lot of comings & going & a considerable time delay everyone was sorted & we were left with one boat behind us.  We went for a stroll round the narrow streets of the Town, very busy with tourists & traffic, & later had a meal in one of the many gourmet restaurants, all trying to outshine each other.
Mon 30th May.  A quick sortie to restock supplies, then departed Kinsale, motoring as only a breath of wind. Rounding the Old Head of Kinsale we could see a subterranean passage through the rocky headland, & were amused to find a golf course next to the lighthouse.  Off the headland were the usual gulls, gannets, guillemots (probably with razorbills among them), a fishing boat, further out some shearwaters & offshore a passing warship.
<![if !vml]>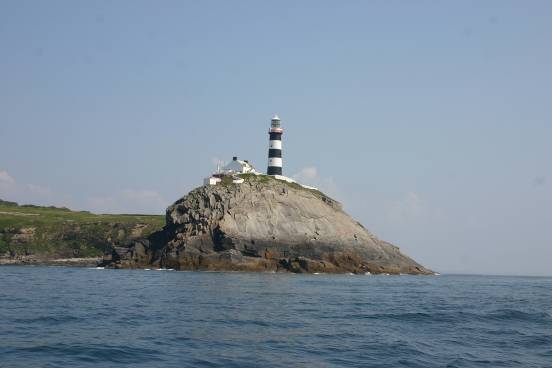 <![endif]>
The wind increased slightly around lunchtime, but stayed in the wrong direction (on the nose) as we passed Seven Head Point, then out of the blue there were 3 Arctic Skuas behind us harassing a gull.  The acrobatics were amazing as the gull used the boat's rigging as a shield & one by one the attackers gave up, leaving the gull a very woebegone looking victor. We reckoned the skuas were juveniles on migration.  Soon after, the now out of sight warship started issuing warnings of a firing area they were using – luckily nowhere near us!  Just before 3 pm a course alteration meant the wind was at a useful angle & we were sailing.  Perversely after about ½hr the wind increased rapidly so we furled the genny & latter dropped the main as we closed our destination.  Tea time as we entered Glandore Harbour mouth we glimpsed fins – there were at least 2 Basking sharks cruising.  In the harbour we picked up a mooring buoy using a long line from the stern. 32.6 nm.
[I later annotated this in the log "a Wildlife Cruise"]
Further into the harbour on the opposite shore is the oddly named fishing village of Union Hall.  Glandore itself comprised a number of large mansions with extensive gardens around them.  A lot were obviously 'holiday homes' & the village oozed affluence.
<![if !vml]>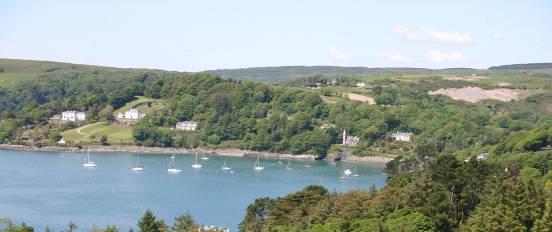 <![endif]>
We pumped up the dinghy, did some people watching & felt sorry for a squib sailor who got very wet when some heavy rain & later, thunder arrived.
31st May.  Went ashore for a loop walk to Drombeg stone circle, 17 stones & dating from the Bronze Age.  A fairly up & down route, with lovely views along the way, & few other people, except at the circle itself, which was busy with visitors. 6 mls plus 1 extra for a detour to collect a stick the blogger had left at a photo stop!
<![if !vml]>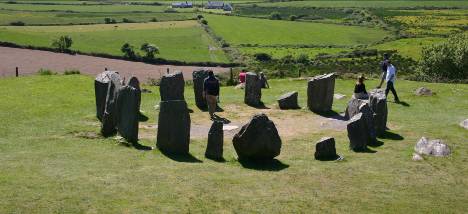 <![endif]>
Then lunch at the Pub overlooking the bay & Sugar'n'Spice.  Finally a stroll along the shore road to the little church.  Surprised to find the steps up to it led through a rock cave.
<![if !vml]>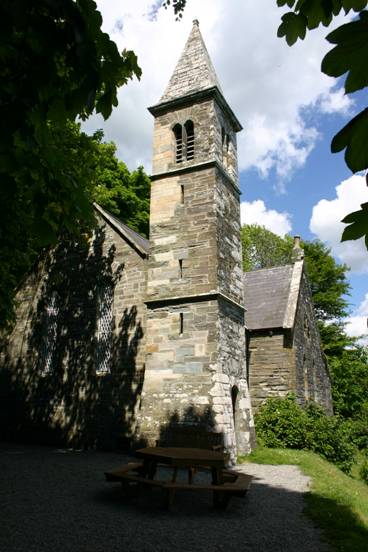 <![endif]>
Wed 1st June.  A relaxed start, just genny unfurled, threading through/round lots of islands – Adam, Eve, Rabbit, Low, High.  Slow, so Doug fished, inspired by a distant fisherman in a very small boat, with loads of gulls.  No change in our results.  Then mid morning another skua, another gull, a brief interlude which the gull won!  Late morning the wind died, the engine went on, the usual gannets & guillies off the headlands as we crept into Barlodge Creek & into a small pool surrounded by rocks, & dropped anchor.  11.8 nm.
<![if !vml]>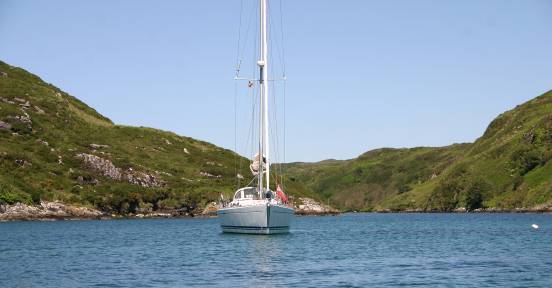 <![endif]>
Barlodge leads to a narrow channel which itself leads to Lough Hyne.  Being virtually landlocked this lake has partial salinity & slight tide & is a designated Marine Nature reserve.   It was almost high water so we took the dinghy along the channel, into the lake, picnicked on an island, then toured the lake.
<![if !vml]>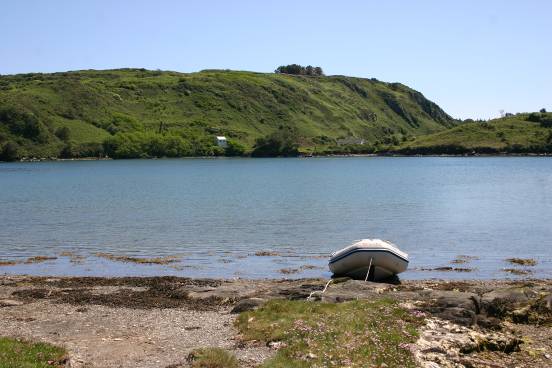 <![endif]>
There were walkers on shore, a rib sightseeing & a group of kayakers.  The tide was still rushing in through the channel, the kayaker's leader decided it was too strong for his group & they portaged the kayaks.  We had a go, but our 2 hp engine couldn't get us through so it was wait a while for the tide to slacken.  It still took us several more attempts (too impatient!) including one when another dinghy with a 6 hp tried giving us a pull, but we finally made it unaided.  During all this a crowd of youngsters had been jumping in at the seaward end for a jet propelled 'swim' through the channel – we didn't try it.
Back on board & just about to depart we saw the fins of a basking shark.
<![if !vml]>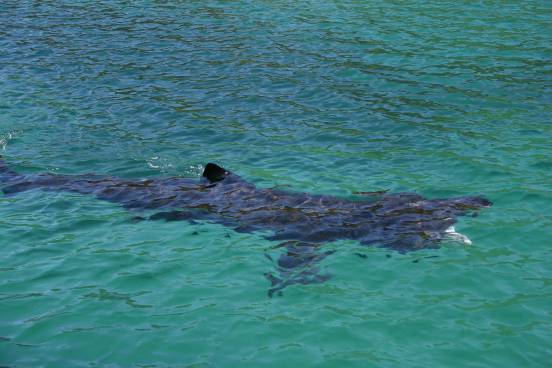 <![endif]>
It meandered around the pool & inspected the anchored boats, seemingly totally unperturbed by their presence, then disappeared out to sea.  We left too & motored along the coast to pass between Sherkin island & mainland to anchor in Baltimore Harbour.  6.4 nm.  Day total  18.2 n m.