Date Filed

06/06/2016

Bantry, County Cork, Ireland

Lat/Long

51° 41' N

9° 28' W

Content complete to – (Date | Place)

Tresco, Isles of Scilly, U.K.

25/05/2016
Sun 15th May.  An early departure (5.20 am) from the Portland anchorage.  Motoring, light wind, & just over an hour later we were round "the Bill".  Usual traffic – other yachts, fishing boats, & cargo vessel further out.  Mid morning hoisted sails as could lay Dartmouth close hauled.  An hour later motoring again with wind on nose.  Another hour, another wind shift & sailing again, quicker especially when wind picked up as we closed the coast.  Lunchtime we arrived at Dartmouth, looked for a mooring at river entrance, but difficult to id visitors moorings!  So we headed upriver to our 'regular' mooring near the Anchor Stone near Dittisham.  53.6 nm.
A lazy afternoon people & wildlife watching.  At twilight Doug glimpsed an otter, but almost immediately it departed, as a powerboat roared up river.  You may guess our thoughts!
Mon 16th May.  Another early departure (only 7 am!) down a very quiet river – very beautiful in the early morning sun.  Quite a few gannets as we rounded Start Point, then motoring switched to sailing close hauled, with a variable shifty wind.  Late morning a Turnstone came aboard for a photo shoot.
<![if !vml]>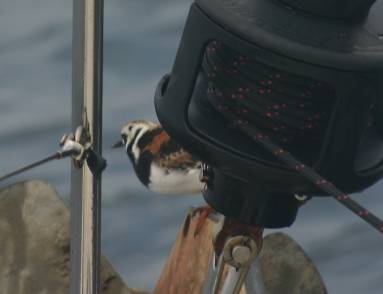 <![endif]>
It parked on the anchor at the bow, & we wondered if it was attracted by the large piece of seaweed that was hooked in the anchor!  Lunchtime we picked up a mooring in the river Yealm.  32.9 nm.
Took the dinghy to the pub at Noss Mayo for lunch, then across to the shop at Newton Ferrers. Drama as I stepped out of the dinghy to pull her ashore & my wellies leaked!  A fine still evening followed.
<![if !vml]>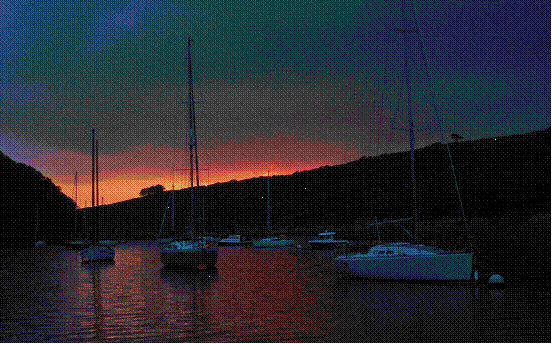 <![endif]>
Tued 17th May. A relaxed departure from mooring, motoring in drizzle.  Out over the bar 10 mins later, visibility v poor so motoring, one other yacht on same route.  Late morning into Plymouth Sound & straight through lock into Sutton Yacht Harbour Marina,  7.3nm.
We are pleased to say Sutton Y.H. have now dropped their high season double rate, which caused upset & complaints from their berth holders, staff & transients (incl ourselves).  They are again a nice marina to use.
So some chores, laundry, shopping & start a wellie hunt.
Next day we walked east on the coast path & on our return captured the wellies!
Thurs (19th May) finaI provisioning run.  In the afternoon we went on a guided tour of the Royal Citadel on Plymouth Hoe. We have never got the timing right before as it is the home to 29 Commando Regiment & one can only visit via a guided tour which are limited to 2 afternoons a week during the summer.  It was murky, making the sea views from the ramparts a bit grey, but very interesting to see all the history in a working barracks! Lots of cannons, a small 'Royal' church. & our tour were amused to see troops on fatigues running round the circumference of this fairly large area.
<![if !vml]>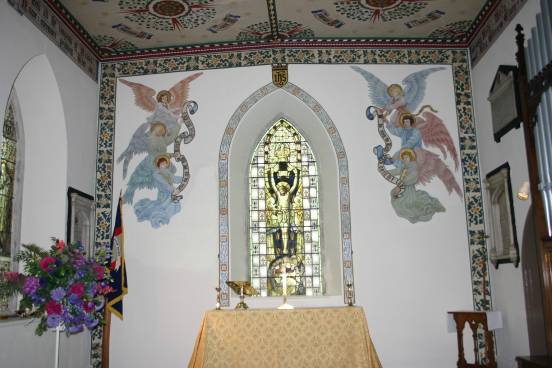 <![endif]>
That evening we found 'Platters', a very nice fish shop, lots of variety on the menu, on the Barbican front.  We were impressed when the owner allowed a group of foreign  students complete with fish & chips from next door to shelter from the rain (the murk had become rain).  Very nice of him.  We waited for a gap in the showers to head back.
Fri 20th May.  A 7 am start with the lock on free flow so only had to get the bridge raised.  Motoring, wind light & astern.  Later wind went more southerly, the main helped, so motor sailed.  Just after 10 am we were joined by 2, sometimes 3 dolphins.  They stayed an amazing 20 mins, jumping, diving & riding the bow wave.  Lucky us.  Half an hour later wind increased enough to unfurl the genny & sail, & this stayed til Falmouth harbour & lunchtime.  This time we went slightly up river  to Falmouth marina, straight on to the fuel berth to fill the tank, then to a berth.  42 nm.
This marina has a drying cill splitting it in two.  Being of deeper draft we were in the outer deeper half, it also meant a long walk (I estimated ¼ ml each way) to the shore & facilities.  Also rain started & persisted as showers during our stay.
Next day (21st May) took advantage of being north of Falmouth town to stock up (hopefully for the Scillies) in the bigger supermarkets nearby.  Then walked further north along the river to Penrhyn, a small old world township, with an harbour, & an elegant clocktower up a hill of dainty houses.
<![if !vml]>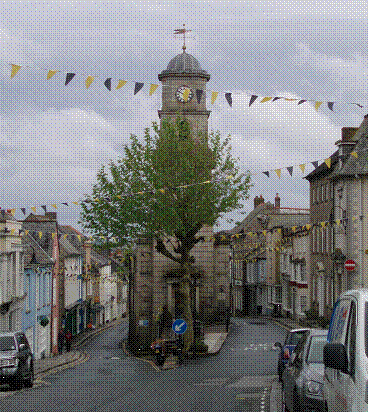 <![endif]>
Walked back from Penrhyn then supper in the marina restaurant.
Sun 22nd May.  A relaxed sail, just the genny unfurled, round to the Helford river.  Picked up mooring off Bosahan Point.   7.5 nm.
Lazy afternoon boat & people watching.
Mon 23rd May.  A prompt start (just before 8 am) motoring. Main soon hoisted & we gybed round the Manacles, with guillemots & gannets in the rough water.  The genoa went out, the engine off & we were sailing.  Mid morning very nasty overfalls as we rounded the Lizard with a variable & flukey wind.  Midday a major 'dodge' for a fishing boat, then reefs in main & genny as wind picked up, then out again as wind dropped & sea flatter.  By 4 pm we were over the shipping lane & closing the Islands.  Furled genny as we entered Crowbar Sound (bet St Mary's & St Martin's) & into the serious shallows.  It was a rising tide, & we saw Scillonia (the island/mainland ferry) leaving St Mary's.  The main came down before the drying sands, & there were lots of trip boats jostling on their way.  Then we were over & picked up a mooring buoy in New Grimsby Sound between Tresco & Bryher just before 6 pm.  58.3 nm.
Tues (24th May) took the dinghy ashore (Tresco) & went round the Abbey Gardens, full of colourful & spectacular plants from all over the world.  I remembered my previous visit, around 20 yrs earlier when the Gardens, & indeed the island, was swathed  in a damp mist & all the plants were dripping miserably.  Very different this time.
<![if !vml]>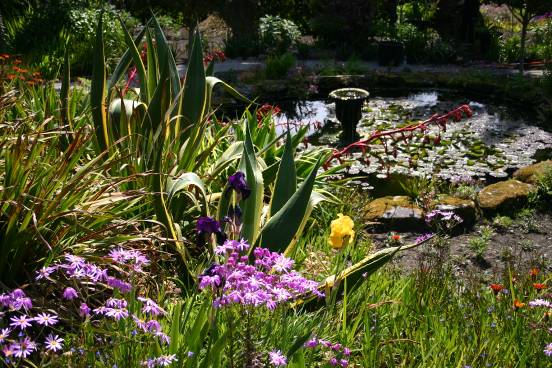 <![endif]>
Lunch at the New Inn, then a walk round the western end of Tresco taking in King Charles's Castle, in ruins on top of a hill, then Cromwell's Castle, down on the shore & well preserved.  Finally along the coast path back to the dinghy & boat.
Wed (25th May) to Bryher.  Walked the eastern end of the island's coast path, wild & rocky, round to Hell's Bay, then up Gweal Hill for a good viewpoint all round.
<![if !vml]>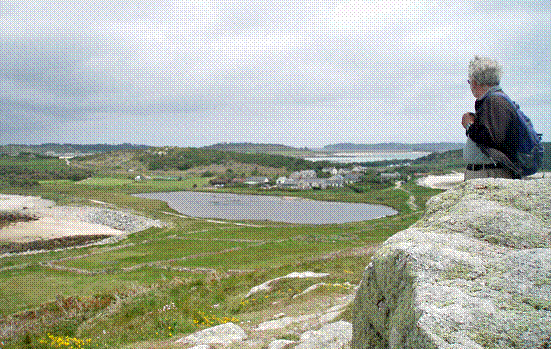 <![endif]>
Carried on across the island to the Fraggle Rock café (sustenance) & thence to dinghy & boat.  A French boat had picked up the adjacent mooring in our absence, they had fished en route & kindly offered us some.  So Pollack for supper – thank you Forzh-Relec'h.  Plus racing by the local gigs to entertain us.  Thursday morning a quick trip to the Tresco shop,  some other chores & a dinghy to stow, before departing.