Date Filed

26/05/2016

New Grimsby, Isles of Scilly, UK

Lat/Long

49° 57' N

6° 21' W

Content complete to – (Date | Place)

14/05/2016

Portland Harbour
Mon 2nd May.  Usual final loading & jobs at home then down to the Yacht Harbour for supper in the Club prior to tomorrow's departure.  Joined by friends, Richard & Cathy, to discover they were off in their yacht Brave the same direction, predictably because of tides, at much the same time.
Tues 3rd May.  8am start – not as horrendous as usual, the skipper must have got it wrong!  Not so, as Brave soon appeared & we stayed in sight of one another as we sailed our regular route south dodging over sand banks & through windfarms.  In one of these the wind dropped, the motor went on, but the wind was soon back & so we sailed.  Across the Thames estuary with N Foreland light abeam there was a major windshift & we sheeted the sails in for a beat.  Later as the wind gusted to SE 5 we put a reef in & then we were at Dover, berthed in the tidal basin with Brave next to us.  60.7 nm.
We all wandered out for supper at a pleasant fish restaurant on the front.
Wed 4th May.  A mid morning departure (tides) in company with Brave.  The usual roly poly sea outside the harbour.  Wind light & on nose so the main went up as a steadying sail & we motored.  Just short of Dungeness a string of about 10 gannets went past 'on a mission' & then we enjoyed a brief visit from 2 dolphins who rode the bow wave before they departed.  At Dungeness the wind shifted round with us staying on the nose.  There were a few guillemots about & later Doug glimpsed a porpoise inshore.  Past Hastings the tide was helping & wind dying.  Eastbourne had a problem with manning the lock, so it took over an 1 hr to get through & it was late when we tied up.  50.8 nm.
Supper at the Italian restaurant in the complex so luckily not far to go.
Thur 5th May.  Both boats made the 9 am lock & were out to sea in 20 mins – back to Eastbourne's normal service. Wind was astern so we poled out the genny & sailed.  An hour later the wind died behind Beachy Head, so we motored until clear of the headland & the cliffs of the Seven Sisters then resumed sailing.  Brave now had a different destination & they continued motoring, headed for the Hamble.  We were headed for Chichester Harbour – new water for us - & late afternoon found ourselves trying to slow the boat so we did not arrive too early on the tide so we had enough water over the bar (sand, narrow & shallow) at the entrance.  Our efforts - drop main, roll up most of the genny – do not impress the boat & she carried on at 3-4 kts regardless.  At 6.30 pm we crossed the bar & what seemed a very busy piece of water. 
Within an hour later we had anchored N of East head, with several groups of dinghies racing nearby.  55.1 nm.
Fri 6th May.  A short trip up river to Chichester marina, a brief pause at their waiting pontoon before locking in.  10:35 am & 3.4 nm.
With most of the day ahead we fired up the bikes & cycled to Itchenor. The ferry across to the Bosham side was not running (weekends only in May apparently) so we re-planned over lunch in The Ship, then followed the Salterns Way (waymarked cycle route) along mostly field edge paths to a very busy East Head overlooking our anchorage of the previous night.
<![if !vml]>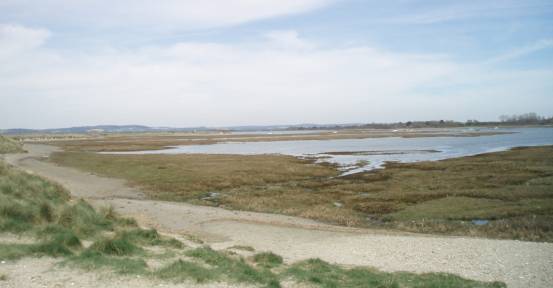 <![endif]>
Then a loop back to the marina via West & East Wittering, Medbury & Sidlesham.
On Saturday (7th May) we biked the disused ship canal, with a great variety of wildlife, into Chichester.  There we explored the Bishop's Garden, & had coffee in the Cloisters, before going round the Cathedral itself, followed by a stroll through the town & a walk along the walls.
<![if !vml]>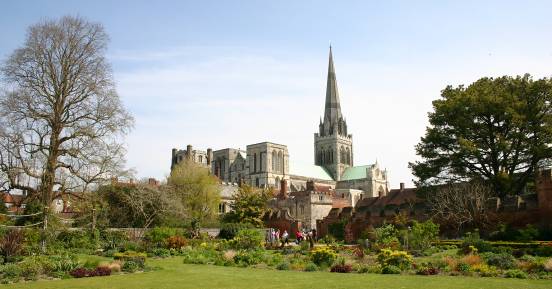 <![endif]>
Chichester seemed a very pleasant city.  Back on the bikes we followed another section of the Salterns Way out of the city via Dell Quay & back to the marina.
Although a large marina we found Chichester very nice & well appointed.
The bird life also approved, as apart from the more common water birds egrets patrolled the edges, terns dived & squabbled, & swallows sat chattering incessantly on the genoa sheets (the skipper was not too impressed by this).
Sun 8th May.  A short stroll to Birdham Pool another small marina close by, before leaving Chichester about midday as 'free flow' through the lock started.  Outside the river was very busy with all sorts of craft, little & large, & several fleets racing. Our depth meant we needed to stay in the deeper water of the channel so we motored as far as the bar.  There the channel becomes wider & we unfurled the genny.  After that traffic thinned as we headed into the Solent.  One of the 3 Solent Forts (Palmerston's Follies) we passed looked very derelict, but the others looked like they were being renovated for a second life. Then into Gosport marina, the berth seemed shallow for our depth, but they assured us it was 'soft mud' & we had no problems during our stay.  16.4 nm.
A stroll & pub supper.
Mon (9th May) Ferry across the harbour to the Naval Dockyard, Portsmouth. (Mary Rose closed while its display refurbished/updated, also Warrior).  Still plenty to do/see - toured Victory & the navy museum (with its understandable emphasis on Nelson), & the unique M33 – the sole surviving warship from the Gallipoli campaign.
<![if !vml]>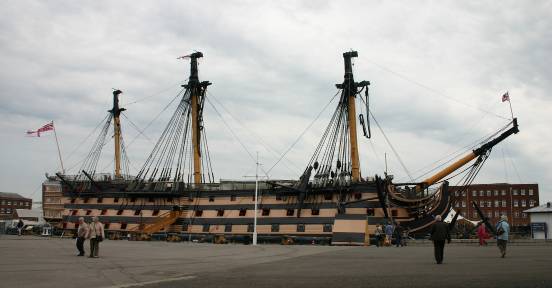 <![endif]>
A waterbus tour of the current dockyard gave us a sight of several warships & we enjoyed Boathouse 4 where all sorts of small naval craft were being restored.
Tues (10th May) grey, damp & murky.  No point in going up the Spinnaker Tower – we couldn't see it across the harbour!  So walk to Navy Submarine museum (Gosport) & tour HMS Alliance (WW2 era) & the much earlier Holland 1.  Both amazing in their own way & both very cramped.
<![if !vml]>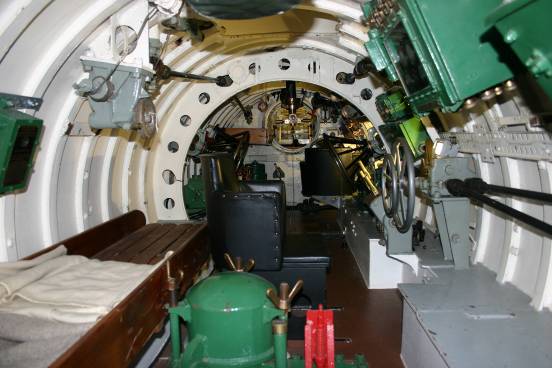 <![endif]>
Waterbus to Portsmouth, lunch & waterbus to 'Explosion', a museum at the other end of Gosport, displaying bombs, torpedoes & missiles.  Walk back to boat & then another pub supper at the Castle.
Wed 11th May.  Visibility poor with mist/murk coming & going so a late start (after midday).  Clear of harbour sailing school boats were performing antics & a large tanker was inbound.  Wind change meant a beat, then it dropped as we passed Osbourne house, & a motor as we pass Cowes & its ferries.  Wind again, a beat then fog rolled in so the engine went on & we headed straight for Yarmouth (IOW).  18.6 nm.
An exploratory stroll round the little town.
The next 2 days we did some pleasant walks.  Thursday (12th) the Yar valley loop with an extra loop S to take in Freshwater bay (cabaret of surfers & canoeists,  plus an icecream).
<![if !vml]>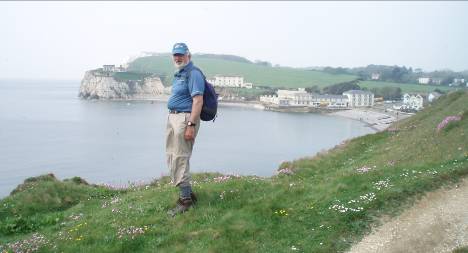 <![endif]>
Varied scenery including a bit of Compton Down & a very soggy marsh (9 m).  Some heavy rain obligingly held off until after our return.  Friday (13th) caught a bus to Ningwood then walked to Newton & back along the coast path.  Very nice, but very muddy in places. 8 m.
<![if !vml]>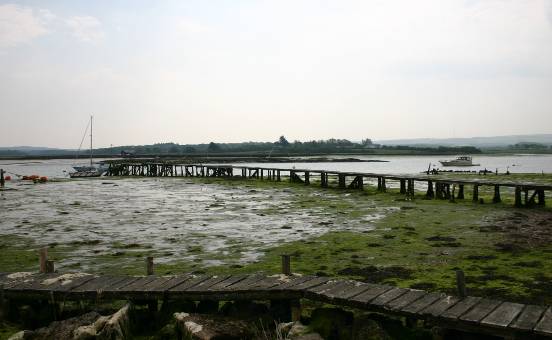 <![endif]>
We had time for a quick look at Yarmouth castle on our return.  I thought it would make a lovely residence!  Good location too.
Sat 14th May.  A 7 am start, sailing.  A BIG Aussie yacht went past, & there were a few yachts & motorboats about.
<![if !vml]>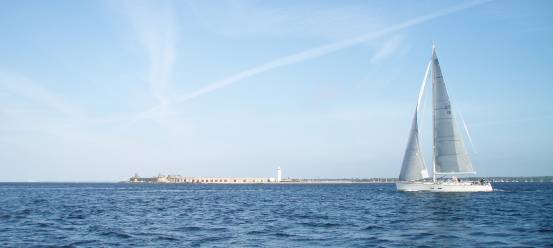 <![endif]>
Ferry outbound from Poole, fishing boats & several powerboats in convoy.  Mid morning wind suddenly on nose, then fluked in strength & direction around the clock.  Sailed almost to our destination of Worbarrow when the wind changed again, so motored the rest & arrived just after 11 am.  26.9 nm.  Boat upsetting Skipper's passage plan again.
Mid afternoon forecast has changed so leave Worbarrow for better shelter.  Sailing close hauled along the 'Jurassic' coast, past Lulworth Cove, Durdle Dor etc to Portland harbour.  Another 12.7 nm.  Day total 39.7 nm.
Very cold despite sunshine.