Date Filed

18/11/2015

At home in Ipswich, UK

Lat/Long

51° 59.7' N

1° 16.2' E

Content complete to – (Date | Place)

29/08/2015

Levington, Suffolk, UK
Sat 8th Aug.  Starting early from the Helford River we passed a huge anchored tanker, lit up like a Christmas tree, & another on the move, complementing the starlit night.
By daylight there was enough wind from astern to give a boost in speed.  There was some  shipping & a few fishing boats about.  The day continued with variable winds mostly from astern, so a mix of sailing & motorsailing, sometimes with the genny poled out.  Doug glimpsed the flash of fin of a basking shark. It was warm, sunny & very quiet traffic wise.  Early evening we were closing the French coast off L'Aberwrach & after threading our way through the entrance channels we picked up a mooring buoy off the resort.  It was 7.30pm in the evening, (8.30pm French).  95 nm.
Sunday morning we moved into the marina & did a local 'reminder' stroll.
<![if !vml]>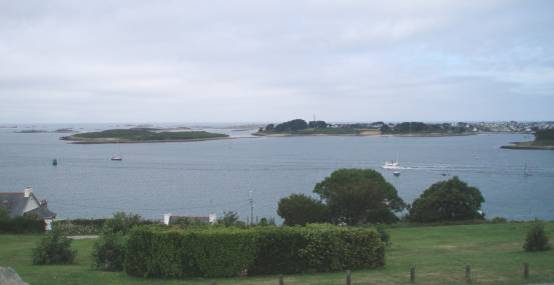 <![endif]>
In the afternoon we took the coast path west.  Unexpectedly we came upon l'Aberwrach's decommissioned Semaphore signalling station, & were able to view its exhibition.  Continuing our walk we passed some nice beaches, then turned inland through some country lanes, to Landeda, the nearest town.  Then a recently opened path along a disused train track took us back downhill to l'Aberwrach, the boat & supper in one of the many restaurants.
Mon 10th Aug. Departed l'Aberwrach using a different channel with a very tight line marked by transits, then along the coast past le Vierge lighthouse. A nice wind & the tide helping.  An old gaffer inshore looked very pretty, & was almost keeping pace with us!  We passed between Ile de Batz & Roscoff, & then crossing the Bay of Morlaix there was a flash of fins, 2 dolphins, obviously intent on fishing.  Sails down we motored up the narrow, winding & in places fairly shallow river to Morlaix.  A short wait to lock into the marina, with its fine view of the town & the spectacular viaduct looming over it.  39 nm.
<![if !vml]>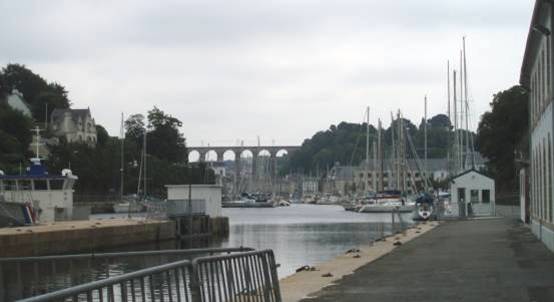 <![endif]>
A reminder walk & shop.
Tuesday (11th) we found the Tourist Office in a C16th /C17th  merchant's house complete with tower, & a 'town' exhibition.  Later in the day we walked a route they supplied through the town's narrow streets & winding alleyways. It also climbed up & down the town's hills (3 ridges divided by 2 rivers converging at the harbour) & up & over the viaduct (a level below the rail line).  It was a slightly damp day, but we both enjoyed the views & architecture that we saw.
<![if !vml]>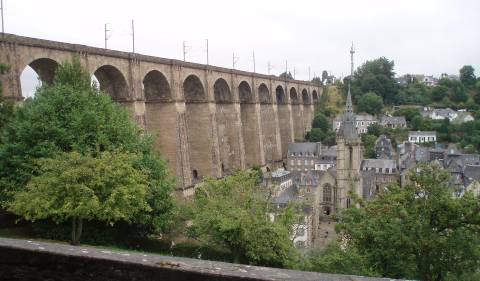 <![endif]>
Overnight there was a terrific thunderstorm.  The Gods were angry!
Wednesday (12th) we wandered the central area, treated ourselves to crepes for lunch & restocked the ship's supplies.
Thur 13th Aug.  A rather early departure to be sure of catching the single (because of the tide) morning lock.  Several other boats doing the same & by 7.20am we were through & heading downstream.  A very misty murky day with drizzle & rain later.  The wind was on the nose so we were motoring into a choppy sea, very unpleasant.  Late morning we anchored outside Trebeurden to wait for the tide to make enough to let us over their sill.  22.5 nm.
Still funny weather - wind going round the clock, drizzle, sun, murk.
As we brought the anchor up Doug pulled some weed off the chain including a large scallop.  It was alive, opening & closing its shell.  We put it in a bowl with some sea water while we tied up in the marina.  Later I looked at it, shell open which it suddenly shut with a loud crack, then it slowly opened & repeated the performance spraying me with water at the same time.  We realised that the cabin was getting showered too, so the rest is history.
| | | |
| --- | --- | --- |
| <![if !vml]><![endif]> | <![if !vml]><![endif]> | <![if !vml]><![endif]> |
The next day (14th Aug) laundry, & then we took the coast path south, winding up & down the rocky path, then we turned inland uphill to Trebeurden's upper town & supermarket.  Restocked we took a steep footpath down to the marina . (About 6mls).  Later we found a beachside resturant for supper. (Kenavo - excellent seafood menu only at weekends).
<![if !vml]>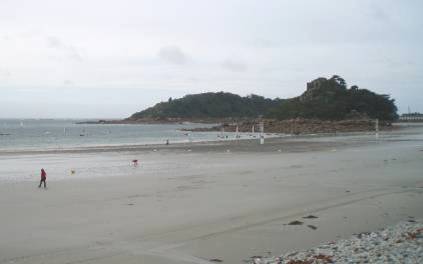 <![endif]>
Sat 15th Aug.  A mid morning departure about ½hr before the sill closed, but not too early to be battling the tide.  Initially motorsailing, then a beat up the coast under reefed main & genny until we went to full main & genny as we bore away round the headlands of the 'Pink Granite coast' with its amazing rock formations.  Across the bay from Perros Guirac we met dolphins feeding in the channel to Port Blanc, where we picked up a mooring.  26.8 nm.
Lots of people playing with boats of all sorts.
On Sunday (16th Aug) we joined in & took the kayaks to the beach, for a stroll past the rocky promontories adjoining the promenade.  Later Doug went looking for shellfish – they'd heard he was coming - & I did a circuit of the bay.
<![if !vml]>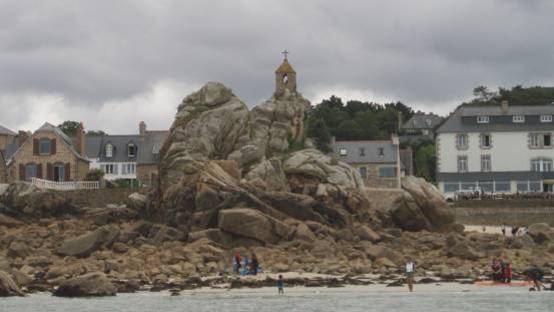 <![endif]>
Mon 17th Aug.  Another early departure, tide helping, a breath of wind, so motoring as we headed for Guernsey.  By mid morning we were passing south of the notorious Roche d'Ouvres group of rocks.  Then a spell of sailing & by mid afternoon we were tied to a pontoon in St Peter Port's outer harbour.  BST again.
Different from our last visit as these pontoons now have a walkway to shore.  More convenient as we planned to make an early start next morning & had no wish to lock into the inner harbour, but bad luck for the water taxi.  As the day progressed more boats arrived & we were rafted by another Dufour 40, Jack Richardson 2, with British owners, but berthed in Barfleur, France.  Making sure that everyone outside us in the logjam knew we wanted to leave at 7am next day (several others did too) we headed into Town for supper.
Tues 18th Aug.  Much untying of 'string', juggling boats, lots of very helpful people then ourselves & others left St Peter Port a few minutes before 7 am!
Once out of the harbour we were sailing, tide helping, heading for Alderney.  Most other boats were heading for the Cherboug peninsular under engine.
Mid morning the tide was turning against us & wind dropping so motor on.  Soon we bore away through the Swinge (channel off Alderney's west coast), furled the genny & ½hr later picked up a mooring in Blaye harbour.  18.7 nm.
We took the dinghy ashore, paid our dues & set off via an inland route to take a look at the sandy beaches (Corblets & Saye) east of Blaye.  Again plenty of people enjoying the beach, but very few swimming – water cool when we had a paddle.  Then a quick shop & back to the boat.
Next day (19th Aug).  Took a new route up to St Anne's (High Town) south past a dangerous crocodile.
<![if !vml]>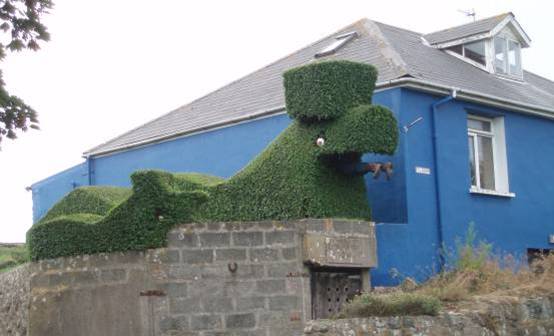 <![endif]>
We then continued across the island to look at a 2nd WW German Bunker used as a bird hide by Wildife Trust (exhibits on WW2 & wildlife!) & walk a bit of the coast path.  Then a rush back to the boat to beat the forecast rain – just got the dinghy put away before it arrived.
Thur 20th Aug.  Yet another early start (tide again) & sailing as soon as we had cleared harbour.  By 9 am we were past Cap de la Hague, with its conflicting tides & fishing boats, & going fast as the tide built in our favour.  Into Cherboug harbour (I had forgotten just how large it is) & at the fuel berth by 10.30 am.  22.4 nm.
Back to French time, a shopping trip & a seafood resturant on the harbour side for supper.
Fri 21st Aug.  The obligatory early start & a nice sunrise.
<![if !vml]>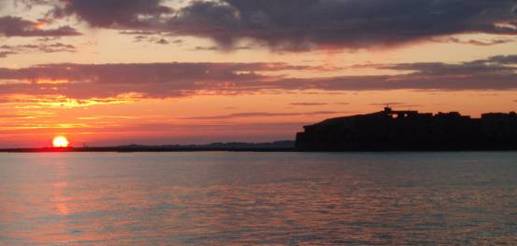 <![endif]>
Lots of yachts departing in various directions.  Wind light so some sailing, some motor & some motor sailing.  Still  early in the morning the wind died completely.  We started the engine, but could not engage gear, but luckily after a frantic few minutes Doug managed to unjam the innards.  Around midday the wind went from South to Northerly & increased, giving us lovely sailing.  We assume it was a sea breeze effect, but it was a long way from the French coast so rather unexpected.  Our original destination had been Ouistreham, but we were now way ahead of schedule & would have a long wait to lock in, only to have a very early start to lock out for our onward travel.  We changed Ouistreham to Deauville, then after further thought decided that Deauville's harbour depths might be too shallow for us, so changed that to Le Havre.  The sailing continued very nice, we had big ship anchorages & shipping lanes to thread our way through, but late afternoon we arrived at Le Havre marina & tied to a visitor pontoon.  69.8 nm.
Sat 22nd Aug.  A more relaxed start for a pleasant sail up the French coast.  Past Etretat & 'the needle' (a spectacular column in the chalk cliffs) the wind became fitful & early afternoon we arrived at Fecamp.  24.9 nm.
The marina was emptier than we remember seeing it before, but that has been fairly general this year.
Went for a stroll along the prom, & in the evening to Le Progres, one of Doug's favourite restaurants for a lot of years.
Sunday (23rd Aug) dawned wet & windy, the prelude to several days of bad weather. Midday the rain stopped, & we walked to the pierheads to look at the crashing waves, then on round the dock & up to towards the higher main town.
<![if !vml]>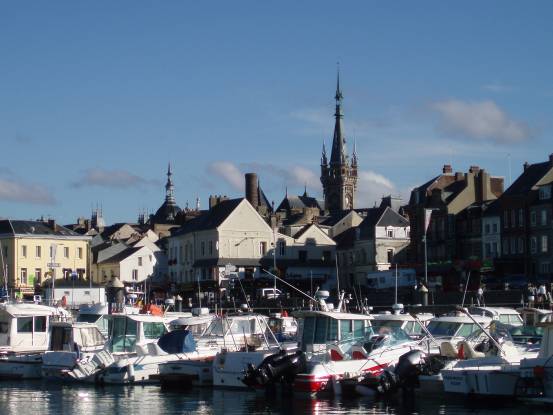 <![endif]>
Next day (24th Aug) after restocking the larder we went back to the high town to explore further & found it far more extensive than we had imagined.
The forecast for overnight was for seriously strong winds so we put on extra warps, some with springs in to lessen the shock from gusts.  It was early in the morning before the winds subsided enough for us to relax a bit & go to bed.
Tuesday (25th Aug), still windy, we climbed the headland North of the harbour, with a little chapel & links to the early aviators.  That evening Le Progres again.
Wednesday, still windy, we caught the bus to Etretat to look round the old town centre, walk the prom, climb to another chapel on a headland & ogle the spectacular column of the 'needle' from another angle.  The rain came back that evening.
<![if !vml]>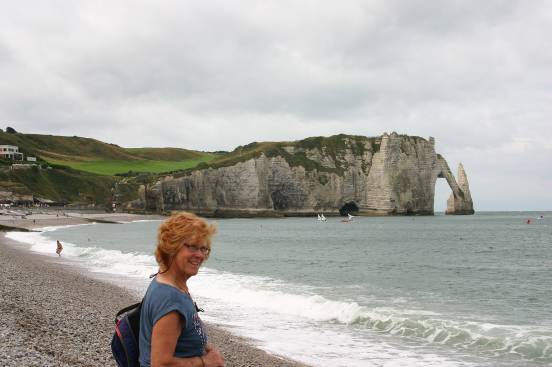 <![endif]>
Thur 27th Aug.  Still a prompt start from Fecamp, despite the miles of extra rope that needed unravelling!
The pierheads were funnelling the waves & increasing their height at the harbour mouth, but once outside the sea was surprisingly calm & the wind a mere force 4 from the SW, a good direction.  The forecast had been for the wind to decrease later in the morning, so we hoped it had quietened down sooner than expected, & hoisted full main & genny.  Wrong - an hour later the wind revved up to SW 6 or 7, the main had 2 reefs & the genny was furled away.  The boat was charging along, the sea in turmoil & very rolly.  Midday a slight course change to cross the shipping lanes, the instruments briefly showing SW 8.  2 hours later, shipping lanes crossed (inbound clear, we ducked one ship in the outbound) the wind was down - SW 6/7 again, & we let a touch out on the genoa.  Another 2 hours – now SW 4 with squalls & approaching Eastbourne marina, we took the sails down & so were through the lock & tied up by 4.30pm.  64.5 nm.
A fast & furious trip, averaging in excess of 7½ knts most of the time.  I described it to one friend as boisterous!
Again the marina had plenty of room – the weather effect?
We showered, ate out at Simply Italian (specials menu) & collapsed into bed.
Fri 28th Aug.  An early departure (6.20am lock) to take the tide up channel.  Perversely, after yesterday, the wind was light & astern so we motored.  Across Rye bay the usual scattered mix of yachts, fishing boats & distant ships was to be seen.  Mid morning Dungeness light came abeam, the wind increased so we unfurled the sails & poled out the genny to assist the motor.  An hour later we stopped the motor as there was enough wind to sail.  The wind continued to come & go, & the motor went off & on to take advantage of the tide which was still with us.
Lunchtime we passed Dover – clear of 2 outbound & 1 inbound ferry, another one inbound we ducked.  Wind still up & down, mostly associated with big black clouds.
We had hoped to link up with friends in Ramsgate, but they had had a change of plan so we headed on homewards.
Now the wind played even more games, shifting direction & ranging from force 4 to a 6 with the inevitable reef, unfurl sails, motorsail, repeating!
Late afternoon we were across the Thames estuary & among the turbines of the extensive London Array windfarm.
With the wind SW 5 as we approached the crossing point of the shallow Sunk Sand we took the sails down & motored to enable us 'put the brakes on' if we thought we were running out of water.  Safely across, the sails went up again & as we turned towards Harwich there was a most glorious & spectacular sunset over Walton-on-the-Naze.
<![if !vml]>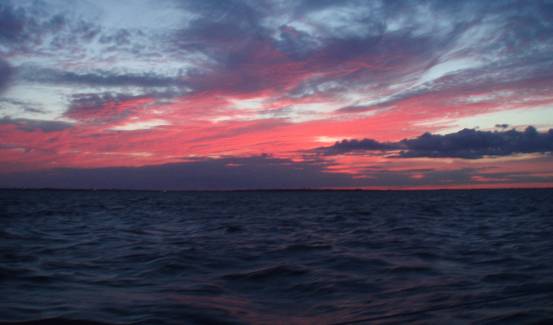 <![endif]>
Back at the Yacht Harbour our berth was occupied, with no obvious convenient alternative, so we picked up a mooring in the river.  98.6 nm.
Sat 29th Aug.  Moved back into SYH & our regular berth.
2015       Total Logged Distance for S Coast & France trip              899.6 nm