Date Filed

20/08/2015

Cherbourg

Lat/Long

49˚ 38.7' N

1˚ 37.2' W

Content complete to – (Date | Place)

07/08/2015

Helford River, Cornwall U.K.
Fri 24th July.  Good to go.  Depart SYH in the small hours, nothing changes! But forecast is dire for later in the day.
A mix of sail & motor sailing to maintain speed.  A flash of fins as we pass between the turbines of the London Array windfarm.  A very grey day as we cross the Thames estuary with the usual anchored ships & occasional yachts & fishing boats.
Unusually we didn't have to dodge ferries entering Dover harbour around lunchime  and we beat the rain which hammered down all evening & overnight.  55 nm.
Sat 25th July.  Walk to the top of the breezy White Cliffs while waiting for the tide to turn in our favour - amazing visibility with views to France.
Then a lunchtime start for Eastbourne, windy so sailing just genny at first, then plus reefed main, & as we rounded Dungeness the wind increased & went on the nose (not forecast) with a very rough 'stopping' sea so the engine went on, & we made Eastbourne by mid evening.  40 nm.
From sunday (26th) to wednesday (29th) July the wind howled.  Sunday it rained all day & we got drenched going to the far end of the marina for tea with some fellow HPYC sailors.  Still it made for a convivial afternoon on a grey day.
Monday - some boat chores & restock the larder.
Tuesday (brighter, but still windy)  Cycled inland to Mickleham Priory near Hailsham through rolling countryside using cycle routes NCN21 & Cuckoo Trail(NCN2).
<![if !vml]>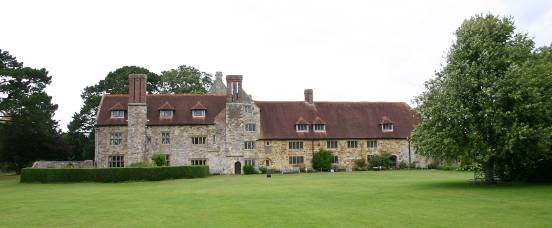 <![endif]>
A very pretty & mellow house & grounds.  Then back via a slightly different route (NCN2) to Pevensey Castle (EH) & finally NCN21 back to base.  30 miles.
<![if !vml]>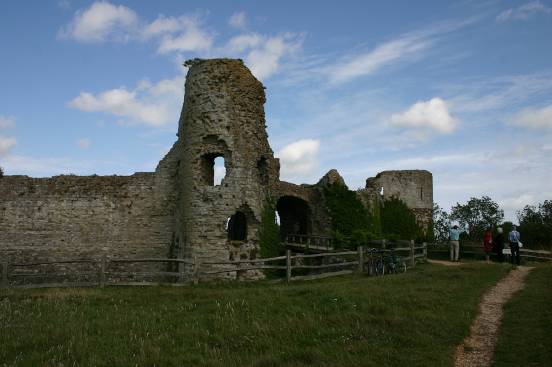 <![endif]>
Wednesday (still windy) The Dotto train along the  seafront, then walk to Beachy Head, & on along the S Downs Way via Birling Gap & the Seven Sisters to Cuckmere Haven. 9 miles mostly into a headwind – bad planning!  Then a bus back.
<![if !vml]>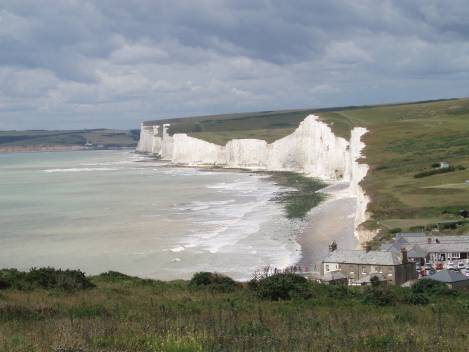 <![endif]>
Thur 30th July.  A prompt start out of the lock, & full sail along the coast. A brief spell motoring when the wind went light off Beachy Head, then perversely the wind came back, but on the nose so not only were we beating, but reefs went in & out.  Early evening we avoided the shipping heading into the Solent & dropped anchor off the pier at Sandown Bay, I.O.W.  76 nm.
The lights were on on the pier & along the Prom.
A peaceful night.  Surprising that so close to the Solent we were the only boat at anchor there.
<![if !vml]>

<![endif]>
Fri 31st Aug.  A motoring trip as winds light & on nose.  St Catherine's point abeam mid morning & nice views along the I.O.W. coast.  Early afternoon we rounded St Aubin's Head, (complete with overfalls) & where boats seem to converge.  About an hour later we anchored at Worbarrow Bay.  38.6 nm.
The beach was busier than we have seen it before with a couple of youth groups as well as some families in residence, most departed about tea time.  Very few were swimming, probably deterred as we were, by the presence of some very large jellyfish – about 18 inches long.
We had a very lazy evening in very pleasant surroundings.
<![if !vml]>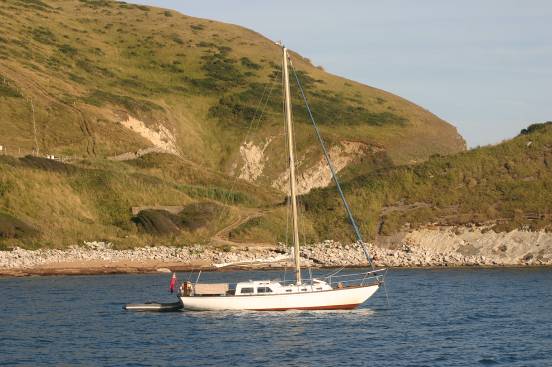 <![endif]>
Sat 1st Aug.  A prompt departure, motoring past Lulworth Cove, Man O' War Cove & Durdle Dor across the bay (more jellyfish) to Portland Marina.  12.4 nm.
<![if !vml]>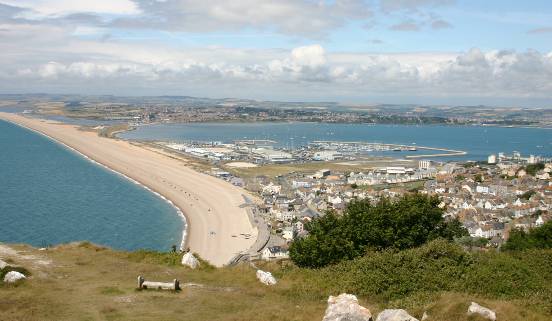 <![endif]>
Once tied up & sustained by a pub lunch we set off to walk the coast path around Portland Bill.  A very steep climb to start, but terrific views back over Chesil beach & Portland Harbour.  Also surprising to find the Bill's interior is a huge quarry!  The lighthouse at the tip was busy with sightseers & the overfalls obliged.  Heading back we cheated & after 7 mls intercepted a bus for the final section.
Sun 2nd Aug.  A relaxed departure from Portland with both main & genny reefed.  Mid morning we had rounded Portland Bill, nicely on the tide so a kind sea, then the reefs came out.  Occasional yachts, fishing boats & seabirds (gannets, shearwaters & guillemots). The sea got more rolly so we poled out the genny, until we arrived at Brixham marina around teatime.  47.9 nm.
Doug has friends in the area & they opted to come over for drinks & a chinwag that evening.  We charged out for fish & chips & were back when they arrived – a very pleasant evening, thanks Roger & Heather.
Mon 3rd Aug.  A "chores" morning – shopping, laundry etc.  Then Roger arrived to join us for a walk up the coast path to the fort at Berry Head & then for lunch at the hotel of the same name.
<![if !vml]>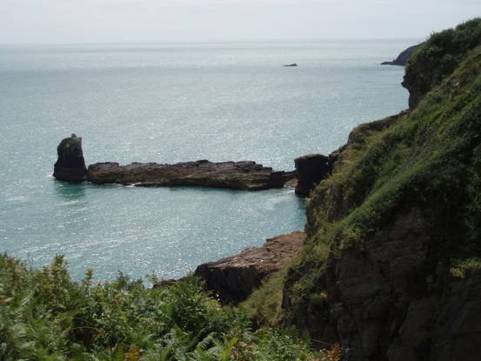 <![endif]>
Tues 4th Aug.  A mid morning departure from a breezy gusty Brixham,  with just the genny unfurled.  As we rounded Berry Head the wind increased & came on the nose so we furled the genny & motored.  It was a frisky motor with rough seas & wind F6/7 & gusting.  It became calmer as we turned the corner into the river Dart's entrance.  We headed upriver through Dartmouth dodging the various ferries, & on to Dittisham to one of our favourite haunts, where we picked up a mooring near the Anchor Stone. 13.3 nm.
A relaxed afternoon watching the world & wildlife.
<![if !vml]>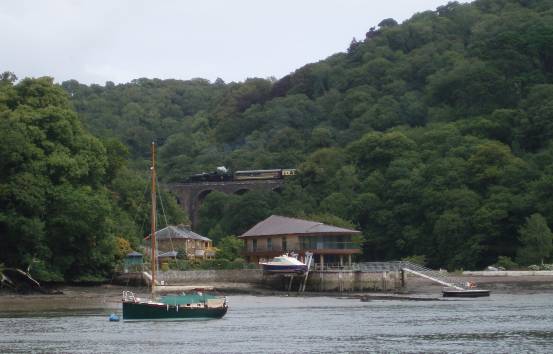 <![endif]>
Wed (5th Aug) we took the dinghy across the river to Greenways – Agatha Christie's home – now in the care of the National Trust.  The grounds, bordering the river edge, provide diverse walking from formal gardens to hilly wooded terrain.  The house itself is full of all sorts of collections made by A.C. herself & various relatives.
We then recrossed the river for lunch in a Dittisham pub.  A group arrived on the beach in a landing craft, & the cabaret was on.  By the time they had got to the pub (max 2 mins) everybody in there could see that the tide was falling & the group were stuck.  When realisation dawned on the group of mariners there were various abortive efforts to refloat the craft, all without avail, & to general amusement.  We saw them late evening passing our mooring & to add insult to injury it was raining by then!
<![if !vml]>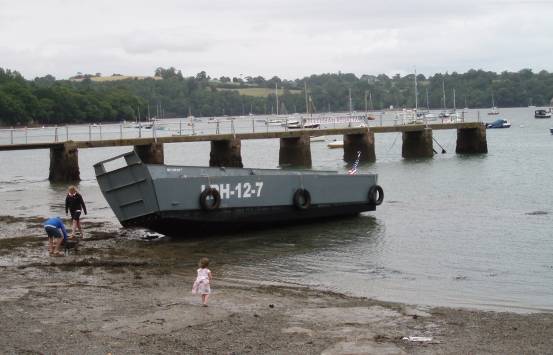 <![endif]>
Thur 6th Aug.  A relaxed start down river & through Dartmouth.  Out at sea the sails went up for a beat round Start Point.  Past the entrance to Salcombe & Bolt Head we could just lay the course, & later wind shifted & increased making us reef.  A roughish sea, then at Bolt Tail we bore away for Plymouth, arriving about tea time.  44.2 nm.
As usual we used Sutton Yacht Harbour, close to the Barbican.  We were very annoyed to find they had hiked the prices listed in the Almanac by 50% for July & Aug.  There is no mention of this until you get to the Office to pay.
Fri 7th Aug.  After restocking the larder, fuel & water tanks it was almost midday before we left Plymouth.  A pleasant breeze as we hoisted the sails in Plymouth Bay, but mid afternoon some cloud cover moved across & the wind dropped so the motor went on to help the speed.  An old 2 master crossed our track heading south. There are more yachts & fishing boats on this part of the coast than we have seen for some while.  Early evening we anchored on the N side of the Helford River east of the hamlet of Durgan.  42.3 nm.
<![if !vml]>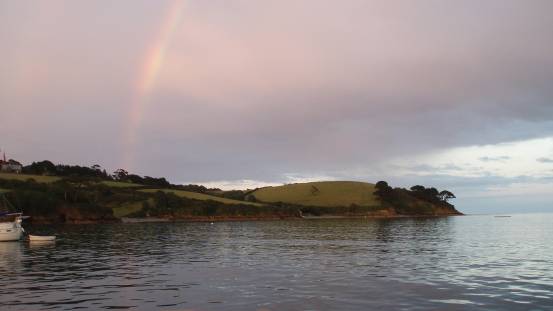 <![endif]>
A nice evening, yachts coming & going, people on the beach enjoying the sunshine.
Later a single arc of rainbow formed across the river starting with part of the arc on either shore – very curious & beautiful - & no rain with it.
Sat 8th Aug.  A very starry night (4 am), as we depart the Helford River anchorage heading for France.