Date Filed

19/10/2010

Lagos, Portugal

Lat/Long

37º 06.58 N

8º 31.31 W

Content complete to – (Date | Place)

Lagos, Portugal

15/10/2010
Friday 1st October to Monday 4th October. A longer than intended stay in Gibraltar as friends & fellow HPYC members, Cathy & Richard Brown were able to join us at short notice. We did the 'obligatory' shopping trip to Morrisons to stock up on English goodies – crunchy apples, Branston pickle etc - & visited some new (to us) sites including the 100 ton gun & the very interesting museum. Richard & Cathy arrived on Sunday in windy weather & after walking them across the runway to the boat & lunch we left them to do a 'Rock' tour while we walked up to the Apes den to see the 'cousins'.
<![if !vml]>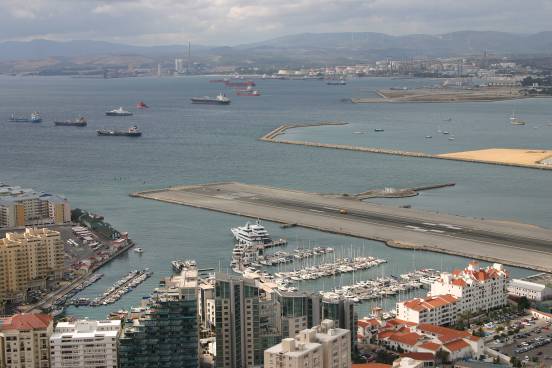 <![endif]>
Monday was another windy forecast, so we all had another day amusing ourselves in Gib  before an early start on Tueday 5th October. It was still dark so we were dodging the ships at anchor & on the move in the harbour, then the sun rose behind the Rock. We could see across to Africa & there were generally more ships & yachts than we have recently been used to, & also that very strange thing, tide, initially against us & then turning to speed our progress.  Soon after 9am we were past Tarifa, out of the Straits & in the Atlantic proper. The water was green not Mediterranean blue, the wind light & variable, so more motoring except for one brief flirtation with the sails, & we saw the occasional flying fish & gannets. Early afternoon the military were playing war games on the approach to Barbate. Another 'surprise' – pontoon moorings, which we have almost forgotten about. 36nm.
Later we got a taxi to the white hill town of Vejer, with its picturesque church, tiled fountains & winding stairways & lanes.
<![if !vml]>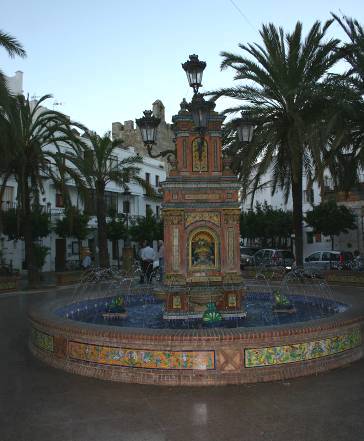 <![endif]>
Wednesday 6th October. A promptish start from Barbate initially motoring to round the spits & shallows guarding Cape Trafalgar. A brief sail, another motor then a very pleasant light wind sail, almost close hauled, along the coast to Cadiz, where we moored in Puerto America marina.  35 nm.
Thursday we all rushed into Cadiz, us to source gaz refills, Richard & Cathy with a shopping list for the supermarket. Both enterprises immediately went wrong as everywhere was closed for a local, Cadiz only, fiesta, to the Virgin del Rosario. So it was on to sightseeing & a visit to Torre Tavira, with its camera obscura giving fantastic views in every direction of the town & its surroundings.
<![if !vml]>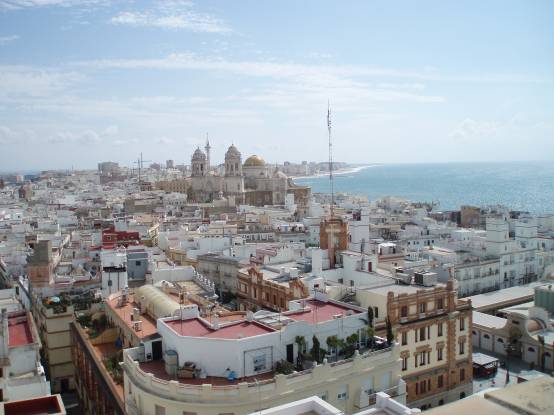 <![endif]>
Friday 8th October. A mid morning departure for what turned in to a fairly speedy sail, with lots of tide assisting. The only downside was seeing a very large dead turtle float by. Arrived at Chipiona around lunchtime. 19 nm.
Siesta time over (shops reopen) we set off on what turned into a marathon to find the elusive gaz bottle shop. The mission was finally successful despite several wrong directions (from other people) & several wrong turnings (our lack of language fault). Doug thought he should have worn hiking boots, not deck shoes!
Finally supper in a very nice harbourside resturant.
Overnight there was thunder & lightning, rain & wind.
Saturday was a day for provisioning, after the overnight rain cleared, & sightseeing.
<![if !vml]>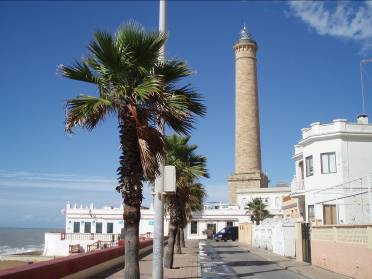 <![endif]>
The sea was breaking over the walls of the promenade & threatening to engulf some of the beach cafes. The showers & wind came back again overnight.
Sunday 10th October. Our visitors left for the 10am bus to Jerez, with a flight home booked for Monday. After seeing them off we looked at the harbour entrance as it was near low water, decided we had made the right decision not to move, did some jobs around the boat & stretched our legs along the prom, where the sea was still climbing the walls. It rained solidly all evening.
Gannet interlude. Early in the morning a young (all dark plumage) gannet was floating around in the harbour, very unusual but we assumed it was 'shell shocked' from the previous night's storm. Late morning it was still there & we realised it had some fine fishing line entwined round its head, beak & neck.
<![if !vml]>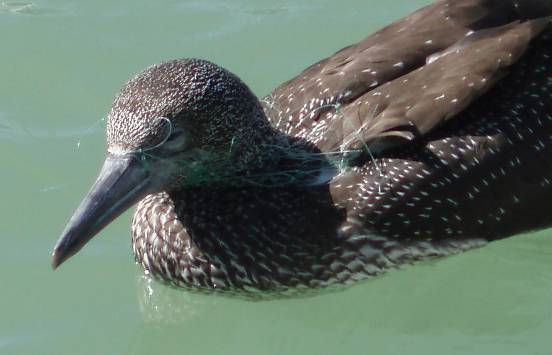 <![endif]>
Armed with our bird book I went to ask the office if there was anything they could do. Everyone was referring to the 'cormorann', & I realised we are lucky as these birds are mostly seen offshore & not by those who do not go to sea. Finally they rounded up the security man 'who likes birds' to help. We were not around to see what happened, but that evening it was 'parked' on a pontoon, & the line had been removed. Next morning as we were about to leave it was preening & someone had left some crabs nearby (I think fish would have been more appreciated, but the thought was there), so we hope it will survive. It is good to know that other people also wish & are willing to help wildlife.
Monday 11th October. Departed Chipiona at first light & started sailing as soon as we cleared the harbour entrance. There was still a big swell so it was fairly energetic, but quick, & the tide was with us. There were a lot of fishing buoys & boats about, but only the occasional ship. Early afternoon the wind dropped & the engine went on as we were heading for a harbour that it is unwise to enter once the ebb is running & did not wish to arrive late. In less than 2hrs we were sailing again & needed to reef for a sudden squall as we neared our destination of Ayamonte, 3nm up the river Guardiana,  the border between Spain & Portugal. We had made good time, arriving late afternoon & averaging over 6 knts/hr for our logged 52 nm passage.
The marina staff confirmed that the bridge over the Guardiana has a height of 18M, so it is too low for our air draft of 19+M.
Went for an evening wander round the town, which had 2 large churches with floodlit belltowers.
Tuesday 12th October. Another early start, this time in the dark, & again to beat the tide. Almost out of the river the prop kicked wildly, it had obviously hit something, which our usual ploy of hard astern didn't cure as the boat speed was down ½ a knot. We pressed on until clear of the river shallows & as it became light we could see we were trailing a large lump of plastic sheeting. It was too deep to reach with the boathook, but fortunately we cut the engine while Doug contemplated diving to clear it & it dropped free. Very lucky. We were now in Portugese waters & it was an hour earlier (time zones), with very light wind so motoring. Mid morning we detoured around a huge set up of fish farm & tunny nets, then entered the chanel leading behind Culatra  island near Olhao & Faro, & anchored behind the island. 31 nm.
It is very reminiscent of some of our local waters, & we had a relaxing afternoon watching fishermen, other boaters & the local wildlife.
Wednesday we took the dinghy to Ilha Culatra & walked across the dunes to the sea edge – a beautiful sandy strand. We encountered a gecko ambling on the dunes & watched it change colour to match sand or shrub.
<![if !vml]>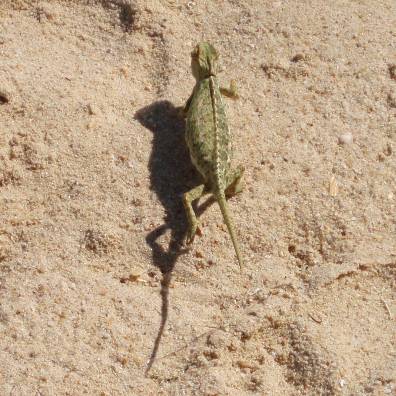 <![endif]>
Thursday 14th October. Departed the Cutatra anchorage & with alight wind on the nose motored along the Algarve coast. Late morning the wind freed enough for us to have a couple of hours gentle sail until we came to Portimao. There we anchored in the bay opposite Portimao, & close to Forte de Sao Joao. 36 nm.
<![if !vml]>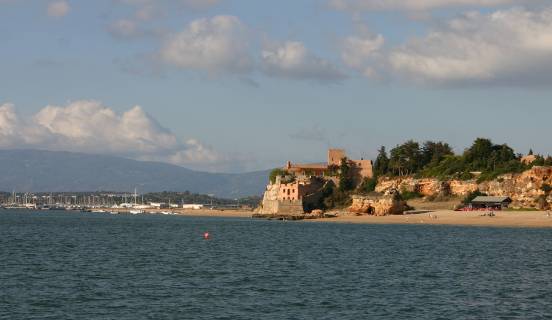 <![endif]>
Friday 15th October. A short 'motorboat' ride in a flat calm sea along to Lagos. Shoals of sardines were jumping at our passing. 7.5 nm.
Arriving mid morning our first job was to visit the boatyard where Sugar 'n' Spice is to spend the winter. They had us 'in the book' so we then started on the chores that go with lifting out.