Date Filed

03/10/2010

Gibraltar

Lat/Long

36º 08.94 N

5º 21.30 W

Content complete to – (Date | Place)

30/9/2010

Gibraltar
Friday 17th September. A prompt departure from Calpe, from our berth under its landmark rock formation, the Penon de Ifach. The winds were light, so we motored down the coast, past Benidorm with its forest of high rise buildings & crossing the Greenwich meridian, to Alicante. 36 nm.
We were in time to use the lift to the old castle of Santa Barbara, perched 166m up on a rock above the town. After prowling the extensive ramparts & admiring the views we strolled down by a different route through the old town.
<![if !vml]>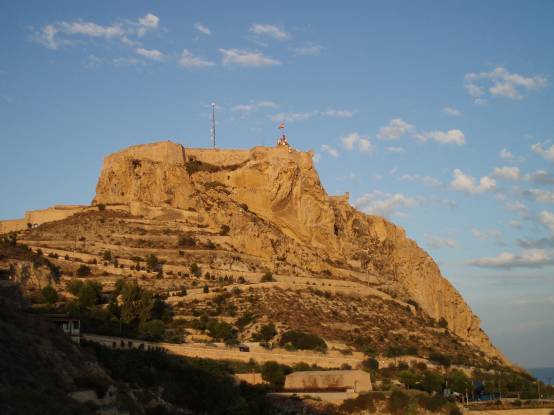 <![endif]>
Saturday 18th September. Left Alicante heading towards Tabarca island. It is a nature reserve & we had hoped to anchor off, but were short on information. Closer in it was obvious this was not possible, so we unfurled the sails & started a gentle beat to Torrevieja. 29.5 nm. We had to go in bows first as the berth was fairly tight.
Then it was a quick shop for fresh provisions followed by a stroll along the prom, reopened since our visit 2 yrs ago & with some smart new architecture, & then into the town centre.
Sunday 19th September. Left Torrevieja for a gentle sail down the coast to pick up a mooring buoy for a lunchtime stop at Isla Grosa near the entrance canal to the Mar Menor. Then it was into the Canal del Estacio to wait for the late afternoon bridge, a bit later than we expected. Once through the bridge & in the Mar Menor we unfurled the genny to sail the few miles to the anchorage behind Isla Periguera. 22.5 nm.
It was very peaceful with just a few other boats at anchor, but there were lots of jellyfish so no one fancied a swim.
<![if !vml]>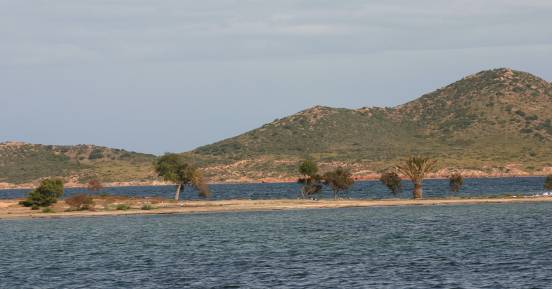 <![endif]>
Monday 20th September. Woke to rain coming in the hatch, & grey clouds. There was still an army of jellyfish around, & again no one wanted a swim, so it was a day for relaxing & watching the world. Our day's excitement came early evening when a speedboat rowed alongside. They had battery problems, & after trying to start them with jump leads we decided to tow them to Tomas Maestre, the town & marina at the canal entrance. So an hour later, & 5nm, as dusk turned to dark we left them on one of the marina pontoons & ourselves anchored just off the town. Supper was late that night!
Next morning (21st Sept) when daylight came we realised we had been lucky as we had dropped the anchor just short of lots of fishing floats which none of us had seen in the dark. At least we were nicely positioned for the canal bridge & were through it & out to sea on the 9am lift.
Then it was off for what turned out to be a mostly motoring trip in light winds, with the occasional spell of sailing. We rounded Capo Palos where the 'beach' highrise on the sand spit between the sea & the Mar Menor changes to dramatic cliffs, & found shoals (or do I mean flocks?) of flying fish scattering in all directions. Early afternoon we arrived at Cartagena. 26.5 nm.
Then a wander around the town for Val & Rog to get their bearings & a reminder for us.
Next day (Wed 22nd Sept) we did a provisions run & jobs, while they explored, then we linked up for some sightseeing in the afternoon, via the roman theatre up to the castle high above the town.
<![if !vml]>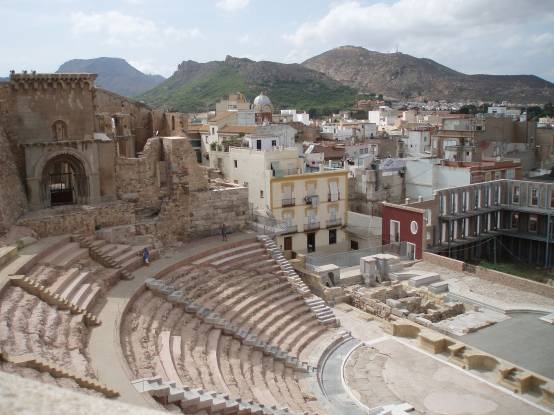 <![endif]>
After supper in the evening we split, us back to the boat to head on South, them to a hotel for a couple of days before their flight back to Cardiff.
Thursday 23rd September. A prompt start from Cartagena, motoring in light wind & a grey day, with the occasional spit of rain! Nothing changed, but the flying fish entertained us as they scurried/ flew in different directions. Early afternoon we anchored behind Islote el Fraile fish farm at el Hornillo. The building works of 2 yrs ago were still on going, although perhaps on a lesser scale. It was very rolly, so after lunch we carried on to a new marina, Juan Montiel, to the west of Aguillas. 33 nm.
They seemed very pleasant & efficient, with all new facilities.
Friday 24th September. We wanted some weather forecasts so it was a 9.30 am start.
With a NW5 the main went up with the first reef in, genny likewise, but an hour later the wind dropped, the reefs came out, then the wind went completely & the engine went on. Even quicker the wind came back (sail again) rose to a F5 (reef again) & within 20 mins was NNW6 so the second reef went in.
Soon after noon it dropped again, but within 15 mins had come in again F4, this time from the SE, so a beat. There were a couple of ships, a couple of yachts, sensibly going the opposite way, & still the flying fish flying about.
The wind shifted S & then SW, still a beat, & apart from the tacks made us put in a reef at least once more when it rose to a 5. The coast was a spectacular backdrop of high hills, stark cliffs & white villages along the coast.
Early evening we dropped anchor in the large bay, Puerto Genoves just N of Cabo Gata. 54.7 nm. The beat had added about 8nm to the distance when we started it at the almost midway point soon after midday.
It had been a fairly energetic day, but it was nice to be sailing as we seem to have done a lot of motoring recently.
<![if !vml]>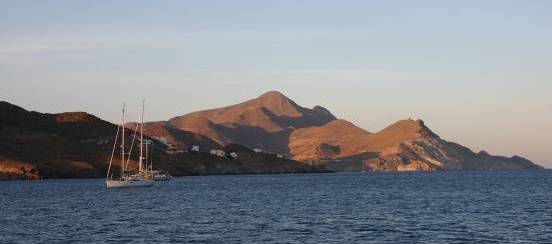 <![endif]>
The Cabo Gato anchorage, which we used when outbound in 2008, is a lovely setting with the Andalucian hills all around. We watched the sun set behind them, & then a golden almost full moon rose to seawards.
Saturday 25th September. A very relaxing day doing a few chores, swimming in lovely clear water, fish & (weekend) people watching & generally enjoying the location.
Sunday 26th September. A rolly swell arrived overnight in the small hours, so our intended early start was a bit earlier than planned & it was still dark when we left the anchorage, motoring to charge the battery. The wind was light, in contradiction to the forecast, & a later forecast as we rounded the Cape was for gusts of F7 at our intended destination, so we opted for a shorter trip to Almeria. Arriving there the marina was "completo" or full, so we carried on to Aguadulce. 28 nm.
Another reason for visiting Almeria was to see the Alcazaba, a large Moorish military fortress, so we retraced our steps by bus. We arrived at the Alcazaba, impressive on a craggy hill with only 30 mins before closing time (early on sunday), so had only time for a quick dash around & very fleeting impressions. Like the Alhambra in Granada the courtyards were pleasantly shaded & tinkled with fountains & water features.
<![if !vml]>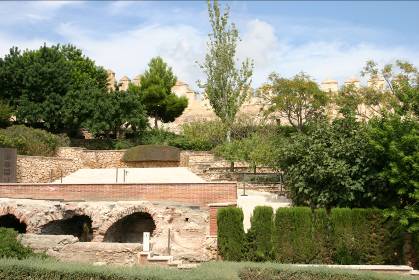 <![endif]>
Then a quick look round the fortified Cathedral, a stroll down the main town Rambla, lunch & back on the bus to Aguadulce.
Monday 27th September. Departed Aguadulce motoring in light wind. Mid morning it picked up, but on the nose & with a nasty "slamming" sea. There were several fishing boats about that we had to dodge. Late morning we started motor sailing & then sailing, but hard on & not quite laying the course, so a beat. There were a few yachts about & we are seeing gannets again, mostly youngsters in dark plumage. Mid afternoon the wind dropped & went right on the nose with a messy sea, so the engine went on. Late afternoon the wind increased to SW 5 so we dropped the main. We looked at an anchorage off the pretty town of Castell de Ferro, decided there was not enough shelter for the wind direction & carried on. An hour later we anchored at Calahonda, where we stopped going the opposite way in 2008. The anchorage is very deep & we needed all our 60M of chain. 50.5nm.
<![if !vml]>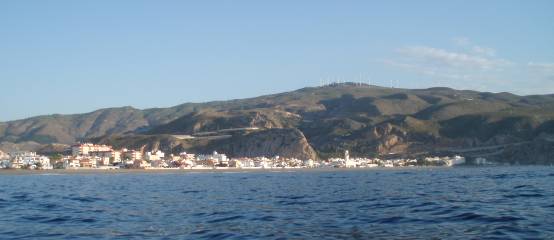 <![endif]>
It still looked a pleasant place with a very nice beach. A French catamaran came in later & anchored in the swimming area. One is not supposed to, but we assume the did not have enough chain to anchor further out. Although the wind had eased a rolly swell picked up again overnight, not exactly restful.
Tuesday 28th September. A prompt departure from Calahonda, motoring in no wind. Just ½ hr later off Cabo Sacratif we saw the pale dish shape of a sunfish. The first we have seen at sea, but easily identified from our visit to Valencia's aquarium. As we were motoring we were able to turn around & catch another glimpse as it turned on its side, with stubby fin up, & disappeared into the depths. Mid morning there was enough wind for a light airs beat along the coast. More gannets & the now occasional flying fish. Early afternoon the wind went light with a stopping sea so the engine went on until we arrived at the fishing port of Caletta de Velez, where we berthed next to another British yacht. 34 nm.
A pleasant & convenient harbour.
A latish departure next day (29th Sept) motoring in little wind & calm sea. Just before midday the breeze picked up from the east & we were able to use the spinnaker for a couple of hours. Another sunfish went past, then we were passing the huge resort of Torremolinos, which straggles for miles along the coast. Mid afternoon we arrived at Fuengirola, another stop on our outbound trip, & another large resort, with a large British expat population. 27.5 nm.
Thursday 30th September. Left Fuengirola at first light (8am because of the time difference, but it is dark at 8pm so the days are now short if one has some distance to do & wish to arrive in daylight) motoring in light fickle wind. Lots of small fishing boats & 'pot' buoys close inshore. Further out a large tanker was killing time just holding station, & warship 'Kent' was broadcasting the areas for live gunnery exercises. Fortunately further E, but you could hear the booms. Early afternoon the wind filled in to let us sail for about an hour, there were rafts of young gannets, then we were off Europa Point, the southern tip of Gibraltar, & into the harbour at Marina Bay via the fuel berth. 49 nm.
We went for a 'reminder' stroll & supper in the town.
<![if !vml]>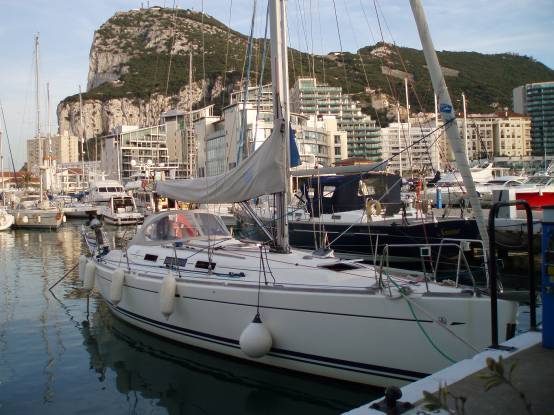 <![endif]>