Date Filed

28/10/2010

At home in the UK

Lat/Long

37° 06.58 N

8° 31.31 W

Content complete to – (Date | Place)

23/10/2010

Lagos, Algarve, Portugal
After our arrival at Lagos on 15th October we set about the usual round of jobs associated with laying up, & the laundry & cleaning. Sugar 'n' Spice was in the marina until 19th October so first the 'afloat' jobs – sails & sprayhood off, log out, masthead instruments off etc – were done. Then, on the tuesday, we swapped the marina for the fishing harbour & promptly at 11am she was lifted out by the boatyard.
Total logged distance            3305.9nm                                [engine hours   385.7]
They  were the first yard to insist on checking the backstay was off before they would move her, then we got a ride on board to her place in the boatyard. The foreman was not satisfied with the first placement in the cradle & they lifted her & redid it. She has a sea view across the harbour, we hope the gulls will stay away from her!
<![if !vml]>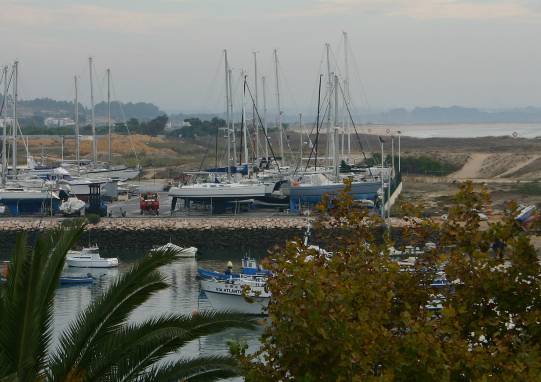 <![endif]>
We carried on with the chores, but took a day off on Thursday (21st October) to catch the local train to the inland town of Silves, where we went to see Sandie & Andrew Firebrace (long standing HPYC members, who now live in Portugal). They have a lovely house in the hills north of Silves with views for miles across the countryside. They had come to see us in Lagos in 2008 (when we were heading East to the Mediterranean), shortly after Sandie had been very ill & we were pleased to see she seemed much better.
Then on Saturday 23rd October we caught the local train again, this time to Faro & our flight home for the winter. England seemed distinctly cool when we arrived.