Date Filed

22/6/2009

Location

Kardhamila, Marmoro Bay, Chios

Lat/Long

38º 32.49 N

26º 06.96 E
Monday 15th June 2009.  A relaxed departure motoring to replenish batteries (also wind light & on nose).  We headed north up the channel between Alonnisos & its small virtually uninhabited neighbour Peristera, passing a few small hamlets & harbours on Alonnisos on the way.  There was an obvious tide/current through the strait & as we cleared the two islands the wind increased briefly (still on nose) & there was a definite 'wind over tide' chop to the sea.  By lunchtime we had dropped anchor in a small cove in Kira Panayias bay on the island of the same name – 13.5nm.
<![if !vml]>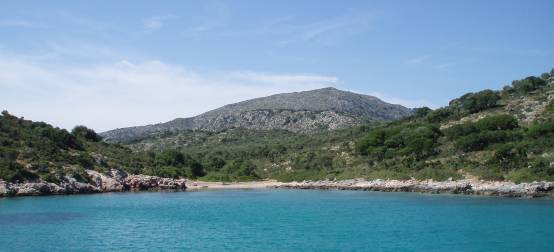 <![endif]>
This island, & several others, form part of the Sporades Marine Park aimed at protecting the very rare Mediterranean Monk Seals & other wildlife.  Several islands are completely out of bounds, but there are two bays (including the one we were in) where you can anchor on Kira Panayia. To our intense surprise we were the only boat there & had this lovely place to ourselves until late afternoon, when a few more boats arrived.  Only one came into our little cove & at first we were amused by their attempts to anchor – 'it's draggin', it's draggin'' – but then they told us the anchor shank was bent & they had not been able to get it to hold anywhere.  They then proceeded to swop to a much lighter spare which they finally got to hold again after several attempts, but it was probably a good thing the wind was fairly light overnight.  And no we didn't see a Monk Seal, just various fish, birds & some goats, with very rakish horns, on the shore.
Next day (16th June) we had an early start (6am) from this delightful bay. There was no sign of life on our neighbour, or the little group of boats in the next cove. We took advantage of a motoring, light airs start to set up our inner forestay & hank on its little jib, as the forecast was for the wind to increase.  After an hour we were able to start sailing (full main & genny) then as predicted the NE wind increased & as we were close hauled a reef went in. Then there was a mixed period when reefs went in & out as the wind increased & dropped, we motorsailed briefly when it dropped more, but left a 'stopping' sea – we reckoned it was possibly due to an 'island' effect from several small Sporades to the north..  Then early afternoon the wind went north, freed slightly & increased as forecast (5 gusting 6), & the small jib came into its own.  We rollicked along over a fairly lively sea at 7+kn, hoisted the genny as well as the jib when the breeze dropped to a 4, then went back to jib only when it rose to a 5 again & we were crossing shipping lanes off the end of Lesvos.  More ships than we have seen for ages!
Early evening  we found our way past a rocky islet with a yacht perched high & dry on some off lying rocks, into the quiet of the anchorage at Ormos Sigri.  7pm & 85.7nm run.
A speedy, if rollicking, sail & fast crossing as our times include hauling/dropping anchor & hoisting/furling sail.
The town, with its red tiled roofs, climbed a small hill, there was an 18th century fort overlooking the anchorage, a naval vessel was tied to the quay & as we looked around a large motor yacht flying the white ensign came in & dropped anchor too.
Wednesday 17th June. The 'white ensign' had gone overnight, we watched the naval vessel go & then made a relaxed start from the anchorage at Sigri, with a 'motor' along the waterfront to look at the town with Agia Triada, its unusual church, converted from a mosque, & then a closer look at the beached yacht. According to our information it is steel & has been there some time. We are just amazed as to how it got there & it is a very strong reminder of the power of the sea.
<![if !vml]>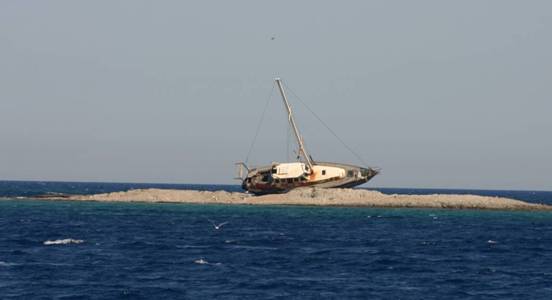 <![endif]>
We started downhill with just a rolled out genny, & saw several skeins of sheerwaters flying low over the waves.  Around midday the wind dropped & the engine went on.  Soon after Doug thought he smelt diesel. A check below confirmed this, so the engine went off & while he .investigated I tried to keep the boat at least 'aimed' in the right direction, not easy in 1½knots of breeze, that was circling the clock.  We did indeed have a fuel leak, but thanks to Sir's skills he was able to find this, replace a filter & we were back in business within an hour.  While all this was happening we were also invaded by millions of small insects, which added an irritating nuisance.
So around tea time we arrived in Plomari harbour, & anchored stern to quay, as what we believed to be the visitor berths had been taken over by the local fishermen. 31nm.
A run ashore revealed  a nice compact town with most facilities & provisions close to hand, & later we went out to supper in a square with a huge overhanging tree in its centre.
The wind picked up as forecast later that evening & the boat rolled around & snatched at her lines to make for an uncomfortable night.
Next day (18th June) with the boat still rolling around & more wind forecast we decided it had better be a jobs (loos) & chores (laundry) day, rather than trying to explore more of the island. As it was difficult even to get off the boat this was not quite as worthy as it sounds, but we did manage to hijack a mini tanker for fuel, & rewarded ourselves by going out to supper again.
The wind picked up again overnight, so it was another uncomfortable night.
Friday 19th June with more wind still forecast we decided that an anchorage would be preferable, so after topping the water, seeing the Port Police & a quick provisioning run we left Plomari, ironically with a light wind on the nose.
Our destination was Kolpos Kalloni, one of two large inland seas on Lesvos.  These are the size of some of the smaller Greek isles, so the safe harbours & anchorages are in the entrance channels & not in the Gulfs themselves.
Early afternoon we anchored opposite the small hamlet of Apothikai. 18nm.
This was another very peaceful place, there was a fisherman stretching nets across a stream, goat bells up on the hills, some rackety gulls & something that sounded similar to a skylark.
Later a Dutch ketch anchored nearby, but nothing disturbed our sleep that night.
<![if !vml]>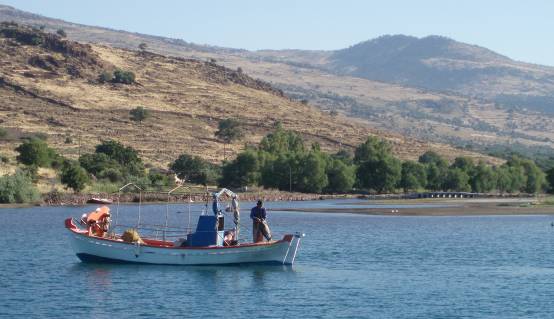 <![endif]>
Saturday 20th June. A motoring start out of the channel to the gulf, more sheerwaters, then to our surprise a SW wind so a light airs beat. This gradually freed & increased & early afternoon we were reefing in a NW 5 gusting 6. This quickly (20min) rose to a 6 going on 7 so our second reef went in.    By now we were coming to the channel between Chios (Khios/Hios) & its smaller off island Oinoussa, & the current was adding 2 knots to our speed.
We turned in past the 3 little islets bounding Mandraki harbour, island of Oinoussa. Most spaces on the quay were taken or had occupants obviously returning (fishing nets in heaps) so we dropped anchor.  It took us 3 shots to get it to hold, are we becoming 'draggin's'?
It was a very pretty harbour, the houses running up a hillside topped by the obligatory churches & a windmill. The other side was the 3 islets, joined by a wall & again topped with little churches.
<![if !vml]>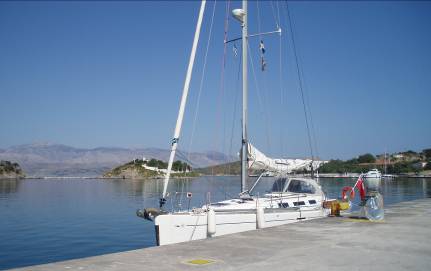 <![endif]>
On Sunday (21st June) most visiting boats departed early so we moved to the quay & went to explore. Along the front, then up, inevitably, to the main church & the windmill, & finally in a loop round the back of the hill to discover the town spread further than we had imagined, down into a valley behind.
It was still early, so we returned though the channel with Chios (current again in our favour) & on to an anchorage on the north coast of Chios, as despite the prevailing winds in this area being northerly a strong southerly was forecast. 9nm.  Just when we want to go south too!
The southerly came in overnight, earlier than expected, so Monday's plan (22nd June) became anchor watch as the wind gusted from 5 to 6 or 7, even in our sheltered corner.
A powerboat anchored fairly near suddenly seemed a lot further away & we realised they were dragging. We tried calling them on the radio, as did the Coastguard, all to no avail, so we took the dinghy over – now a fair distance – arriving just ahead of a fishing boat, & just as they themselves seemed to realise, so our efforts were wasted, as they motored back & anchored nearby again.