Date Filed

7/7/2009

Location

Lakki, Leros, Dodekanese Greece

Lat/Long

37º 07'

26º 51'
Monday 22nd June cont.     Another yacht came in & after several unsuccessful attempts to anchor went alongside the harbour wall, an option we had avoided as it was a blown on situation & these walls are rather rough concrete.  Later when the wind went down a bit the large powerboat departed with a nonchalant wave of the hand, & we took the dinghy to explore the little town. It was unusual in that it had several little streams, with water in them, not dry, running down to the sea & their valleys were green with trees. We were also hoping to find a supermarket, but this proved very elusive & only after we had walked all directions from the square & then went up the hill past the church for a second time did we find it & do some restocking.
<![if !vml]>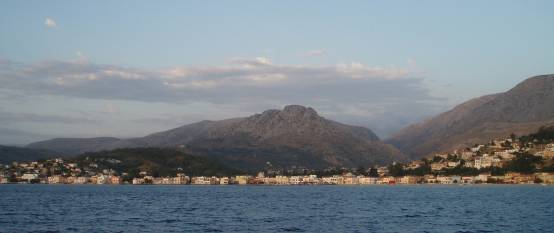 <![endif]>
Tuesday 23rd June.  First light brought calm, so it was an early start, motoring in no perceptible breeze to beat the forecast strong southerly (still the unusual direction) round the cape of Ay Nikolaos on the NW corner of Chios.  There were lots of flights of sheerwaters about, where are they all going? & we were round the Cape by 9am. The wind had still not come in as strong as predicted, but was now on the nose.  About midday we got to Limani Mesta, to another surprise.  The pilot described it as having seasonal pontoons & in any case lots of vacant quays to tie to.  What we found was considerable work in progress with lots of cement works, no pontoons (their location was being filled in), & a dredger & tug working along the quays.  So we anchored off the small boat harbour. 34nm.
There were a few tavernas, so after a stroll we ate in one (very Greek) & they filled some cans of water for us.
On the Wednesday (24th June) we made a fairly early start to walk 2 miles up the hill to the village of Mesta, one of a number of mastichochoria villages.  They have for centuries harvested the resin from mastic trees (more shrub size).
<![if !vml]>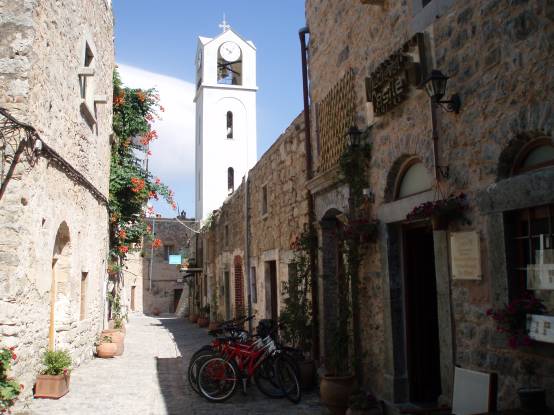 <![endif]>
This gum was used for paint, cosmetics & medicines & is still used today in chewing gum & alcoholic drinks. As a result they were built for defence against Turkish pirates – inland, with watchtowers, & thick walls  formed from the outer row of houses. Certainly worth the walk & subsequent exploration, although the church, the largest on Chios, was undergoing renovation & there were builders barricades barring access.
Thursday 25th June another early start, although the concrete mixers were already hard at it. After a couple of hours motoring the breeze filled in & we were able to sail with just cracked sheets. Almost immediately the wind picked up & one, then two reefs went in the sails, & it was a very bouncy ride. Two military planes buzzed us & around lunchtime two dolphin shot past doing some nice leaps, but did not stay, still it was nice to see some as we have not seen any since the Sporades & I wondered if they came this far east.  There had been thunderstorms in the forecast & mid afternoon we could see the dark clouds of one growing & the flashes to the south, but our luck held & we stayed ahead of it until we passed Mt Kerketefs (1444m & 2nd highest mountain in the Aegean) on Samos & arrived at Karlovasi, on the North coast. There we found the new 'marina' listed in the pilot full of small local boats & no room for yachts.  Luckily someone directed us & another yacht to a stretch of concrete quay. 49.6nm.
The quay was where the boy racers played, so having rung a phone number for water, & expecting a mini tanker to arrive we found ourselves unrolling miles of hose, for them all to drive over. (The hose went to a tap, hidden behind pallets of builders stone, & needed a man to unlock the padlock on it). Still we filled the tanks, then went to look at the town, which seemed a pleasant place.
<![if !vml]>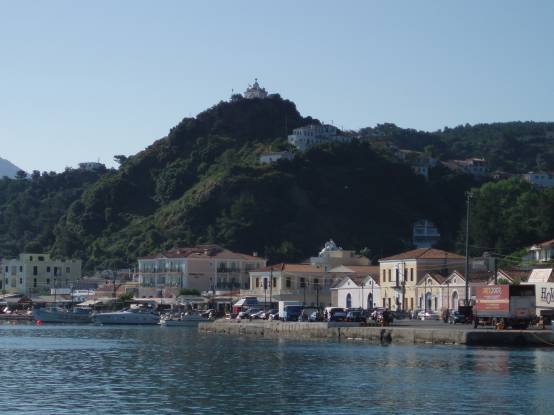 <![endif]>
Friday 26th June. Our plans to explore here further were scuppered with the news that 'our' concrete quay was where freighters tied up in the Port & one was likely to come in, & as we could not leave the boat unattended we departed, dodging arriving ferries.  As the forecast was for light winds we decided it was the opportunity to visit the notoriously windy Icaria. This is where legend has it that Icarus flew too close to the sun, & fell into the sea when the wax holding his feathers on melted.  Most sailors think they were blown off! 
<![if !vml]>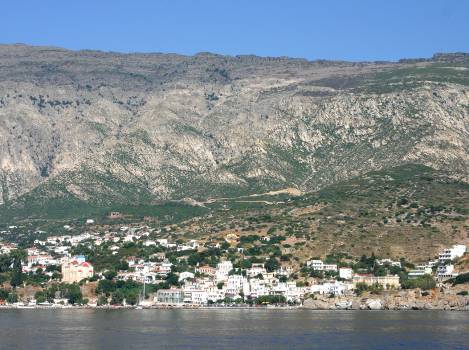 <![endif]>
Anyrate we had a pleasant light airs beat most of the way & arrived in Ayios Kirikos early afternoon.  The harbour is very small with limited depth, so we rafted to another bigger boat as we were too deep to go in front of them, & two more rafted outside us.  23.7 nm.
Ayios Kirikos was a useful place, with a variety of shops & restaurants. We were able to restock the larder & joined our 'inside' neighbours for a drink on their boat, Lady Margaret. They lived in Italy, but while Frank was Italian his wife Margaret was British.
Saturday 27th June. A reasonable start with a very amiable de-rafting of the 4 boats.  With light wind still forecast we motored to N Founoi island & by midday had anchored off Kiesstrand. 10.6 nm.
The little Fournoi islands are only light wind anchorages, so we were lucky to have the opportunity to visit.  The air was scented & the slopes were covered with something mauve, which when we swam to shore turned out to be wild thyme.  We had a relaxing afternoon swimming, canoeing & listening to the goat bells & birds (we can usually only hear the birds, not see them, so cannot identify many).  Then we returned hospitality with Lady M who had anchored nearby.
Sunday 28th June. Another light airs day so we had a mix of motoring or unfurling the genny for a gentle sail, enlivened by seeing a few ships & some rafts of sheerwaters. We returned to Samos, this time to Pithagorion, the town named in honour of Pythagoras, on the south side of the island.  Here we anchored in the outer harbour, close to the town beach. 25 nm.
<![if !vml]>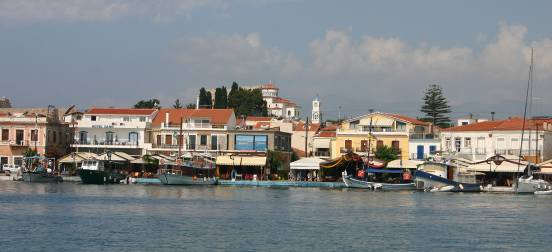 <![endif]>
It was Sunday so the beach was busy with families enjoying themselves, & there were a lot of other boats at anchor, including a large Turkish flagged gulet that took a line to the shore.
Monday 29th June.  We took the dinghy ashore to visit the bustling town. The harbour, whose mole dates from ancient Greek times, is nicknamed the frying pan supposedly because of its shape, but our guide book reckoned it acquired this nickname in high summer. It was hot.  Anyrate our explorations took us up the hill to the pretty church, & castle (closed mon) then on up the surrounding hills to find the ancient Greek aqueduct & tunnel through the hills. Another 'closed mon' site, but it was a nice walk with views over town & island. So we restocked some provisions & returned to the boat.
Deciding the harbour was living up to its nickname we set off for the little island of Agathonisi. This with a shifty light wind was again a motorsail/genny mix for the 15.5 nm trip.  We anchored in west bay Ormos Poros with just a couple of other yachts in sight on the opposite shore, & had a very relaxing evening to the sound of sheep & goat bells.
Tuesday 29th June. A leisurely start for the 2.6 nm trip to Agathonisi's main town, Ay Yeoryion. There we anchored in the north cove of the west bay , & took 3 shots at it, not dragging, but there was a sunken fishing boat in the cove & although we could see we had anchored clear we didn't want problems if the wind changed. In fact when we dived to look there would have been no problem as it was not much more than a shape in the sand & a few very fragile timbers.
<![if !vml]>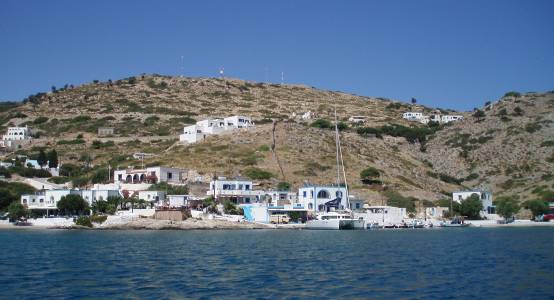 <![endif]>
We went ashore for lunch, water (cans from taverna again) & a stroll up the hill to the Chora. Not much there apart from the compulsory blue roofed little church & some lovely views.
Wednesday 1st July.  Doug cleaned the log impeller, which had become home to a colony of tiny barnacles, so now our speed should be quicker, & our distances longer!
Then it was off for some lazy sailing, unfurling just the genny with a NW 3 or 4 behind us. There were a few yachts about, one ship heading north & a gang of sheerwaters diving, & sitting on the water, obviously fishing. As we watched them several white torpedoes charged towards the boat & we realised the fish were also attracting dolphins. Two or three flashed past & did some half hearted jumps under the bow, but the fish were obviously more interesting than us & they returned to the feeding melee.  Passing the tiny islet of Marathi (busy anchorage) we arrived at the little island of Arki where we anchored at Port Stretto E cove.  The west cove, where the holding is better, was already fairly busy, so we soon had company in ours, although all of us took several attempts at anchoring before we were happy with the result.  14.6 nm.
The sheep & goat bells there really sounded tuneful, as though they had a conductor leading them.
Next day (2nd July) we walked over the hill to the main, tiny town & ferry port. It had a couple of tavernas, but no shop that we could find, & we assume the locals caught the ferry to Patmos for anything they could not barter locally.
Returning to the boat we unrolled the genny for the 9.8 nm trip to Skala Patmos, on the island of Patmos.  We anchored in the harbour initially, then as yachts came & went we moved to a space on the quay, anchored stern on. Again there were some large gulets in too. They looked very luxurious, more so than I would have expected & their boat handling was very skilful.
<![if !vml]>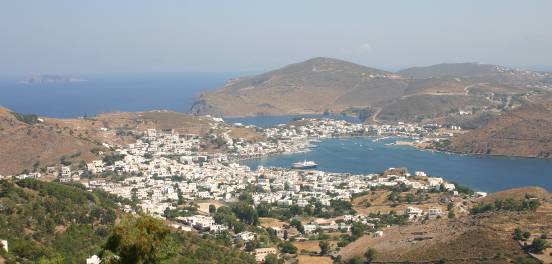 <![endif]>
There was a small shop handy for provisions & we were able to get a water tanker, before heading out to supper.
Friday 3rd July we had an early start. We realised our anchor was over our neighbours & they were planning to move, so we moved first, back out to the anchorage.  Then before the day warmed up too much we headed up the cobbled path, mostly shaded by pine & eucalyptus trees, to the monastery of Ayiou Ioannou Theologou (St John the theologian) set on the hilltop above.  Although a monastery it looks like a fort, & was built as such, to protect from Saracen pirates. It is surrounded by the white washed houses of the Chora that grew up around it, so there are the little lanes of the Chora to wander as well as the imposing courtyards, chapels & icons of the monastery.  Returning we visited another tiny monastery built over the cave where St John is said to have heard the words of the Apocalypse & the book of Revelations was written.
<![if !vml]>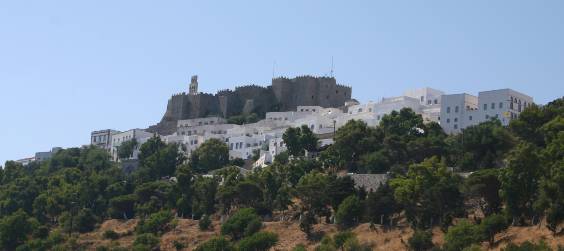 <![endif]>
Once back in the town we did a bit more provisioning, & then motored to a small anchorage on the N shore of Ormos Patmou, with a narrow entrance between 2 islets.
Saturday 4th July. A relaxed start for the 2 hour (10.6 nm) sail to anchor at Ormos Kouloura, Lipsi isle,
with its taverna & few people enjoying the beach. A very nice place until a very large powerboat anchored so close to us they obscured the view. Forgetting it was Saturday we held our ground. They were playing host to the occupants of several other (not quite so large) powerboats, & the noise lasted until the small hours. The goat bells were nice though. Peace returned at dawn when their crews took them away.  We did wonder why they came there as they didn't go ashore, & only a few went near or in the water.
Next day (5th July) we walked the 2 kms over a hill to the port & main town of Lipsi.  It seemed a very relaxed place with lots of flowers & a big church.
<![if !vml]>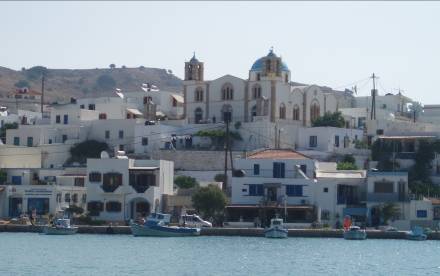 <![endif]>
Mid morning we left the anchorage for another light airs sail to the island of Arkhangelos, N of Leros. There we anchored in a bay on the S side. 5.8 nm.
It was busy with weekenders from Leros (we assume) who had set up various camps on the beach, & had an assortment of boats anchored off.  They were certainly enjoying themselves in & around the water & we did keep a watchful eye on their jetskis when swimming. Then about tea time they all started packing up, got into their boats & were gone, leaving just a few anchored yachts to enjoy the evening. A farmer came by boat, singing, to feed the goats. They responded by rushing for the food & there was a most glorious din of bells.
Monday 6th July. A relaxed start for the 8.4 nm sail to Lakki on Leros island.
Arrived at Leros marina about midday & directed to an inner berth.
We plan to base the boat here for several weeks while we explore locally, have some friends join us for some sailing, & pay a visit home. The marina seems ideally suited for this, & very helpful, although they have a lot of work in hand installing further pontoons & their tackle.