Date Filed

14/6/2009

Location

Rousoumi, Alonnisos, Sporades

Lat/Long

39º 08.82 N

23º 52.18 E
Returning from the UK on Wednesday 3rd June our flight was ahead of time, the taxi was quick so after a slight delay sorting the boarding plank we were back on board earlier than we expected – a bonus.  The boat had been moved one berth sideways by the yard, as we expected, to accommodate a returning berth holder, & all seemed fine.  The Thursday was a busy day, first into Lavrio to get our departure stamp from the port Police, plus a provisioning run. The latter was helped by the discovery of the weekly market in Lavrio, with excellent fish, fruit & veg. Then fill the water tanks, take advantage of the marina washing machine & get the boat ship shape again.
The day was rounded off by a visit from my cousin Jenny & her Greek husband Andreas who now live part of the year near Athens.  It was several years since we had last seen them so there was a lot of catching up to do, & after showing them the boat & drinks on board, they drove us into Lavrio where we all enjoyed a meal at a fish resturant. A thoroughly pleasant evening.
Friday 5th June we made a mid morning start from Olympic Marine, initially motoring with little or no wind on the nose, north up the Evvoikos Channel.  There were a few dolphins fishing in the distance – some nice jumps - & also some birds (some sort of sheerwater I think)  joining in.  About midday the wind freed & increased & we were able to sail.  There was some sort of military vessel patrolling to & fro, & later a helicopter hovered very close with what we think was a hydrophone slung underneath.  Further on we kept crossing tracks with a slow moving freighter as he had to follow the channels twists & turns until he finally pulled ahead. We went into the tiny anchorage of Voufalo (Bouphalo) (island of Evvoia & the 2nd largest Greek island after Crete) behind a sandspit. There were already several French flagged boats at anchor, but we slotted in & remembered some of the tighter anchorages of last year.  The water was warmer, but not quite so clear as other places we have swum recently.  It was a pretty place, but for some reason neither of us seem to have taken a photo!
The next day (6th June), with 1kn of wind, we motored the 16nm to Eretria (on Evvoia), watched a seaplane land & take off again en route, & anchored across the bay from Eretria's harbour & ferry terminal.  The beach was busy with Greeks enjoying themselves, & the water.  We took a dinghy run across to a pebbly shore by the harbour for a provisioning run & quick look around.  Team France were anchored all around us on our return.
Sunday (7th June) dodging ferries we left Eretria for another motor to Khalkis, main town on Evvoia.  In the narrows south of Khalkis the green buoys were not as charted – no surprise to us as there were sand bars obviously growing, but there was  some tide!!  We tied up in Ormis Vourkari, to a new pontoon – another surprise, but as yet no facilities. But it was next to a friendly Yacht Club who let us fill up with water.
A walk around the Town yielded a nice fish lunch along the promenade opposite the mainland, some interesting old buildings to the south & quite a tide (this is the Med!) running through the sliding bridge.  This bridge only opens to shipping at night, & we were told to be on standby from 10pm up to possibly 4am – a long night ahead!  Team France had arrived again when we returned to the boat.  They were not going through the bridge that night, so we left the pontoon about 8pm & anchored to the south, & in sight of the bridge.  It did prove to be a long night as we were finally called to transit the bridge at 3.30am!  The water was totally slack, which in fairness is what the controllers are waiting for, & it is apparently very difficult to predict. Somehow we pulled a flanker & were first boat through, followed by a very upmarket motor boat, some other yachts & then some commercials, so we had our anchor down in a bay to the North of Khalkis (Ak Kakakefali) by 4.05am (8th June) (2.2nm)
<![if !vml]>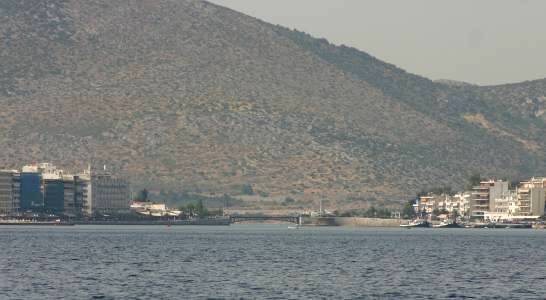 <![endif]>
N.B.  Something that caused us confusion on the form we were given for the bridge was that we were transiting from N to B. (we were going S to N). Investigation in dictionary gives south as Notos hence the N . (north is boppas).
Greek experts please excuse my interpretation of greek letters.
The second part of the day began with a mid morning departure for a 31.8nm trip to Ormos Amiron, Kolpos Atalantis on the Greek Mainland.  This was the now fairly usual mix of motoring & sailing, except the sailing was a beat.
This bay was fairly busy as it was a Greek bank holiday, & again the water was not as clear as the Cyclades, but very warm.  Although there was folk singing from one of the tavernas behind the beach (very pleasant, if loud), it failed to keep us awake after the efforts of the previous night & we slept very soundly.
Tuesday 9th June.  Left the anchorage motoring to charge the batteries, avoided a nest of 'pot' buoys, then started sailing close hauled until about lunchtime the wind died.  We rounded the NW corner of Evvoia between the islet of Nisidha Mondia & a sand spit on Evvoia, which between them were causing a mini tide race.  The wind immediately turned from SSW1 to NE3 & then rose 4-5-6 in as many minutes. 2 reefs went in the main & some rolls in the genny, & we found ourselves on a foul tide beat. Yes it is still the Med & it is one of the places there that does have a tide, we reckoned we had 1.7kn against us at one point.  The wind varied up & down so reefs went out & in again & we were still doing 7kn towing the dinghy. Early evening we arrived at Orei harbour (Evvoia again) & berthed stern to the quay on our anchor.  We thought another boat arriving later had dropped their anchor over ours.
Orei was a pleasant place with tavernas & provisions (food, diesel, water) all close.
It is noteworthy for a large marble bull that some local fishermen hauled up in their nets & is now in a glass case. It must be at least twice life size, but unfortunately the case makes it impossible to photo.
Wednesday 10th June. After some chores & provisioning we left Orei mid morning. The other boat had anchored over us, but between the two of us it was cleared.  So after motoring at the start, in the early afternoon we were able to sail, then again needed a single reef before going to full sail again.  Tea time we anchored at Koukounaris Bay on Skiathos island in the Sporades. 25.5nm.  The bay had lovely clear water & a backdrop of stone pines behind the beach bars.  We had a few worrying minutes mid evening when two of them were in total discord – did we need to move? – but then both shut up shop & all was still & silent. Bliss.
Next morning (11th June) we left Koukounaris motoring so we could 'sightsee' along the coast. We saw one dolphin off the headland as we cleared the bay. At midday we were off Skiathos Town, anchored as we could not locate the yacht pontoon, then hastily up anchored & relaid it as we saw the pontoon being towed into position!  It is still early season here. 6nm.
<![if !vml]>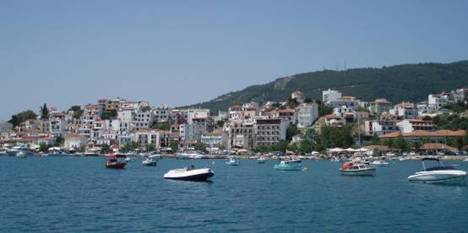 <![endif]>
After a wander round the town (compared by some to Mykinos, but not really in the same league), & collecting some water we decided to move as it looked like being a very noisy place close to the local night clubs, plus lots of swell from ferries.
First alternative round the headland we could not get the anchor to set for weed, so we backtracked slightly to Ormos Plantania. 5.6nm. Now early evening but the visibility in the water was lovely & there were lots of fish, albeit small.  All night there were birds calling, possibly nightjars, & what we first thought was a mistake in moving from the town turned out to be a lovely anchorage.
<![if !vml]>

<![endif]>
Friday 12th June. We left Ormos Plantania mid morning, unfurled just the genny (at 6 to 7 kn who needs the main?) for a relaxed sail to Loutraki, Skopelos Island, where we anchored stern to pontoon in the harbour just after midday. 9nm. Usual explore & jobs.
Early evening we decided to walk up the mule track to Glossa – the town up the hill above – for supper.  A dumb move as by the time we got there we were both blobs of sweat & I especially didn't really think I was fit to go into a nice resturant.  Anyway we cooled down a bit with a drink in a café with a super view over the coast, & swifts & swallows screaming overhead, then found a very nice resturant with an equally good view.
<![if !vml]>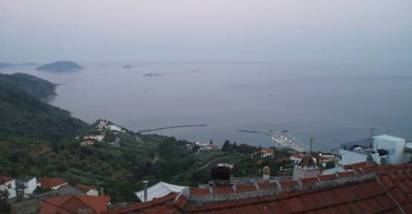 <![endif]>
The evening was enlivened by chatting to an Aussie lady on the next door table, then it was a taxi back down the hill. We'd probably have broken our legs on the mule track in the dark, but the road was a much windier longer route.
Saturday 13th June.  We took the bus to Skopelos Town on the north coast. An interesting ride of almost 1½hrs along the south coast & hills, with views of lots of beaches & bays.
<![if !vml]>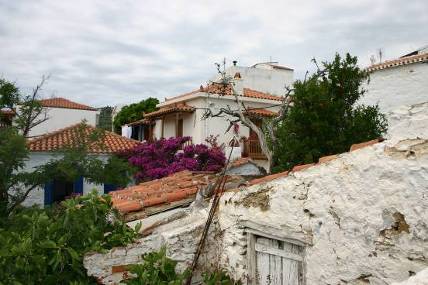 <![endif]>
Skopelos Town, although relatively small, was nice.  Narrow roads climbed up hills & round corners, there were lots of picturesque churches, & everywhere were flowers - lots that in the UK would be house plants growing outdoors in profusion, & swallows feeding fledglings under the eaves. The harbour looked more sheltered than we had expected, but would probably have been very uncomfortable in a strong northerly (meltemi).  After lunch under a shady tree (Doug has decided that a tree would be better in the cockpit than our plastic shade as it flaps more air) we caught the bus back again.
A flotilla was arriving so we interspersed chores with people & boat watching for the rest of the afternoon, then went for an evening stroll & supper.
Sunday 14th June. Reasonably prompt start initially motoring along the coast we traversed by bus yesterday. Mid morning we started sailing, a beat again, then the breeze kicked in & it was a reef in the main & rolls in the genny.  The wind followed the coast so even when we rounded the high cliffs on the SW corner of Skopelos it was still a beat, until we arrived & anchored at Ormos Rousoumi, island of Alonnisos, Sporades. 25nm.
Rousoumi is adjacent to the main port, & is a relatively small bay with steep rocky cliff sides, & a few tavernas behind a shingle beach.  Apart from local fishing boats we were the only boat at anchor there.
Doug did his regular thing of diving to check the anchor, decided we should re-anchor to stay clear of some rocks, then found a huge mussel shell on the sea bed.  Anyone for supper?
<![if !vml]>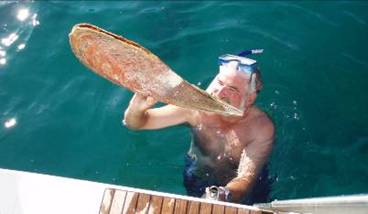 <![endif]>