Date Filed

25/07/2020

Location

Sutton Harbour, Plymouth

Lat/Long

50°22'N

4°08'W

Content complete to – (Date | Place)

25/07/2020

Plymouth
On Wednesday 15th July we left Portland promptly at 06:00 to catch the tide for the passage inside the race close to the Bill.  Once we had motored past the Bill the wind filled in on the nose and we had a gentle beat until the wind died just before lunch so motor on again.  Several pods of Dolphins were spotted but none stopped to play.  We motored up the river Dart, through Dartmouth which looked very busy and on to a mooring just short of Dittisham opposite Greenways.
The location was very peaceful apart from the odd trip boat crammed with mask clad occupants and the chuff chuff of steam engines on the Dart Valley railway.  We spent a second day there practicing our rowing skills and enjoying the antics of the herons and white egrets.
<![if !vml]>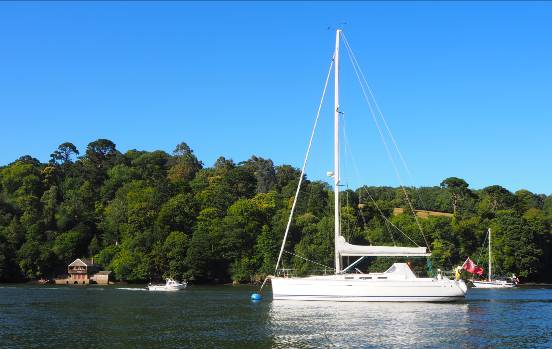 <![endif]>
On Friday as we left the Dart bound for Plymouth, where we had pre-booked a berth in Sutton Harbour, we noticed fog on higher ground that was rolling down from Dartmoor.  As we approached Start Point the fog had descended to sea level obscuring the point but it lifted again as we got there though the temperature had dropped significantly.   A mix of sailing and motoring saw us arrive in Plymouth just as the lock into Sutton began to operate on free flow.
Saturday began with a trip to the supermarket and with face masks about to be come compulsory we decided we had better try wearing them (how do you stop your glasses misting up on a damp steamy day?).  In the afternoon we walked across a busy but socially distanced Plymouth Hoe.
<![if !vml]>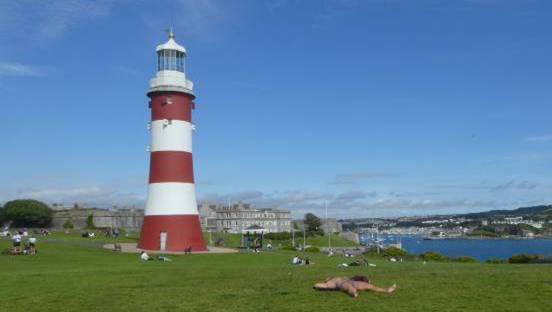 <![endif]>
On Sunday we left Plymouth for a short but brisk sail to Fowey, we need to put reefs in as the wind gusted to F5, but had taken them out again and reached Fowey by 11:00am.  There were several visitor buoys vacant and we duly picked one up.  They  all filled up by the evening but the harbour master said there were many seasonal moorings vacant this year which could be used if the designated visitor moorings were full.  In the afternoon we went ashore by dinghy at Polruan opposite Fowey and walked around the steep hilly peninsular passing the isolated but spectacular Lantic Beach.
<![if !vml]>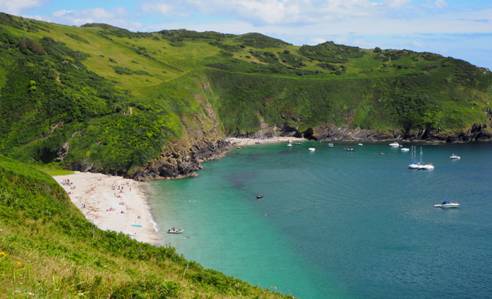 <![endif]>
Monday had a leisurely start, sailing downwind with poled out genoa for the first time this trip.  We needed to motor for an hour at 11:00am before the wind returned this time on a reach.  We arrived in the Helford River and picked up the only vacant visitor mooring we could see.
After lunch we toured the river by dinghy.  First we tried to deposit our rubbish at the sailing club as advised in Reeds but a notice on the club pontoon prohibited visitors landing due to Covid.  We then went to purchase oysters at Port Navas only to find that the oysterage had closed 3 years ago.  Finally we decided to try and deposit our rubbish at Helford Passage but the landing beach was heaving with people and we decided against landing.  Not a very successful afternoon but at least the sun was shining.
On Tuesday we decided to find more peaceful surroundings up the river Fal and on to the Truro River.  This was only a short distance sailing then motoring but the change was significant.  Just above King Harry ferry it looked as if the visitor moorings had been used by boats far too big and they even had the audacity to raft together.
<![if !vml]>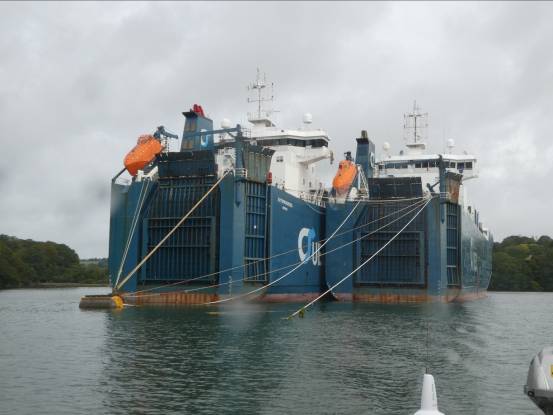 <![endif]>
These car carriers were however the only anomaly on an otherwise peaceful river and we found plenty of space on the mid river visitor pontoon at the start of the Truro river as it branches from the Fal.  In the afternoon as the tide rose we explored the drying upper Fal (also known as Ruan Creek) in our inflatable kayaks.  We paddled up the creek for 2 miles without seeing another person but as we had to paddle back against the tide we decided that was far enough.
On Wednesday we decided that it was so nice that we would stay where we were and use the dinghy to get to Malpas for a short but hilly circular walk to St Clement and back.
<![if !vml]>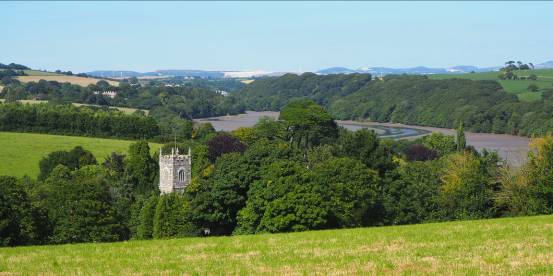 <![endif]>
With heavy weather approaching for the weekend we decided to try and find a marina berth in Falmouth on Thursday to stock up on fuel water and food.  For food shopping the best marina is Falmouth Yacht Marina up the Penryn River near Sainsbury's but they would not take reservations and were full when we first asked.  So first we went to the fuel pontoon at the visitor yacht haven in the middle of Falmouth and stocked up on fuel and water.  We had hoped that a berth would become free there but the visitor berths were in short supply as rafting was banned due to Covid.  While we were told about an empty berth while on the fuel berth it was full by the time we had finished fuelling and then only moorings were available.  We picked up a mooring and rang Falmouth Yacht Marina again this time we were in luck, they were sure one boat would be leaving and would keep the berth for us.  After confirming that the boat had actually left we arrived in a very tight but just manageable berth at 12:00.  In the afternoon shopping in Sainsbury's in masks again and after a short queue outside.
Looking at long range forecasts it looked like the weather was going to break with a series of depressions coming through over the weekend and next week making it unsuitable weather to go on to the Scilly islands.  We decided instead to start heading back home and sailed back to Sutton harbour in Plymouth on Friday.  The wind was behind us and not strong enough so the first half of the 40 mile journey was completed by motor before we set sail on a broad reach for the second half.  We booked ahead and received a very friendly response.  We arrived in time to lock in and tie up before the rain started.
As we write this blog on Saturday 25th it has rained most of the day time to catch up with the washing and minor jobs around the boat.  It looks like we will need to stay here until Tuesday but the longer range weather forecasts are now less decisive with an Azores high combining with a Scandinavian high to block the progress of Atlantic depressions which may just sit to the west of Ireland while they dissipate.  We may still be able to continue to the Scillies after all and will have to decide which way on Tuesday.