Date Filed

02/08/2016

Dieppe, Normandy, France

Lat/Long

49° 56' N

1° 05' E

Content complete to – (Date | Place)

11/07/2016

Waterford, Eire
Sun 3rd July.  A 5 am departure from Knight's Town, motoring as no wind, but a nice sunrise, gannets diving around us in the sound.  Heading round the western end of Valentia Island (the bit we looked down on yesterday) were pleased that the swell had subsided somewhat.  Before 8 am we had passed between the two rocky cones of the Skelligs.  Little Skellig is a bird reserve, home to large numbers of gannets, guillemots etc, while Skellig Michael (or Greater) is the site of an ancient monastery, at the top of 600 steps.
<![if !vml]>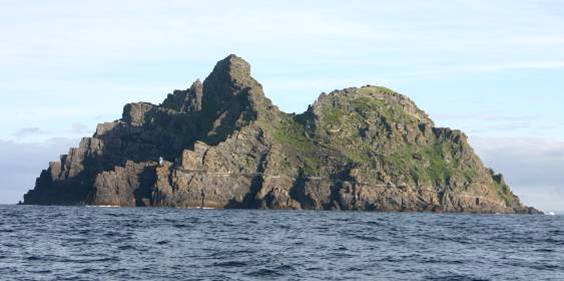 <![endif]>
It is the destination for lots of trip boats, but has no sensible landing place for yachts.  An hour later, still motoring in little wind, we found ourselves surrounded by dolphins large & small (probably bottlenose & common), one (maybe 2) pilot whales circling, & a "field" of seabirds sitting on the water.  Presumably there were also fish, although the dolphins did come & play in the bow wave, & the whole lot stayed with us for at least 15 mins.  Nice.  Across the Kenmare River entrance we passed the little off islands of the Bull, the Cow & the Calf then Dursey Sound & turned into the western end of Bantry Bay, to anchor just short of Castletown Bearhaven in Dunboy Bay.  48.4 nm.
Mon 4th July.  Plan on staying put, as forecast is for wet & windy weather with gusts up to F8 (gale).  During the morning worried as there were odd noises from the anchor chain – a clank, not just the usual grumbles.  Also the wind was moving round putting us closer to the shore, so early afternoon we decided to move.
Started hauling the anchor, only to find it fouled by a steel cable!  Luckily some serious lifting & heaving dislodged it, we heaved sighs of relief & departed towards Castletown Bearhaven.  Looked at visitors mooring at Diminish just to the north of the harbour, but all but one were occupied and that one was too close to the next for the conditions, so returned to the Harbour & asked permission of the harbour master to anchor.  That given we anchored & hoped for a more relaxed evening.  3.2 nm.  This whole episode only took about 1 hour.
<![if !vml]>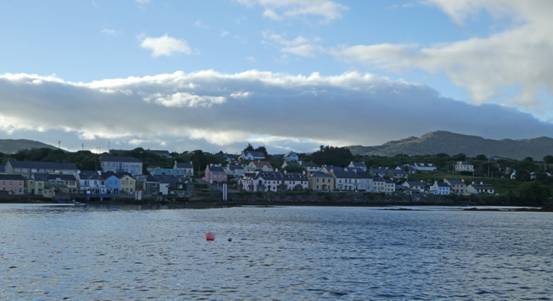 <![endif]>
There were a lot of fishing vessels using the harbour, plus a ferry to Bear Island.  Black Guillemots were fishing close to the boat.  The town looked to have a good selection of shops, although we didn't go ashore.
Tues 5th July.  A late morning departure, engine off as passed the lighthouse on the corner of Bear Island, then on again so we could lay Sheeps Head.  Crossing Dunmanus Bay there were fins inshore (purposeful, seeking food, not to be diverted).  Round Mizzen Head, with its spectacular suspension bridge, the Fastnet Rock came into view & we were sailing again, into the wide mouth of Long Island bay & thence Baltimore Harbour.
<![if !vml]>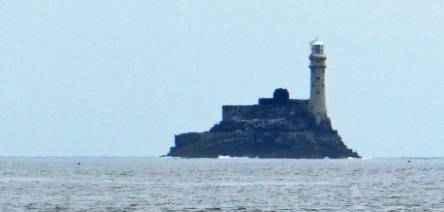 <![endif]>
Mid afternoon a Pilot Whale showed, about ½ mile off our port quarter & again several times during the next hour, gradually circling us, possibly there was more than one.
<![if !vml]>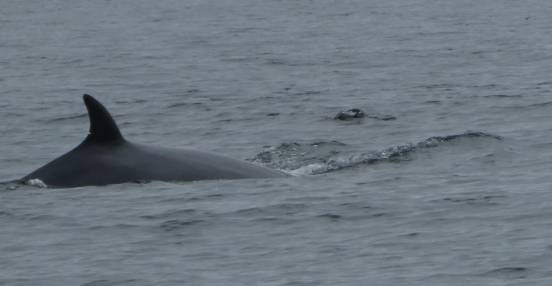 <![endif]>
A wind shift & the engine went on again until we anchored off Sherkin Island, Baltimore Harbour.  31.4 nm.
Wed 6th July.  An early departure (5.20 am) from the Sherkin anchorage, motoring, mainsail hoisted.  3 large bottlenose dolphins escorted us out of the bay with some synchronised leaps in the bow wave.  A pilot whale crossed ahead, then 2+ dolphins showed inshore with lots of shearwaters sitting on the water.  By 9 am we had passed Galley Head, with a fishing boat offshore.  Saw 2 puffins, again a pilot whale crossed ahead, 2 yachts & raft of guillemots, then a very large raft of shearwaters, causing mayhem as the birds scattered in all directions.  At 7 Heads headland, still motoring, there were more yachts & more rafts of guillies, then past Old Head of Kinsale some dolphins inshore 'on a mission' & a young gannet.  A wet mist descended, & as that turned to 'Irish mist' & the visibility went the navigation lights & radar went on.  Early afternoon we arrived at Cork Harbour, turned into Crosshaven & the Royal Cork Y.C. & their diesel pontoon. They were very busy with preparations for Cork Week Regatta, starting at the weekend, but still very welcoming, & found us a berth.  54.6 nm.
We strolled to the town for some groceries, showered, did some laundry & had an early night.
<![if !vml]>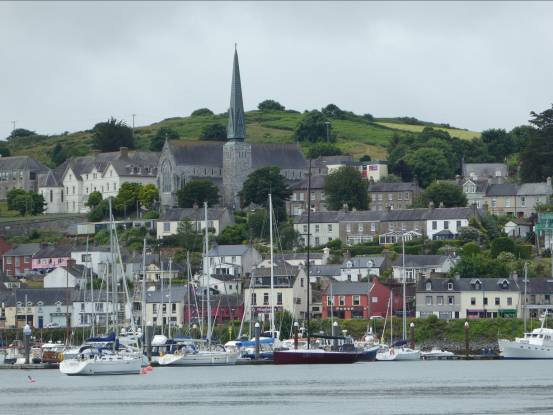 <![endif]>
Thur 7th July.  Mid morning departure from RCYC.  We were soon sailing, but there were foggy patches rolling own from the hills.  The wind was up & down, also the mist, the motor went on & off & also the radar.  I had hoped to get a view of the town of Youghal (site of a childhood holiday), but the fog did not allow this.  Ducked a fishing vessel, but rafts of shearwaters showed up on radar & then 'evaporated' as they flew away.  As the fog got thicker our radar watch (for fishing vessels) showed yet more large rafts of birds (mostly guillies & shearwaters) & suddenly Helvick Head loomed over the clouds & murk.  We anchored behind the headland close to a little drying harbour.  38.7 nm.
<![if !vml]>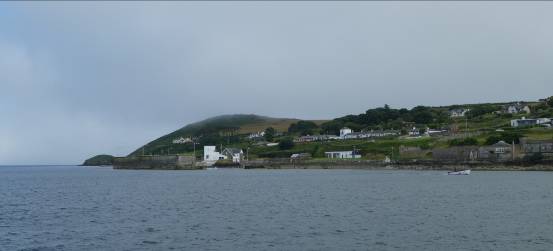 <![endif]>
Gannets & terns were diving around us as the mist gradually cleared away.
Fri 8th July.  A relaxed start using the main & a poled out genoa.  Late morning with more wind & a lumpy sea we set a preventer to stop any accidental gybes.  By lunchtime we were in Waterford Harbour, with its long landspit leading to Hook Head lighthouse to the north.  Then over the bar & up the river Suir with wooded banks, picturesque villages & backdrop of hills.  A dredger was working at a junction where the river Barrow branched off to New Ross, 8 mls later we reached Waterford with pontoons along the river side.  42.1 nm.
<![if !vml]>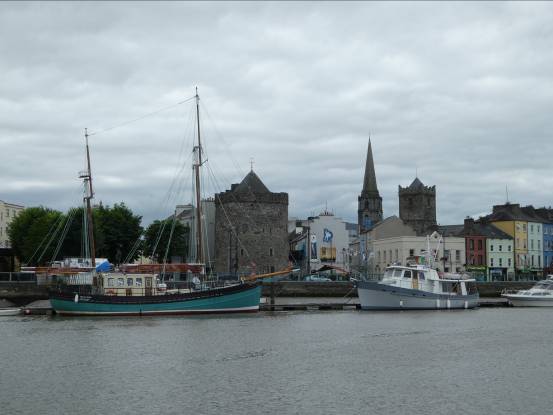 <![endif]>
A discovery stroll around the compact city, all very convenient to the riverside, & with most interest in the waterside old town, the Viking Triangle.  The weekend was a wet & windy both days, so saturday (9th) we visited the Bishop's Palace, looked at Waterford Crystal, did some provisioning & more exploration of the Town, finishing in a nice Italian restaurant.  Sunday (10th) Doug did an oil change, before we went round Reginald's Tower, a round tower in the Viking Triangle which dominates the waterfront, & houses the city's Viking museum, & then (risk of culture overload!) to the Medieval Museum.  This had us heathens totally amazed with an exhibit of Bishop's vestments.
<![if !vml]>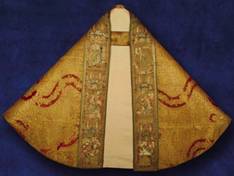 <![endif]>
A complete set from pre reformation times, in glorious colours & rich 'cloth of gold'.  Even more amazing they had survived by being passed from sect to sect at troubled times & so are truly multi cultural.
Waterford has R.C. &  C.of Ireland cathedrals both designed by the same man (John Roberts) & built in the late 1700s.  Finally a walk along the medieval walls & towers.
Mon 11th July.  First pay our dues at the Council offices, rather reminiscent of business transactions in Greece.  Luckily we could take the tide down river early afternoon.  The views were different with the water higher than when we came in, the dredger & ferry were busy, & mid afternoon the extra tide boost had taken us out over the bar where we hoisted the main & sailed out of Waterford Harbour & past Hook Head lighthouse.