Date Filed

06/08/2014

Dittisham, Devon, England

Lat/Long

50˚ 22' N

3˚ 35' W

Content complete to – (Date | Place)

01/08/2014

Tresco, Scilly, England
Sun 13th July.  A prompt departure from Puerto Pedro Negras (San Vincente) using just the genny.  Later as the wind came on the nose we furled that away & motored, then indulged in some rock dodging (an uncharted one, luckily showing) to anchor off Punto Lucia, at St Uxia de Ribera in the late morning.  9.7.nm.
Half an hour later a dolphin was fishing along the line of yellow buoys protecting the beach's swimming area, & about 5 metres inshore of us.
We took the kayaks east around a rocky headland as far as the next small harbour & then returned as the afternoon breeze started to increase.  Rounded off the day with our swim & walk beach routine, although the water was still colder than in the more southern rias.
Mon 14th July. A prompt departure for a medley of motor, sail, put reefs in, take them out, full sail, motor again until we turned into Muros ria & arrived at Muros Marina at lunchtime.  27.9 nm.
<![if !vml]>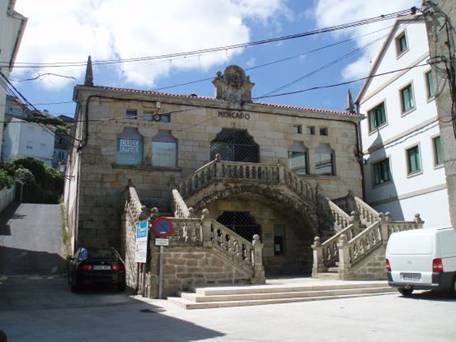 <![endif]>
So lunch, some 'reminder' strolling in Muros & some provisions shopping.
The narrow streets of Muros climb up a hillside past the market hall to the church. There are pleasant squares & the buildings along the waterfront have large arched porches giving lovely shaded areas.
Tues 15th July.  Another prompt departure, sailing out of the ria busy with fishing vessels.  Out of the ria the wind dropped & we motored past a large group of dolphins & gulls, both also fishing.  As we reached Cape Finisterre the wind increased, we reefed & motorsailed, the yachts heading south had a more comfortable voyage.  Mid afternoon we turned into ria Camarinas & anchored off Praia de Vila at its head.  40.8 nm.
Wed 16th July.  A short trip (1 nm) to Camarinas marina.
<![if !vml]>
<![endif]>
There is bad weather forecast for the night, & we have a walk planned.  It also turned out to be the Fiesta del Carmen, so there was lots of noise, fireworks (bangs), & fishing boats with all sorts of décor – lights, trees etc.  We still set out on our walk to the lighthouse at Cape Vilano, out along the coast, past a little chapel, with a steep climb up to the lighthouse & back along a ridge (windfarm turbines either side – good views) then country lanes back to Camarinas.  We saw a bird, a shimmering blaze of green & yellow – back & consulting the on board book we decided it was a bee eater, something neither of us had seen before.
<![if !vml]>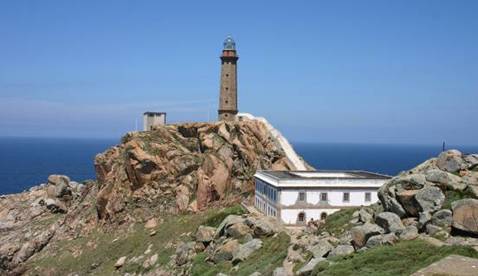 <![endif]>
Thur 17th July.  The bad weather did not come overnight, it arrived with a blast, about 8am, as people were untying to leave.   I watched one boat that could not reverse out of its berth because of the wind, & others were scrambling for any spare marina spaces.  We, like others, put plans for moving on on delay, but by 11am it had all gone through & we were on our way.  Initially just using the genny, gradually more sail, with a poled out genny & finally the reefs (of tuesday) out of the main.  Teatime Hercules (the ancient lighthouse  at A Coruna) came into view, & with a detour to the fuel berth, we arrived at Darsena marina, in the centre of A Coruna early evening.  51.5 nm.
Friday (18th July) – a busy day.  The forecasts look OK for a Biscay crossing if we leave tomorrow, so provisioning, laundry, fill water tanks, check engine & other boat jobs.  Then to the Old Town for a lunchtime menu del Dia at Momos, our favourite place for this (still very good quality & value) & a stroll round the gardens of San Carlos.
<![if !vml]>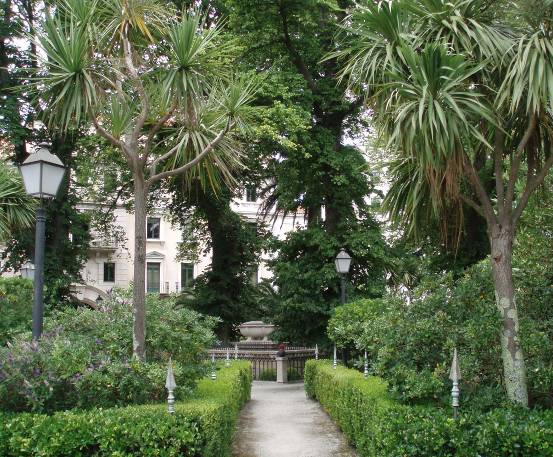 <![endif]>
That evening the heavens opened & we had to dodge both showers & puddles on our way back from an early tapas supper.
Sat 19th July.  A relaxed departure from A Coruna alternately motoring or sailing in very light southerly winds.  (On a long passage we switch the engine on to maintain progress if the sailing speed drops below 4 knots, but keep the revs low, to conserve fuel & we certainly do not have enough fuel on board to motor a complete Biscay crossing!).  About 11am a rain shower brought slightly more wind from a more westerly direction.  We were able to pole out the genny, but still had stop/start periods of motoring.  2 Royal Navy ships crossed ahead at great speed & there were quite a lot of young gannets about.  About 2pm we turned the engine off as the wind got to WSW 4 & it continued at that strength or more. We reefed as necessary, the boat was loving it.  Early evening we had a brief visit from some dolphins, & then some smaller ones arrived who stayed around for about 40 mins.  The wind went west & at 11pm a second reef went into the main.
20th July.  The wind surprised us by not dying down overnight, in fact it increased to force 5, with a brief spell of 6, & the boat continued to charge along, to our annoyance we had to put the engine on, out of gear, to charge the batteries for lights , autohelm etc.  Saw the occasional lights of ships/yachts in the distance.  At 9.35am (24 hrs after untying at A Coruna) we had logged 177.1 nm, very pleasing, the wind was now W 4 so the reefs came out of the main.  The wind held up, nothing much to be seen, then early evening the wind went NW, some dolphins gave us a beautiful display, jumping & diving under the bow, & later we put some reefs in the genny for 'a smooth evening'.  Next log entry says 'not smooth – still galloping'!
21st July.  Still galloping!  7am closing the French coast the wind finally started to die & with coast & fishing boats appearing we put the engine on.  At the 2 day mark (9.35am) we had logged 350 nm.  At 10.50am we were tied up to the pontoon in Le Foret, Brittany.  359.0 nm in just over 2 days 1 hr.
We were very pleased with this crossing. We sailed continuously for 41 hours & for the fastest 24 hour run (23.00 first to second day) we logged 181.7 nm.
We relaxed with a stroll to the shellfish shop for supper & an early night.
Tuesday (22nd July) after a few chores we took the bikes for a cycle along the coast & back through wooded countryside, about 18 miles.  Didn't bother with a swim, the beaches seemed so crowded after Galicia.
Wed 23rd July.  Left Le Foret for the Odet river & our regular anchorage at the Anse de Combrit.  14.0 nm.
A very relaxing place, lots of wildlife.  We took the kayaks right up to the mill at the head of the Anse.  Even quieter, about 5 miles.
<![if !vml]>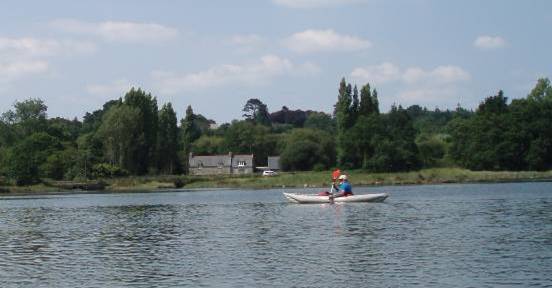 <![endif]>
Thur 24th July.  Left anchorage for Loctudy, 6.4 nm along the coast.
Our plan to kayak from there that afternoon was sabotaged by a weather warning for thunderstorms & severe flooding.  So it was a wander round Loctudy, quite entertaining as a circus was setting up & there were camels, llamas & horses grazing the local park.  The bad weather never arrived.
<![if !vml]>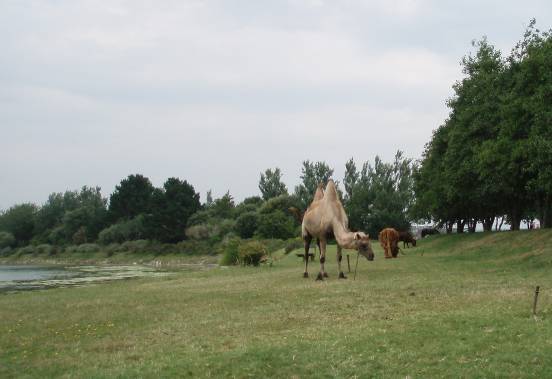 <![endif]>
Friday (25th July) we did the planned kayak trip up the river to Pont l'Abbe, with some very attractive buildings.  A 6 mile trip, & different views on the return as the tide was covering the shallows.
<![if !vml]>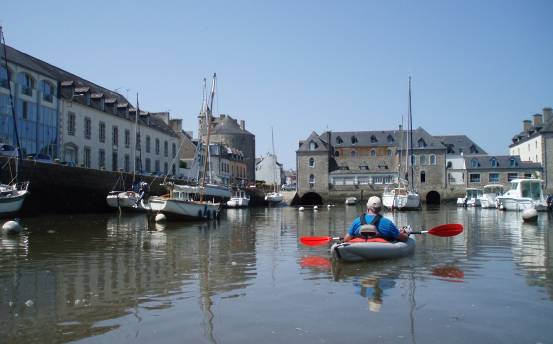 <![endif]>
Sat 26th July.  A prompt departure from Loctudy, motoring, no wind.  Late morning there were more yachts & fishing boats about, flights of young gannets & as we rounded the lighthouse bedecked Point de Penmarch we unfurled the sails for a beat along the coast.
<![if !vml]>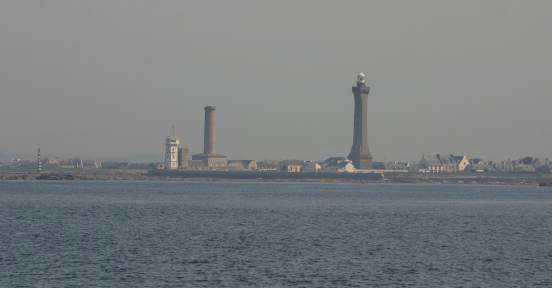 <![endif]>
We passed Audierne, & mid afternoon anchored in the little bay, Anse du Loc'h.  This is just short of the notorious Raz du Sein that must be negotiated at slack tide so makes a convenient place to await the correct tide time.  36.9 nm.
<![if !vml]>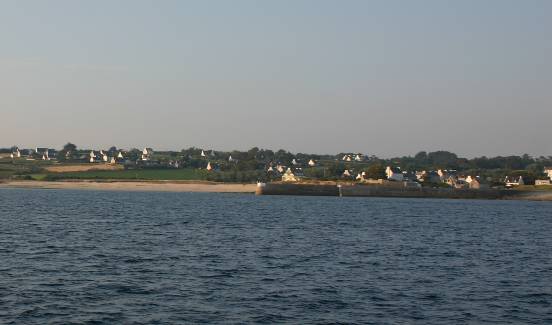 <![endif]>
Sun 27th July.  A light airs beat along the corner to the Raz, where the wind picked up & shifted so we beat past the lighthouses & beacon topped rocks & by 11am were round the Pointe du Raz.  Midday some dolphins charged across our track – mission fish.  An hour later the wind died, the engine went on & diving gannets pinpointed more dolphins in our path, intent like the gannets, on fish.  An hour later a repeat visit from a fishing group – dolphins & gannets.  These groups do some spectacular antics in their quest for fish, one cannot watch enough directions to take it all in.  Approaching Ushant there were some nasty overfalls approaching the harbour mouth, & at tea time we arrived at Lampaul, Ushant & picked up a mooring.  43.9 nm.
Later in the evening we saw a most strange & amusing incident.  A Spanish yacht (Diaro de Navarra) arrived & went to pick up a mooring.  A single dolphin appeared & seemed to try to prevent them picking it up, by leaping & getting in the way.  This went on for some time with quite an audience on nearby boats.  We spoke to some of the Spaniards the next day & they said it was just like he was saying 'it's mine – keep off'!
<![if !vml]>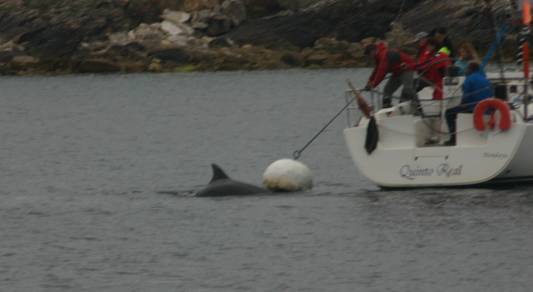 <![endif]>
Monday (28th July) we had a relaxed day on Ushant with a walk out to the NW coast in the afternoon.
Tues 29th July.  A midday departure, governed by the tides again, first sailing, then as we rounded the end of Ushant the wind came on the nose, light, so with shipping lanes to cross we motored.  Before we were across them we had another display from the fishing team – dolphins & gannets, & had to duck a large fishing boat.  With the wind still on the nose we put a reef in the main for the night & carried on motorsailing.
30th July.  In the small hours the sea got steeper.  Some gulls took to flying alongside – it was quite spooky to see these white shapes floating along like ghosts.  Then there were a lot more fishing boats, luckily the skipper was on watch at this time!  Then about 8 in the morning we arrived in The Cove between St Agnes & Gugh in the Scilly Isles.  The anchorage was fairly busy, but we slotted ourselves in.  113.9 nm.
Disappointing to have had to motor so much, especially after the terrific Biscay crossing.
We went ashore for a stroll & lunch.  St Agnes was a blaze of flowers & everyone was relaxed & smiling in the sunshine.
<![if !vml]>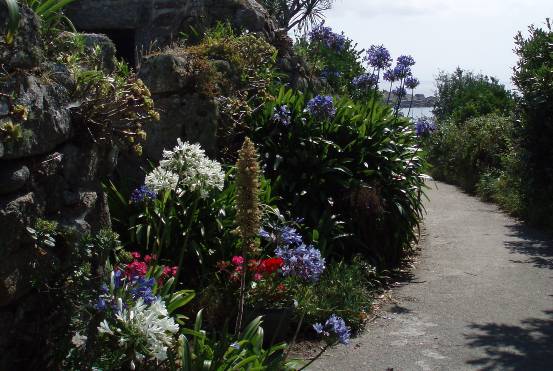 <![endif]>
Thur 31st July.  A relaxed departure to anchor in Watermill Cove on St Mary's. 5.5 nm.
Then a circular walk along the coast path, to a Neolithic barrow, through a nature reserve, & another section we christened the Mangrove Swamp for its tangled trees.
<![if !vml]>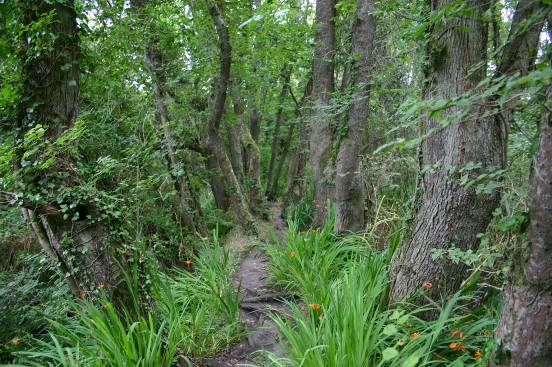 <![endif]>
Finally back via country lanes & footpaths to Watermill Cove & the boat.  About 4 miles & very varied.
Fri 1st Aug.  An early departure, for high water across some shallow patches, to anchor off Old Grimsby on Tresco.  3.3 nm.
No sooner had we arrived than a rain shower came through.  When it passed we set off to walk across the island to its shop.  While there the rain arrived again, luckily we had waterproofs for our return.  Back on board than the rain increased & stayed that way!