Date Filed

24/07/2014

Loctudy, Brittany, France

Lat/Long

47˚ 50' N

4˚ 10' W

Content complete to – (Date | Place)

12/07/2014

Puerto Pedro Negras
Thur 26th June.  A very grey morning, unflattering to the surroundings.  Lunchtime we did a circuit of the parts of the enseada (bay) deep enough for the boat, as there were islands & old buildings to be seen.  Then we set off for another small town near Cangas.  Part way there we could see the sun shining on the mouth of the Ria, it seemed more appealing than our planned destination, still under grey skies, so we altered course to the sunshine at Praia de Barra & a teatime swim.  13.9 nm.
<![if !vml]>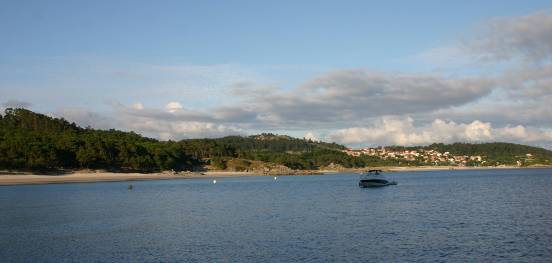 <![endif]>
Fri 27th June.  A swim & walk, then off to arrive at Vigo's RCN marina.  6.4 nm.
The boat is booked to stay for a week while we return home for some appointments & a general catchup.
The next day & a half was spent mostly on some sightseeing of the town plus sorting the boat & ourselves.  Saturday afternoon a large group took the rudder off the boat next to us - it wasn't going fast enough when racing & the rudder was to blame!  It was noisy, chaotic & amusing with divers, travel hoists etc.  As peace returned a boat from across the pontoon came back from an afternoon sail, & Doug heard a loud splash.  Someone had fallen in, luckily he was able to pull himself back on board, but meantime his friend had cut the engine to avoid mincing him in the prop & the boat was broadside on to the pontoons.  Doug got on board & did some serious fending, I hauled on various warps & finally order was restored.  Both chaps were very grateful, I don't think we saved any lives, but we probably stopped quite a lot of damage - the boat was called 'Happy Time'!
On Sunday (29th June) we headed to the station for an early train to Santiago de Compostela, giving ourselves time for a leisurely stroll & lunch in the city before catching our flight home.
The following Sunday (6th July) we returned to Vigo, plane & train again, but no spare time in Santiago.  The boat was secure & as we had left her.
Mon 7th July.  A serious provisioning run, then after settling our dues, we departed Vigo early afternoon on the short trip to Playa de Barra, 6.5 nm, & a relaxing swim.
On Tuesday (8th July) we launched the kayaks to take us & walking gear to the beach.  From there a delightful walk leads along the coast, taking in several lighthouses as it winds round the promontory to the Atlantic shore, then on via a cliff path to the little hamlet of Donon perched on a ridge, before descending through woods, sand dunes & past a stream back to the beach, & our transport. About 6˝ miles of very varied scenery.
<![if !vml]>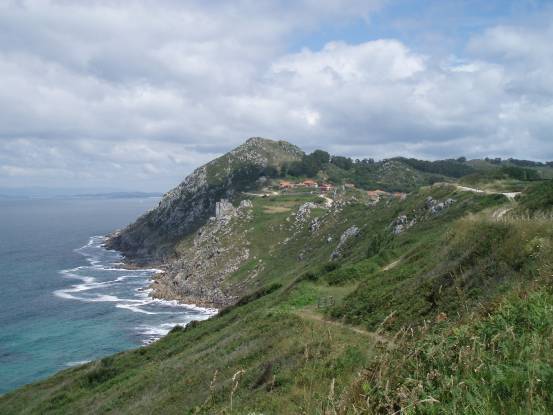 <![endif]>
Wed 9th July.  A very short morning trip (unfurl genny) to Cangas marina. (5.1 nm).
More provisioning, the shops are closer than Vigo, so better for the carrying, & a frustrating wait for the marina washing machine. (launderettes are uncommon in Galicia).
Thur 10th July.  Another short trip, close along the shore via the pretty Limens bay, where we thought of anchoring, but decided it was too enclosed by viveros (mussel rafts) back to Playa de Barra. 5.2 nm.
<![if !vml]>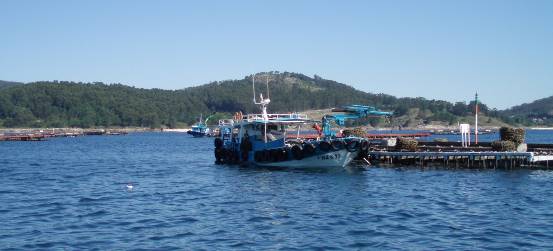 <![endif]>
Fri 11th July. A prompt departure, to Praia Nosa Senhora, a very small bay & another of the permitted Cies anchorages, & yes, another permit. 3.9 nm.
Having claimed our (anchorage) space we did our usual swim to beach & walk, then watched as the tide came in crowding people higher up the diminishing beach.
Sat 12th July.  The forecast wind from the NE arrived & we made a prompt start on a brisk beat (1 reef in the main & some rolls in the genny) heading for the island of Ons.  The wind played tricks on us, we no sooner took the reefs out than they had to go in again.  At Ons there were plenty of spare moorings, but the boats that were there were rolling unpleasantly, so we passed on by.  It was a quick, not unpleasant beat, & early afternoon, we anchored off the beach at Puerto Pedro Negras (or San Vincente do Mar). 22.4 nm.
The beach was busy & we intended our usual swim, but had not believed the boat's water temperature gauge of 17˚C, - we got out double quick!