Date Filed

12/06/2013

Falmouth

Lat/Long

50º 09' N

5º 04' W

Content complete to – (Date | Place)

Falmouth

10/06/2013
Wed 29th May.  The usual final shopping & loading of boat.  Then dump the cars & return to boat ready for an early start the next day.
Thur 30th May.  Yes, the early start meant up at 4am & underway just before 5 to catch the southbound tide.  A generally murky day as we treaded our way through the ever increasing numbers of windfarms.  Mostly we could sail but, as is our usual practise when on passage, the engine went on to maintain our speed when the wind died.  Across the Thames estuary we started seeing gannets, & off the Kent coast a mist rolled down off the land, so the radar went on as we were approaching Dover & the ferry routes.  Luckily the fog lifted before the harbour itself so the only delay to our early afternoon arrival was a wait as instructed, for the lifeboat & a dredger to come out first.
We logged 49.3 nm but thought the log was under reading.  Having cleaned the log we were not convinced there was any improvement.  An early night was the order of the day.
Fri 31st May.  A normal start (8.30am) &  once out of the shelter of the harbour we found a confused sea & the forecast strong & gusty wind.  Luckily this was from astern so we just partly unfurled the genny.  Even with only the one sail, & that with a reef, we were speeding along.  About an hour later there was a dramatic change as the wind dropped about 3 forces, shifted direction & the sea became less confused.  We hoisted the main & raced past the lighthouse on the corner at Dungeness, probably to the surprise of a group fishing off the beach.  With the change of direction we speeded up & soon had to put a reef in the main & a second in the genny.
The tide was helping then the wind eased so the reefs came out again.  We were making good time so as Beachy Head came into view we changed our original planned destination of Eastbourne to Brighton.
<![if !vml]>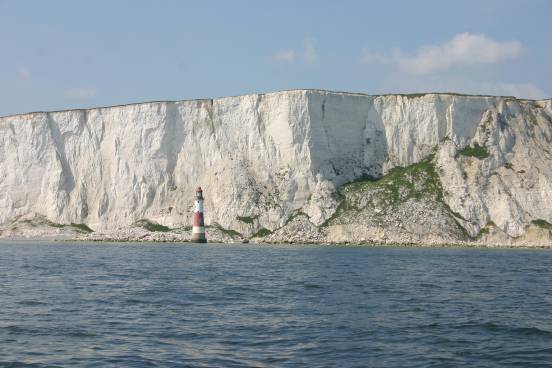 <![endif]>
Mid afternoon having just given Eastbourne away we found the autohelm was not responding although the steering itself seemed ok.  After checking everything we could think of & assuming a rather expensive repair coming up we decided to switch all the electronics completely off & restart them.  To our surprise & considerable relief everything came back on working perfectly.  Computer rebooted!!!
As we passed along the Seven Sisters (the white cliffs where the Sussex Downs drop into the sea) the wind went light & fickle so the engine went on & off, but finally a sea breeze set in putting us closed hauled on port, the opposite tack from the rest of the day.  Anyway it held up into early evening while we crossed the Greenwich meridian from east to west, & arrived at Brighton Marina.  59.3nm.
Sat 1st June.  We woke at 4am intending to take the tide for another early start & longish passage.  The wind had howled all night & was still howling,  we did the unthinkable - turned over & went back to sleep!  So it was a relaxed day with a few chores & some restocking of stores.  We were entertained with a seal in the marina, & amused to find that it had made the local press.
Sun 2nd June.  The wind wasn't howling & with the tide an hour later we were away by 6am in some very pleasant sailing conditions.  Mid morning the wind became fitful so as we passed the Owers buoy & on to St Catherines (South side of the Isle of Wight) we alternated between sailing & motorsailing.  At the Needles there were rafts of guillemots, diving away as we came close.  Then soon after 6pm we reached our intended anchorage at Worbarrow Bay.  This is in the MOD's Lulworth firing range & one can only visit at weekends.  The 3 anchorages have a backdrop of spectacular cliffs & we had one to ourselves, except for a single scuba diver who swam along a rocky outcrop & then departed!
80.2 nm.
<![if !vml]>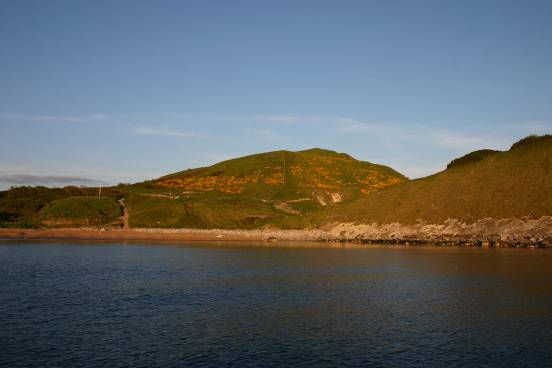 <![endif]>
Mon 3rd June.  The downside of this privacy is having to depart by 9.30am or risk being shot at!  In practice the red warning flag was flying at footpath entrances by 7.30am then a man on a wet bike patrolled the beach, & we hauled anchor at 8.15am.  We had 5mins sailing before the wind died, & rounded Portland Bill by mid morning, where there were lots of guillemots in groups on the water.  At a distance only their white underbodies showed up looking like fragments of white polystyrene – I wonder how often we have mistaken them for a broken fish box or some other white plastic?  Around midday we had another burst of wind & another 25min sail before it died again, & a third as we closed the coast at Torquay & needed to get the sails down for harbour.  The fuel berth was awaiting a delivery next morning so we tied alongside  the town's Halden Pier for the night.  47.7 nm.
We found a very nice Italian resturant on the quay for supper, & after that were joined for drinks on board by some friends of Doug's from his college days.  They live close by at Paington so it was a good opportunity to catch up, & a very pleasant interlude.
Thanks Roger & Heather.
Tues 4th June.  A foray into Torquay to restock supplies, & then a late morning departure via the now replenished fuel berth.  A pleasant beat, but rather frisky as we rounded Berry Head, then we furled sails as we entered Dartmouth & motored up the river.
<![if !vml]>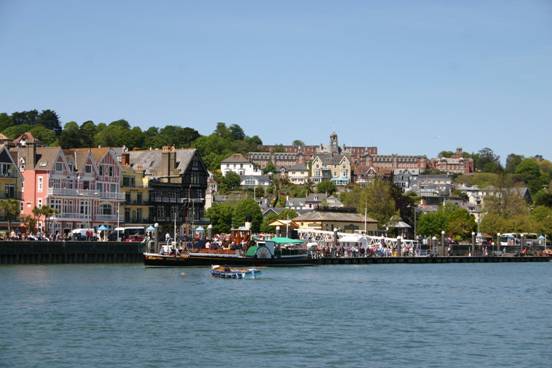 <![endif]>
We anchored just South of the Anchor Stone before Dittisham.  12.1 nm. 
That afternoon we took the kayaks up river past Dittisham & into one of the tributaries, away from the hurly burly of the main channel.
A phone call that evening from friends told how they had had some incredible luck - very nice for them.
Wed 5th June.  We awoke to find the boat digging her rudder into the mud as she swung with the tide so we moved round the corner to a mooring nearer Dittisham while we did the morning chores.  Then downriver to pick up water in Dartmouth & once out of the river we were sailing with main & poled out genny.  One wave managed to climb aboard in the overfalls off Start Point (there's always one!).  Off Bolt Head we took the pole out, then as we turned into the Yealm Doug saw a red flare.  The radio was already announcing it reported, so we watched & listened.  Soon we saw a yacht with all sails flogging, no apparent control of the steerage & then a handheld flare on board.  Several other yachts & a large motorboat were heading that way.  We got our sails down & joined in then the radio announced a lifeboat on its way, & the powerboat got a line to the yacht.  All looked to be under control so we resumed our course, only to hear the radio announce that someone was missing overboard.  We turned round again to help search but very shortly it was announced that the body had been found, & the lifeboat had arrived & was taking charge, with lots of thanks to the motorboat, so we again resumed our course up the Yealm & tied to a visitors pontoon.  Very subdued.
29.9 nm.
Thur 6th June.  Ashore in the dinghy to do a very nice walk along the coast path round the Noss Mayo headland, very surprising to still see bluebells in flower in the wooded bits  followed by a lovely scallop dish for lunch at The Ship Inn.  4.5 land miles.
<![if !vml]>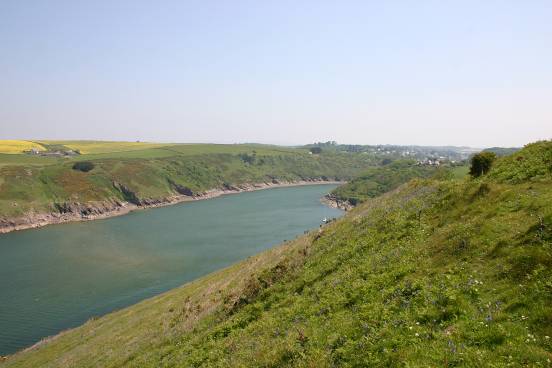 <![endif]>
It was still only early afternoon by the time we were back on board so with a nice breeze funnelling down the river we decided to move on.  Just clearing the estuary 2 gannets did amazingly close dives so we had perfect views of the 'jet fighter' shape as they hit the water at speed.  We didn't have cameras to hand, but wouldn't even have had time to lift them let alone take aim.  The breeze did not live up to its promise so it was another frustrating mix of sail & motor enlivened by the Navy on exercises, lobster pots off Looe & gannets sitting on the water masquerading as pot buoys.  It was evening when we picked up a mooring in Fowey Harbour.  24.9 nm.
Fri 7th June.  Took the bus to Charlstown & had a stroll round the harbour & village.
<![if !vml]>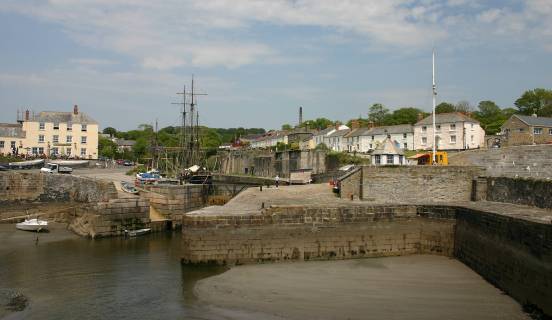 <![endif]>
This is home to some tall ships which are often used for film sets, but I was surprised just how small the locked in harbour was as I had imagined something much more extensive.  Another seafood pub lunch.
Sat 8th June.  Woke to find a huge cruise ship had arrived overnight & was towering over a large number of moorings & their occupants!  Mid morning we dropped our mooring & headed out to sea.  This time we were not conned by the 'harbour' breeze which vanished once outside & was replaced by a large swell (there must have been wind somewhere) & we motored until we turned into Falmouth Harbour.  There the swell died, a breeze came & we unfurled the genny for a pleasant sail up river for the final few miles.  The harbour was busy with all sorts of craft & a lot of racing fleets including some spectacular old topsail smacks.  Further upriver we found a spot to anchor in a bay overlooked by Trelissick House, a very grand mansion.  21.7 m.
Boats came & went & some like ourselves stayed overnight.  All were visited by a pair of swans tapping on the hull for food.
<![if !vml]>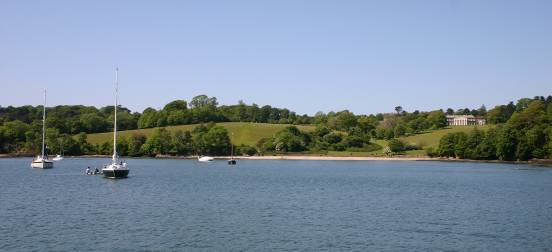 <![endif]>
Sun 9th June.  We used the dinghy to get ashore to go round the gardens at Trelissick (National Trust).  Lots of lovely rhododendrons in flower, interesting & unusual trees, weeping wisteria, ferns & great views of the river.  Back on board there were fewer boats in the anchorage, but the swans were still exacting 'dues' from everyone.
<![if !vml]>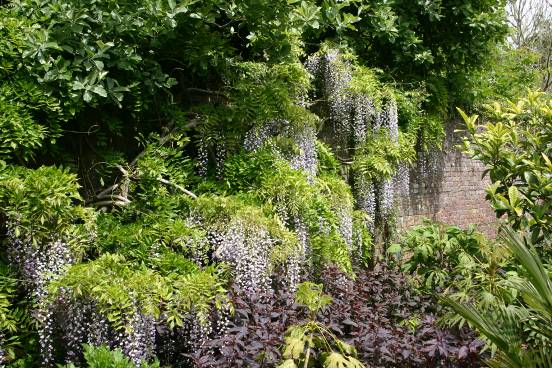 <![endif]>
Mon 10th June.  There is some bad weather in the forecast & after a warm & sunny weekend today is grey & cool with the murk trying to become drizzle.  We head as planned for Falmouth itself & get a berth in the Falmouth Visitors Yacht Haven.
3.4 nm.   It s not long before most berths are occupied & most (including ourselves) are rafted.