Date Filed

11/06/2011

Gijon, Asturias, N Spain

Lat/Long

43º 22'75 N

5º 40'03 W

Content complete to – (Date | Place)

10/06/2011

Gijon, Asturias, N Spain
We had a relaxed Saturday (28th May) around A Coruna then on Sunday 29th we took the train to Santiago for a leisurely 'reminder' visit before catching our plane back to the UK. At home there were the usual jobs, mail & catch-up, but we also managed a trip to the theatre & a dingy race, before a horribly early start for the return flight & train on 6th June.
Arriving back at the boat in A Coruna about midday we were met by friends Richard & Cathy Brown, who had arrived with their yacht Brave, via France & Gijon, a few days earlier. So there was more catching up to do as well as readying the boat for departure, us to carry on eastwards, the Braves heading west.
Tuesday 7th June.  After settling up we were presented with some wine, a nice gesture.
<![if !vml]>
<![endif]>
 A mid morning departure, we thought the log was probably under reading after a week staying put. We were soon sailing out of the ria with another view of Hercules. We donned oilies hurriedly & briefly for a short shower from one of the lurking black clouds. There were yachts & fishing boats about, middayish we poled out the genny as the wind went astern. Mid afternoon there was a very black line squall forming to the north. We donned oilies again & prepared to reef – result, there were a few drops of rain & the clouds dispersed, no drama. The wind died away, Doug tried fishing, then we took the sails down as we arrived in the narrow entrance to Ria Cedeira. This is spectacular with high cliffs around, & leads into a bigger bay where we anchored off the fishing port. 29.6 nm, & a very nice, if relaxed sail.
<![if !vml]>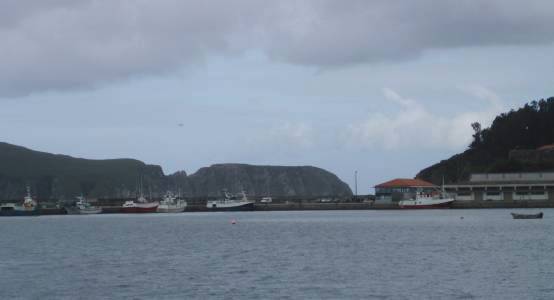 <![endif]>
We didn't go ashore as it was good to relax after our long day yesterday, but there were a few people enjoying the long sandy beach & a few other yachts at anchor.
Wednesday 8th June. A greyish day, but another relaxed departure with the main up immediately to stop her rolling in a very big swell. Straight away it was obvious that there was not enough wind to overcome this swell & enable us to sail, so we reefed the main to stop it clouting the backstay. We headed NE up the coast looking at the cliffs, supposedly some of the highest in Europe, which rise 600 m from the sea. At 11 am there was a bang, & the main had split across a few feet from the top. It was quite a tussle to get down & ties round – it had certainly been stopping her roll up to that point. It is the boat's original sail & we have done over 17000 nm with her.
<![if !vml]>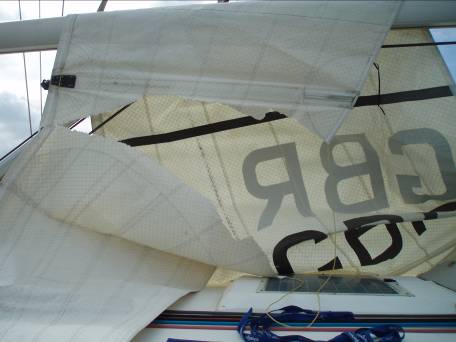 <![endif]>
We decided to continue to Vivero, our intended destination as going further to a port with more facilities would have meant going overnight & the swell was forecast to subside by morning, a big bonus with no steadying main. We were lucky as having rounded Cabo Lino & its offlying dragons teeth we were able to sail on the genny alone. At Vivero we anchored off the beach at Playa da Covas. 29.7 nm.
We had intended to go ashore here & it looked very pleasant, but we knew we would not find a sailmaker & didn't want the delay that using & re-stowing the dinghy would cause, so we readied the sail for removal & turned in.
Then a 6 am start the next day (9th June) just as light broke, with a long day's motoring ahead. It was another grey day, the wind was light & mostly astern & the swell had, thankfully, greatly reduced as per forecast. We were well offshore so there were only fishing boats, gannets, a few ships & occasional very distant yacht. Soon after 8 pm we tied up in Gijon marina after a long day's motoring, 88 nm, the only consolation was that it was not sailing conditions anyway.
Friday 10th June. We took the sail off the boom, & after numerous abortive phone calls to the 'sailmaker' Doug went (without great expectations) to find the address we had been given while I 'guarded' the sail. He returned with a sack barrow & we duly heaved the sail up to the 'sailmakers'. I was surprised to find that the 'loft' designed & made wings for parascending, Anyrate 3 people conferred over our split & finally said they thought they could have it sorted by midday Monday. Quite what we shall be flying when the sail returns I do not know!
So we have until then to do some routine jobs & explore Gijon, which we started with a walk over the headland to the town beach this afternoon.
<![if !vml]>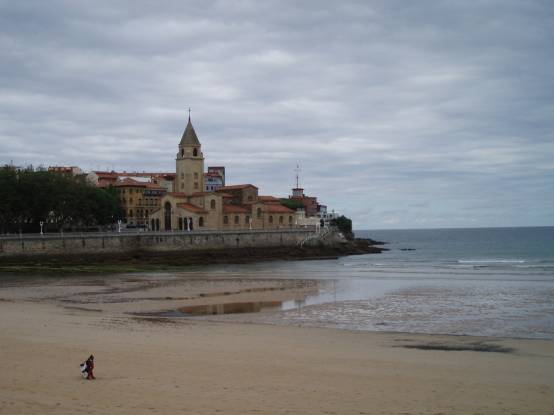 <![endif]>