Date Filed

27/05/2011

A Coruna, Galicia, Spain

Lat/Long

43º 22'08 N

8º 23'79 W

Content complete to – (Date | Place)

27/05/2011

A Coruna, Galicia, Spain
Monday 23rd May. A prompt start from Camarinas. The forecast had said mist & yes there was cloud on the hills rolling down towards the sea. Common in this area around Finisterre, it was reminiscent of parts of Scotland. Out round the lighthouse on its rocky promontory, looking ghostly in the murk there was a very big swell (easily 2 metres plus), the wind was light & on the nose – another motoring job. Lots of gannets, a few fishing boats, fishing marker buoys lost in the swell & mist, & a couple of yachts. Just before midday as the wind started to pick up we anchored off the town of Corme in much the same spot as 3 yrs ago. 18.4 nm.
It was a greyish day, there were major works in progress on the breakwater with diggers & concrete mixers leaping in to action as the tide fell. Otherwise not many people were in evidence – not warm enough to sit by the fountain on the sea wall.
Tuesday 24th May. Should we stay or should we go? It seemed pleasant enough. The forecast was for strengthening winds, but the following couple of days sounded worse. So we made a prompt start, motoring hard with the wind, unsurprisingly, on the nose & strengthening as soon as we were clear of the bay. The big swell had subsided, but it was very rough, & fishing boats & gannets were very sparse. Mindful that there were no 'bolt holes' on this leg to A Coruna we considered returning to Corme, but mid morning we bore away round the Sisargas Islands & although we couldn't quite lay the course it was worth hoisting the main, with 2 reefs, to give the engine a welcome boost. Finally the ancient lighthouse (Hercules) at A Coruna came in sight & as we got closer we could bear away some more, & were able to still the engine, unfurl a few turns of genny & sail the last few miles. Early afternoon we anchored near Mera at Punta Penatoura on the far shore of the ria from A Coruna. 36.1 nm. Despite conditions we had averaged just over 6 kts.
It seemed like a different world as people were sunbathing on the beach & we were in full oilies. It was almost tempting to go for a swim! We resisted, & relaxed, enjoying the sun. At dusk gig type boat appeared. It had six rowing stations, a canoe stern & steering oar instead of a rudder & apart from the helm was manned by youngsters, 1 lad, the rest girls. The sunset was lovely, illuminating a small lighthouse on the headland to 'our' bay.
<![if !vml]>
<![endif]>
Wednesday 25th May. We took advantage of the light morning airs to motor across the ria, visit the fuel berth & move to the Real Club Nautico's marina in the inner harbour at A Coruna. 3.5 nm.
The rest of the day was spent on various chores until an evening stroll to re-acquaint ourselves with this pleasant town & find supper.
Thurday (26th) started grey & windy. A few more chores then a walk further afield to look at the planetarium (rather a lot of schools visiting), find a tram along A Coruna's main beach (found the stop, timetable, not a tram to be seen all day) so we walked (instead of tram) out to Hercules & were able to climb to the top to see a magnificent storm tossed sea (the wind had increased, but there were sunny spells).
<![if !vml]>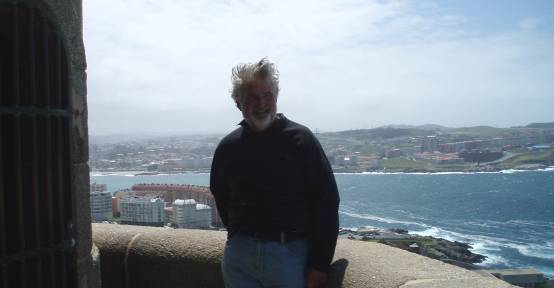 <![endif]>
Then it was back on the other side of the headland with various sculptures along the way.
Friday (27th)  More jobs including giving the boat a freshwater rinse, Then out to look at the little fort of St Anton (free today –nice) that guards the harbour & now houses a small museum of mostly military & seafaring items. There was also a large vaulted water cistern, & a re-creation of a wattle & hide boat, coracle principle.
<![if !vml]>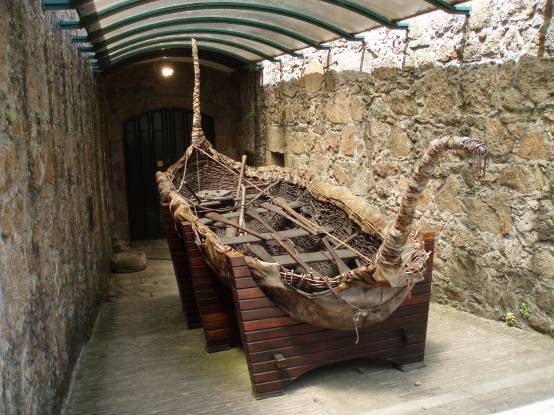 <![endif]>
We are due to fly home for our regular visit to check house & mail so Sugar 'n' Spice is booked in here until we return. The next blog will be after that.