Date Filed

22/06/2010

Pasadur, Lastovo, Croatia

Lat/Long

42° 46.13 N

16° 49.51 E

Content complete to – (Date | Place)

22/06/2010

Pasadur, Lastovo, Croatia
Back late on the 16th June from our week at home generally catching up – friends, garden, post etc – we were in time to grab a late supper & enjoy the very mellow evening. Next day, after a major shop for provisions, it seemed to hot for sightseeing so we took the canoes to explore the bay further.
So Friday 18th June we made our departure from the marina, motoring at first, then sailing, motoring, & sailing (a beat) again in a light shifty breeze. In fact fairly typical Mediterranean sailing, except that it first clouded over & then rained! Only light, but enough to prompt us to don waterproofs, then the finale was a nasty squall with a windshift & heavier rain as we took the sails down. After 31 nm we arrived at Uvala Vinogradisce, on Sv. Klement, one of the small Pakleni islands off the SW corner of Hvar.
No sooner had we dropped the hook than the sun came out & 'normal service' was resumed. It was a popular bay with quite a few boats at anchor including a friendly Aussie boat next to us. There were several restaurants ashore, one with peacocks which called all through the night.
Saturday 19th June. We left Vinogradisce heading through some narrow, shallow channels winding between little Pakleni islands for the short distance to Hvar town.
<![if !vml]>

<![endif]>
When we arrived the channel between the islands & Hvar town/island was exceedingly rough (wind over tide or current), the harbour was a scrum (trip boats, boats at anchor & on the quay, all far too close & pitching around), & the only practical place to moor meant taking a line ashore amongst a crowd of boats & a crosswind. It looked exceedingly uncomfortable, so we decided to pass on by. The town itself looked imposing with its castle on a hill behind looming over the town.
The wind was on the quarter (NW4/5) so we set main & genny & had a lovely fast sail, later the wind increased (NW5/6) so we put a reef in the main, still quick.
Early afternoon  after 23 nm we anchored in Uvala Tri Luka on Korcula, & the dog canoed a line ashore.
Another very relaxing bay with a few houses & occasional fisherman or scuba diver.
However a new forecast arrived, rather different from the morning's, saying that the expected strong wind was now going to be from a completely different direction. If that happened our pleasant bay was facing the wrong direction & we needed to move.
So soon after 6pm that evening we headed off again, motoring as the wind was light & astern, & our new destination was 12.5 nm away. With a smoothish sea we were anchoring in Luka Mali Lago between Prezba & Lastovo islands soon after 8pm.
We were to the N of a low bridge, only for small boats, that joins the 2 islands, & the channel at both ends is formed of deeply landlocked bays providing shelter from virtually every wind direction. With darkness there was an amazing lightning show illuminating the surrounding hills, but very little thunder, & later some rain & wind arrived. Not a settled night.
<![if !vml]>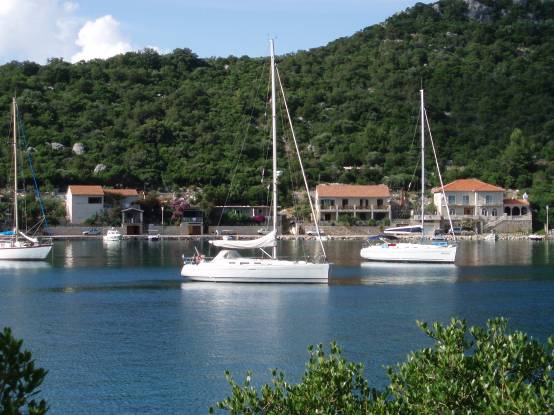 <![endif]>
Sunday 20th June. The grey weather cleared away while Doug reviewed the weather by internet. Then we packed away the rainwashed sundried canoes & pumped up the rubber dinghy, for a foray to Ubli, Lastovo's ferry port, & 3km down the bay the other side of the bridge. Ubli was quiet – sunday – with its 2 shops closed, but we were able to fill a can with diesel for the boat at the garage.
Back at the boat we had a swim, then early supper & black clouds gathered over the wooded hills. We had barely finished when the heavens opened, & as thunder & lightening flashed around hailstones the size of marbles hit the deck, making visibility  non existent.
<![if !vml]>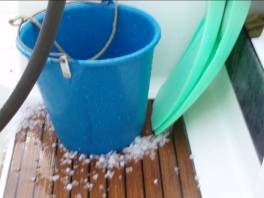 <![endif]>
When that had gone through several boats were re-anchoring having dragged. It was another disturbed night as the rain & storm continued & the wind danced round the clock.
Monday 21st June. Another slow start until the grey cleared away. Is this midsummer day? More reviewing the weather. I bailed the rain/hail water from the dinghy – it came over my ankles before I started. Moved to anchor in the other side of bay as we were unhappy with the holding in original position. Another trip to Ubli by dinghy – visit shops, the ruins of a 5th century chapel, & garage again for another can of diesel. Detoured to the opposite side of bay on the return to peer at another submarine pen in a cove. Then a walk round the local (mostly holiday accommodation & also Lastovo's only hotel) hamlet of Pasadur sprawling close to the shore on both sides of the bridge.
<![if !vml]>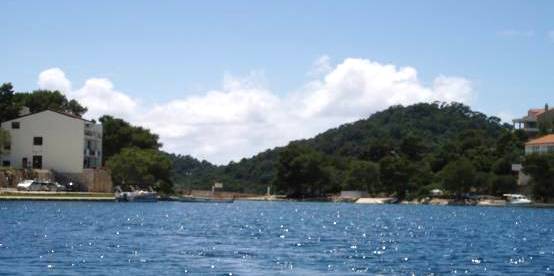 <![endif]>
Overnight brought a repeat of the storms & rain – no hail, but another long night.
Tuesday 22nd June. A grey morning again,& the wind stayed strong & gusty, with several shifts of direction. More weather studies. I bailed the dinghy again – it filled a 20 litre can plus. We will use it for washing to save the fresh in our tanks, as there is no easy water supply here.