Date Filed

13/05/2009

Location

Vlichada, Santorini (Thira), Cyclades

Lat/Long

36º 20.16N

25º 26.08E
The next day (5th May) was a day of provisioning, round tuits, find the water man & a walk over the hill to the lagoon behind the town, something I didn't remember from times past!
Wed 6th May.  A leisurely departure with some motoring, some light wind sailing out between Spetse & mainland (Peloponnese) where we saw some dolphins fishing (obvious because of the seagull attendants!)
Approaching Hydra,lots of plastic floating in the water, not nice.  Several flotilla boats hammered past us flat out (we were sailing at 5½knts in not much breeze).  In the harbour at Hydra they'd won, & were tying up, we looked & decided we didn't want to be part of the crush, so carried on to Mandraki Bay, a couple of miles to the east, where we anchored.  One or two other boats arrived later, obviously for the same reason. Early evening we strolled into Hydra to have a look around (the quietest I've ever seen the town), & the quay was double parked with boats.
<![if !vml]>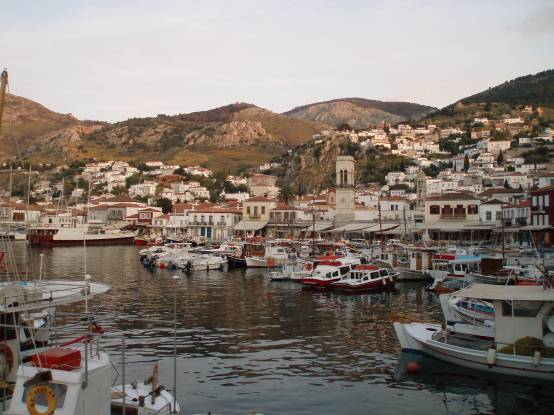 <![endif]>
Next day (7th May) a prompt departure from Mandraki Bay under motor.  By the time we'd cleared Hydra we were sailing, but winds were light.
Late morning we put the kite up, first time this year, but had to take it down after a couple of hours as the wind dropped to nothing.  We had a swordfish leap several times in front of us & then encountered a group of 20-30 dolphins, of whom about half escorted us for awhile, while the rest continued feeding.
Late afternoon we had another brief flirtation with the spinnaker before motoring the rest of the trip to Livadhion, Serifos in the Cyclades, where we anchored stern to quay (another first for us, but common in this area so we need the practice)  53.4nm.
Friday (8th May) after some chores, we walked out of the little port & up the hill behind using steep cobbled paths to the Chora (Hora), the old defensive town above the port.
<![if !vml]>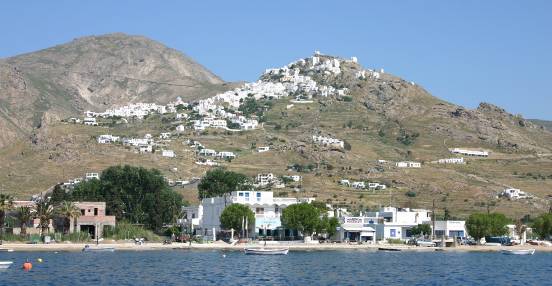 <![endif]>
We couldn't find the height on any information, but reckon it was between 200m & 300m high. Topped with a ruined fort the town was whitewashed cubes of houses, with the odd splash of colour here & there (mostly on churches), but seemed to have very few inhabitants.  The school had pupils playing in the yard, but elsewhere there was no one to be seen, just the smell of lunch cooking wafting out of closed doors.  Spooky.
We descended again to the life of the port.
<![if !vml]>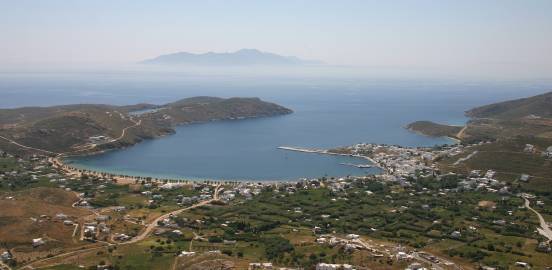 <![endif]>
Saturday 9th May. A relaxed departure from Serifos, sailing most of the way, we arrived to anchor in Vathi, Sifnos in the early afternoon. 15.6nm.
Doug dived to check the anchor, & later found an octopus.  I, in rather shallower water, found a very pretty thing, like a butterfly with fluorescent blue wings. When it folded them away it just became another 'lump of sand'. The book id'd it as a streaked gurnard – wish I'd had a waterproof camera with me!  Later we had a stroll ashore & supper in one of the beach tavernas.
<![if !vml]>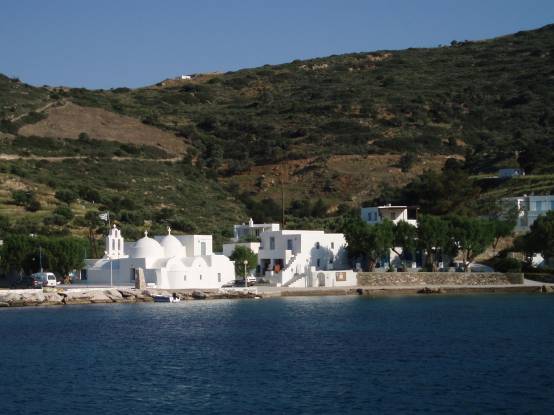 <![endif]>
Sunday.  A morning of jobs & chores, then in the afternoon I took a canoe round the bay, & we both had a swim, but no exciting finds.
Monday 11th May. Left the Vathi anchorage under power, but once we cleared the island were able to sail with a light variable wind on a beam/broad reach.
Early afternoon  we reached Karavostasi harbour Folegandros Island & anchored.  24nm.
Went ashore & caught bus up the hill (very lazy) , to the Chora for a mid afternoon lunch.
<![if !vml]>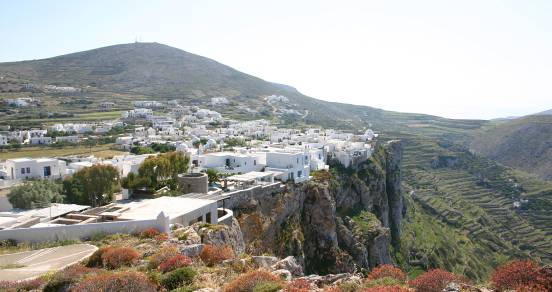 <![endif]>
Another very attractive town of jumbled white houses, but unlike Serifos, much more on one level apart for the church higher up on a steep mountainside.
Tuesday 12th May. Departed Folegandros under motor, but mid morning got the kite up again, & flew it as we sailed down the west coast of Santorini's caldera (& spectacular volcanic landscape) until the wind died at midday.  Arrived early afternoon at Vlikadha marina, Santorini.
This is a safe place to leave the boat on an island with a fairly inhospitable coast, but an early reconnaissance showed us that it was in a fairly remote location with not much in the way of facilities except tavernas.
That evening we took a taxi to the inland village of Pyrgos to try to find a favourite resturant of long ago.  We think we found it, but it had been developed & was closed that day, so we had supper elsewhere & thought nostalgic thoughts!
Wednesday 13th May.  Went to catch a bus to Thira (the main town on Santorini), but gave up when it was almost ½hr late (I keep telling Doug about me & buses!), & walked to the local town, Emborio instead.  So we caught a bus from there to Thira, where we did the touristy bit, gawping at the view – really magnificent with the multicoloured cliffs, almost complete crater ring & black 'plug' of Nea Kameni in the centre – & wandering the narrow streets with busy shops & whitewashed houses.
<![if !vml]>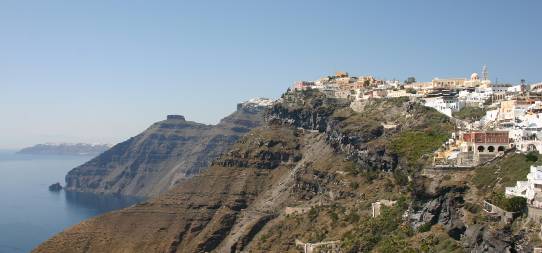 <![endif]>
Then it was a bus back to Emborio & a different better walk along a rural track back to the marina.