Date Filed

19/04/09

Location

Kalamata, Peloponnese, Greece

Lat/Long

37˚ 01.44N

22˚ 06.34E
Next day, thur 9th April, we left Grand Harbour in good time as the wind was forecast to increase later in the day.  As we cleared the Harbour mouth we met a US naval ship entering, & earned ourselves a ticking off from Port Control for not radioing in. Oh dear!  The wind was on the beam & increasing so we just unfurled the genny for the 15.1nm to Mgarr on Gozo, where we found we were already 'on their system' from last year.  The first job was to fit new springs (very large expensive lumps of steel & rubber bought in Valletta to replace our old rubber ones), to the mooring lines.  That night we were very glad of them as the wind picked up to a force 6/7 from the east.  Not a good direction for Mgarr, or for where we want to go!
The church bells rang for Easter, the weather continued mixed, with wind from the east & more near gales, so we continued with jobs & round tuits, more provisioning (well we're eating them) & some local walks, inevitably involving climbing the hill from the harbour, to the little town with its fort & elegant church, & views across to Malta.
<![if !vml]>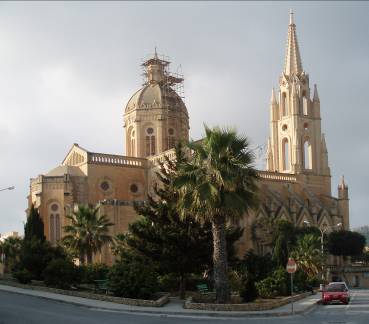 <![endif]>
Sunday evening the wind went round to south westerly, still gale force or more as it forced the ferries from Malta to firstly go to the north of Comino island instead of their usual, more direct, route to the south, & then to stop altogether for several hours.  Doug encountered a Maltese lady & her children taking refuge in the marina shower block as she was too scared to go back on board the families' boat or the ferry back to Malta!  That night brought some more 'red sand ' rain, & the swallows have also arrived to swoop over the harbour & a small stream running into it.
We let the seas subside for a couple of days, with a trip to Victoria, this time to walk around the Citadel  Walls (still fairly blowy) & look around the museums, which we haven't done before, small but fun.
On the Tuesday we watched in amazement as a horse was taken for a swim behind a small motor boat in Mgarr harbour.  We have seen horses standing in the sea both in Gozo & Malta & assume it is supposed to do their legs good, but swimming was a new one on us.
<![if !vml]>

<![endif]>
Wed 15th April we left Mgarr in good time, first motorsailing with light wind which picked up to a 4 & a beam reach.  There were a few ships about, Doug saw a single dolphin jump, & later I saw a fin, but as we found last year in the Med they do not seem to want to socialise.  The wind died with the evening, so the motor went on at about 10pm.  The stars were brilliant & when a half moon finally rose it was a brilliant orange.  We were seeing more ships than we had expected, mostly on similar courses to us, & we guessed they were probably bound to & from Suez.
In the morning the wind stayed light with the merest whisper from astern, so we continued motoring, but at conservative engine revs & speed as we did not want to run short of fuel if the wind continued light.  Around lunchtime a swallow came aboard. It departed after a 2 hour siesta & we motored on.
Towards dusk another swallow arrived & was soon joined by several more & what we thought was a whinchat.  We were probably at least 100 miles from land in any direction at this time, so they were probably exhausted.  They kept trying to fly in the hatch, or perch on the winches, neither of which we thought was a good idea for them or us, so things became a bit hectic as Doug tried to cook supper.
<![if !vml]>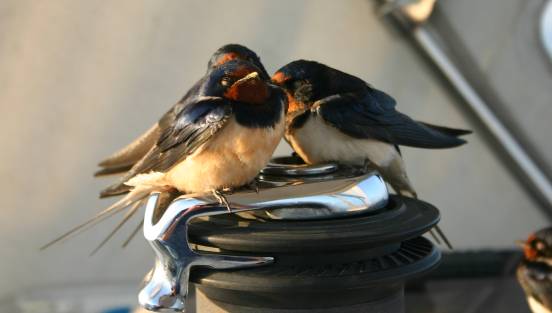 <![endif]>
Finally we persuaded them to roost in a box under the sprayhood. 
The night was similar to last, but the moon was not so orange.
Sadly by dawn most of our passengers had died, I do not know if we could have done anything else to help them or whether it was just exhaustion taking its toll.
We were still motoring with little or no wind.  There were occasional moments that lured us into trying to set the sails, & even turn the engine off, but they were short lived.
From about mid morning on we had yet more birds dropping in – swallows & house martens, & we think we id'd whinchat, spotted flycatcher,  & wood warbler.  Some only stayed briefly, others for most of the day, but all left as we closed the land.
<![if !vml]>

<![endif]>
Just before 8pm we anchored in the bay at Methoni in Greece.  This was a lovely anchorage with a Tower & castle, & sprawling town behind a small fishing harbour & sandy beach.    The whole was floodlit, there was music & later firecrackers.
We motored almost 2 days of the 2˝day trip & covered 358nm.
Sat 18th April.  Now on Greek time (1 hour ahead)  we left the anchorage for the half day (32nm) to Kalamata.
<![if !vml]>

<![endif]>
There was still no wind (more motoring), but the scenery was interesting with high hills – some even snow topped - & small towns hugging the coast.
In Kalamata, a port of entry, we found an Easter festival in progress & lots of firecrackers! – our second Easter in 2 weeks thanks to the Greek Orthodox calendar.   It also meant that we could not progress our entry paperwork until after the weekend, despite our best attempts, so it was an exploratory wander through the town & a quick shop for any fresh goods before the shops shut for 2 days.