Sugar 'n' Spice - Weblog

Date Filed

08/04/2009

Location

Grand Harbour Marina, Vittoriosa, Malta

Lat/Long

35:53N

14:31E
31st March 2009                  We flew back to Malta with just under a week to get Sugar 'n' Spice ready for the water.  With an evening flight arrival we left going to the Dockyard until the next morning, the 1st of April.  We found her looking smug in the sunshine, but with a coating of fine red sand, from a recent Sirocco (wind from the south & the Sahara, & sand) as our April Fool surprise.  So the first job was an extra – to remove the sand, & we are still removing it!  The scheduled jobs gradually got done with entertainment as the travel hoist team played jigsaws with boats going to & from the water.  They really were very busy.  We didn't do much sightseeing until our final afternoon before launch day when we went into Valletta to relax & play tourist.
Mon 6th April                        We seemed to be ready for our launch at 9.45.  So were the travel hoist team, & a man with some anti-foul to do the prop patches & even the very bottom of the keel, once the boat was lifted &  the props fell away.  So we were afloat by 10.30 that morning & tied to the Dockyard's jetty for the next session of "jobs when afloat", plus provisioning. 
Wed 8th April                         After thanking the Dockyard for their help we left Manoel Island for the short trip to Valletta & Grand Harbour Marina, where we caught up with our friend Sandy for coffee & later lunch overlooking the marina & old town of Vittoriosa.
<![if !vml]>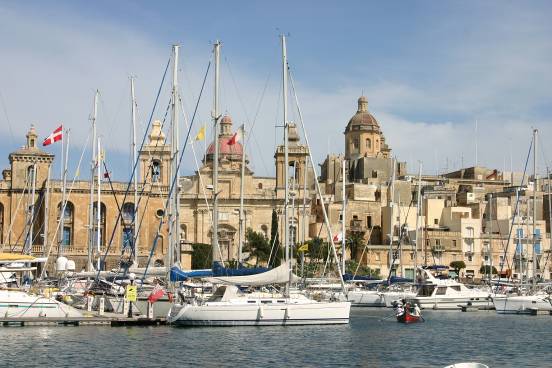 <![endif]>