Date Filed

7/07/2011

Le Foret, Brittany, France

Lat/Long

47º 53'93 N

3º 58'53 W

Content complete to – (Date | Place)

3/07/2011

River Vilaine, Loire Atlantic, France
Tuesday 28th June. After a leisurely stroll round the town of Joinville we left Ile d'Yeu mid morning. There was a slight mist, the wind was on the nose & it was a greyish day. A couple of yachts passed heading in the opposite direction & we unfurled the genny for a brief sail as we bore away into the entrance channel for Ile Noirmoutier & the port of L'Herbaudiere, arriving in their lunchtime. 20.6 nm.
The reception pontoon was several deep along its length & we rafted to a large motorboat. I made a foray to the office (quite a hike) & arrived as they opened for the afternoon. A very helpful receptionist allocated us a berth for 2 nights only – the owner was coming back – so after some nifty unparking by Doug we moved there. Much more relaxing, thanks lady.
Wednesday 29th June. On the bikes again. South down the centre of the island through salt pans
<![if !vml]>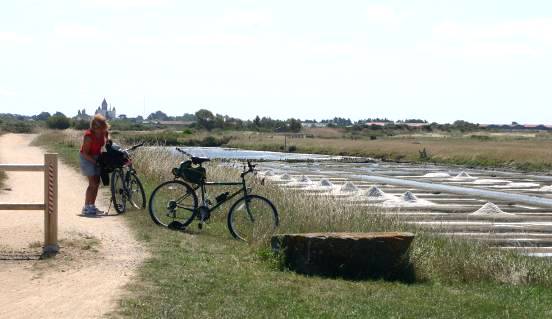 <![endif]>
& past mills to the Passage de Gois, the ancient & still usable causeway linking island to mainland (there is now a bridge as well, further south). We were aiming to be there before the midday high tide. We were & it was worth the hurry as we were in time to watch as the sea engulfed miles of sand & shellfish beds, & as a few daring souls played chicken driving their cars across the rapidly flooding road. It didn't take long for the water to take over!
<![if !vml]>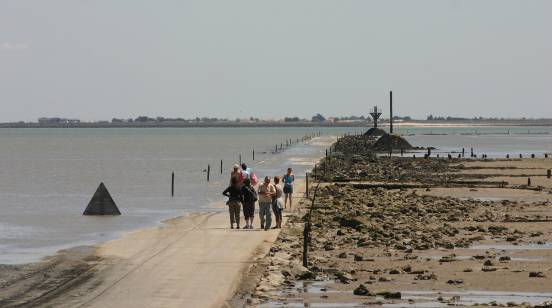 <![endif]>
Then a return along the coast, lunch at a seafood snack bar, more salinas, a circuit of Noirmoutier town with its dominating castle, & another stretch of coast, this time of wooded rocky coves & little sandy bays. 47 km.
Thursday 30th June. An 8 am departure from L'Herbaudiere, & once out of the entrance we were sailing. As we passed the entrance to the Loire we had to put in a tack for a very large fishing boat. Mid morning the wind dropped long enough to make Doug get his fishing line out, before returning, to give us a hard on beat. Early afternoon we reached Piriac, in good time to get over the sill that retains water in the harbour & went alongside. 30.2 nm.
<![if !vml]>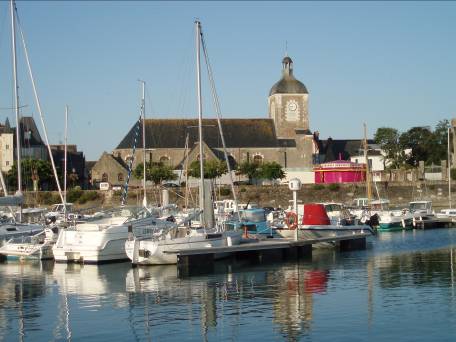 <![endif]>
We had been to Piriac in Doug's previous boat & a stroll around showed it to be as pretty as we remembered. We had supper out & were taken aback when the proprietor ( presumably Celtic) started playing the bagpipes.
Friday 1st July. Bikes again. This time to the inland town of Guerande, 15 km away along a very nice cycle route through pretty villages & rolling countryside. [ The cycle route was called the Velocean, was very well signed & went on past our destination, Guerande, at least to La Baule, possibly further].
Guerande was lovely. A tiny walled town, totally encompassed by its ramparts, & with the moat still filled for half of that. We found our way in through one of the 4 main gateways & strolled the narrow streets & little squares. You can only walk a small length of the ramparts & when we arrived for this they were closing for lunch, so we found lunch ourselves & then returned to the walls.
<![if !vml]>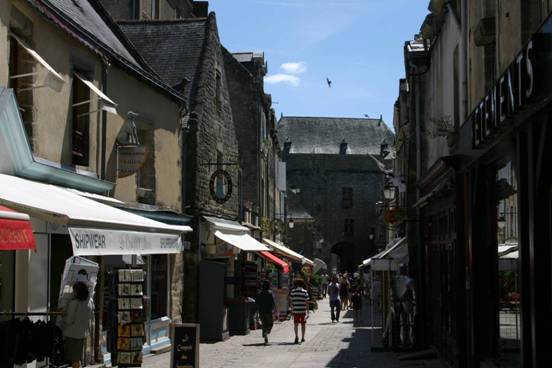 <![endif]>
Back on the bikes we cut south to the coast road & returned to Piriac that way. It was a busier route than our outward one, but totally different as it skirted the vast area of salt pans & marais, before coming to coast proper at La Turballe.
One nasty shock - marina prices jump 50% on 1st July for the high season!
Saturday 2nd July. An 8 am departure from Piriac to get over the sill before we are trapped by the tide. Then unfurl the genny for a lazy sail the 5 nm to an anchorage at Ile Dumet. This little island is a nature reserve & on previous visits we have nicknamed it "Bird island". We were one of the first boats there, but the anchorage soon got quite busy & there were lots of comings & goings. We had a lazy morning bird & people watching then early afternoon, when the tide had risen again (& the wind died) we motored into the very shallow estuary of the Vilaine river. By 3.30 pm we were waiting for the 4 pm lock at Arzal & duly went through into the freshwater river beyond. We continued up past the popular & scenic town of Roche Bernard, with its mighty bridges, & after Foleux we found a quiet spot to anchor. 25.9 nm.
<![if !vml]>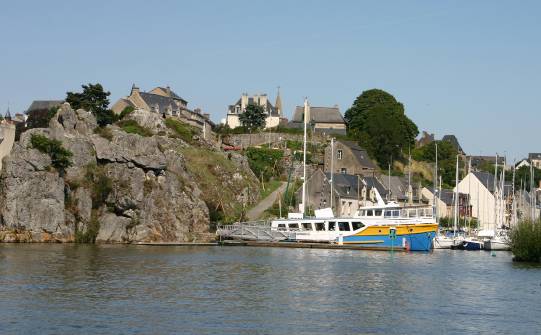 <![endif]>
There were wooded outcrops rising from the fields & a little village (Beganne) on a hill on the opposite bank. Raptors circled overhead, & there were a few fishermen along the banks.
On Sunday (3rd July) we spent a leisurely day at our anchorage avoiding 'le weekend' & doing some jobs. We decided the raptors were probably Black Kites – smaller & darker than their 'red' cousins &, according to the book, in terrain that they would like & a place they were likely to be. We certainly had some good views as they soared overhead.