Date Filed

8/05/2011

Viana do Castelo, N Portugal

Lat/Long

41º 41'61 N

8º 49'31 W

Content complete to – (Date | Place)

7/05/2011

Viana do Castelo, N Portugal
Sunday 1st May.  Yesterday's rain was still going when we left Figueira da Foz in murk, wet & no wind. Our intended 6am start became 7am after a battle (in the rain) with security gate codes! An hour later off Cabo Mondego the breeze picked up, the rain eased & we set the sails. The wind soon dropped again, so we were motor sailing to maintain a good speed yet again. Mid morning some dolphin played under the bow & there were a couple of passing 'flashes' during the day.
So late afternoon we arrived at Leixoes, the yacht port for Porto, after a lot more motoring, but at least with another 65nm miles done up this coast.
We had stopped here on our way south in 2008, so next morning (2nd May) was jobs (gaz, diesel, provisions) then we caught the Metro to Porto proper. A reminder stroll through the old Town, then down to contemplate the riverside. We opted for a boat trip on the Douro! We hadn't done this on our earlier visit & were agreeably surprised as we went, first upriver through Porto's ravine & bridges, & then downriver almost to the sea entrance. All with lovely views of the city of Porto & its suburb, Vila Nova de Gaia, on the other side where most of the wine lodges are based.
<![if !vml]>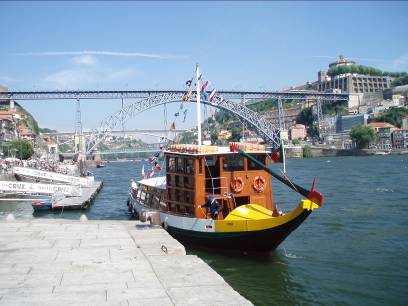 <![endif]>
Tuesday 3rd May. A relaxed start (9am), motoring with a light wind on the nose. A quick flash of dolphin, a south bound yacht inshore, pot buoys – one with something odd alongside – large & dark with floppy fin & despite circling for another look we could only guess at basking shark or sunfish. About midday a black rib made a beeline for us. It carried several 'men in black' & a blue light (not on) & we anticipated a visit from police or customs. In the event they sat on our stern long enough to read the boat's name then we got a friendly wave as they accelerated away. An hour later we were busy avoiding a large buoyed area, where according to the pilot, there should have been a wave power machine. As far as we could see there was nothing there – we'd got our cameras out, so must have frightened it away! Then we bore away & were able to sail until we arrived at our destination of Viana do Castelo at tea time. After a brief sojourn on the reception pontoon we were through the swing bridge into a berth in the marina. 35.5nm.  Another port we visited on the way south.
Wednesday 4th May. Some jobs then a stroll around the town to remind ourselves how nice this old town is.
I had gashed my shin in Lagos & we thought the wound had become infected so while Doug did some more chores I paid the local health centre a visit. They were helpful & efficient & I was soon back on board with a newly bandaged leg & instructions to return on Friday.
Thursday (5th May) we hired a car for the day so we could head inland & see the Peneda-Geres National Park. It was a lovely, if very long day, through remote & spectacular scenery, & at one point we crossed the border (unmanned) into Spain. We broke the drive with a woodland walk at Mezio, sightseeing the espigueiros (maize stores) plus lunch at Soajo, & visiting the sanctuary of Nossa Senhora da Peneda.
<![if !vml]>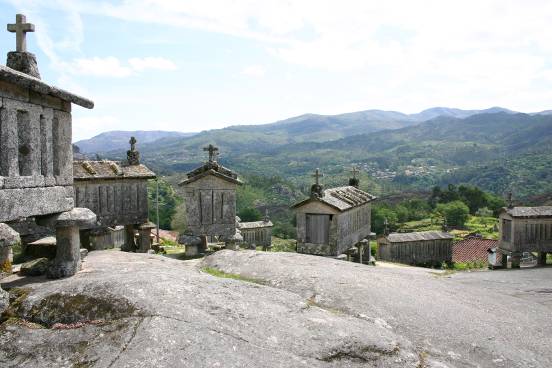 <![endif]>
Our return route was across the particularly high & desolate Serra Amarela where the little hamlets seemed to belong to another world, & the driving was somewhat adventurous!
Friday (6th May) Doug returned the car while I made my return visit to the health centre. Equally efficient, & I was dispatched with an antibiotic ointment for daily application. We still had time to wander the Friday morning market by the old fort, then made an afternoon walk to the beach, spoilt by the long trek through suburbs to get there.
Rain arrived as forecast overnight, & wind the following morning (7th May). We dodged the showers to do a provisioning run, & later for another stroll through the old town followed by a visit to the 'Gil Eannes', a naval hospital ship & now a museum.
<![if !vml]>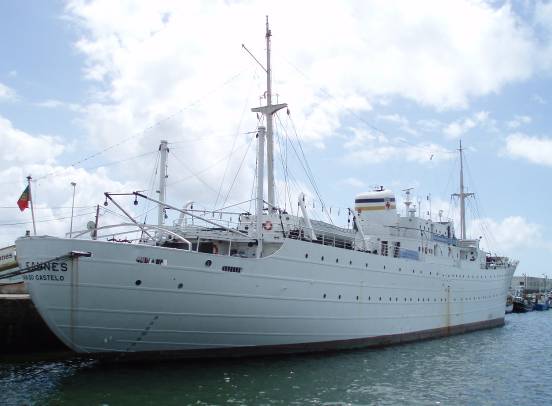 <![endif]>
It had served with the cod fishing fleet off Newfoundland & Greenland & was obviously much more a 'mother' ship, not just a hospital, to all the fishing fleets, not just Portugal's. A very interesting visit.