Date Filed

18/07/2011

Lezardrieux, N Brittany, France

Lat/Long

48º 37'34 N

3º 05'90 W

Content complete to – (Date | Place)

15/07/2011

Lezardrieux, N Brittany, France
Wednesday 13th July. A slight mist for our 7 am departure from Ouessant. The main was hoised before we dropped the mooring so we were sailing within minutes. A light NWesterly took us past several other yachts also leaving early. As we cleared the bay most headed south, while we turned west & north past Nividic lighthouse, to go round the top of Ouessant. This brought the wind on the nose & quite a lot of tide against us so the engine went on. There were glimpses of the other lighthouse, Creac'h, in the mist & as we came abeam her warning horn sounded out several times. The tide was running even stronger so our speed over the ground was very slow & we could see a large fleet of fishing vessels ahead of us, working the shallows off the rocky ile de Keller close to Ouessant's north coast. As we got nearer the tide got stronger still, there were overfalls on the churning water which caused our depth gauge to give alarming, luckily false, shallow readings. The fishing boats were powering through, accompanied by an entourage of screeching gulls, & obviously catching fish brought up by the wave action. It only took about 10 mins to get through this area, but I think they were some of the most malevolent waves I have seen – although not high they were extremely powerful.
<![if !vml]>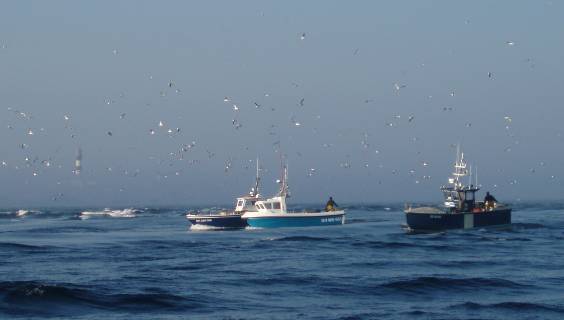 <![endif]>
So by about 8.30 am we were clear & sailing again under full sail. There were several yachts in the other direction flying spinnakers, we speculated that they might be racing. Gannets cruised overhead. Several times we found ourselves trailing weed so then the engine went on briefly in reverse to dislodge it.
Around midday the wind died & headed, so we motorsailed, there were lots of small fishing boats about so Doug fished, the wind came back from the NE so we started beating.
Then at tea time as we approached Ile de Batz, off Roscoff, we started motoring through the busy & fairly winding channel between the two, & just before 6 pm picked up a mooring at the eastern end opposite the town. 55.7 nm.
<![if !vml]>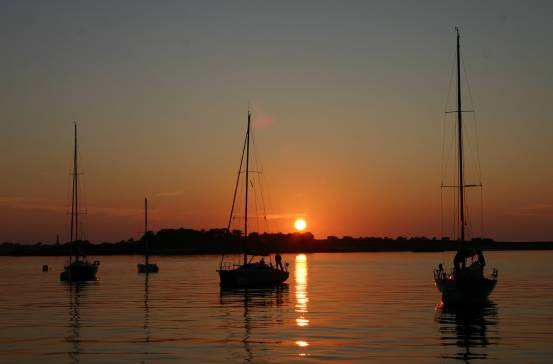 <![endif]>
The water traffic gradually thinned out, terns were diving & screeching overhead, then as darkness came a firework display started in Roscoff, & as that finished another started on Ile de Batz – the eve of Bastille Day!
Thursday 14th July - Bastille Day – France's National Day.
A relaxed departure, again hoisting the main before dropping the mooring.The wind was dead astern as we motored out of the channel & into the bay of Morlaix. Within ½ an hour we were sailing with the genny poled out. It became slower as the tide built up against us. Doug fished, & he caught one! It decided it didn't like the company & jumped off the line as he went to land it. Then there was another, successfully brought aboard, but the consensus was that it was too small to eat, so it was released to live another day. So back to sailing, still slow with the tide against, then motorsailing & finally, mid afternoon, we threaded our way between rocks & dinghy sailors into the tiny picturesque bay at Tregastel. Once inside there are quite a lot of moorings for local boats, & we picked up one of the 3 visitors buoys. 23.8 nm.
The whole bay is almost completely surrounded by rocks, the famous Pink Granite which gives its name to this part of the Brittany coast, & there were certainly some odd rock formations to be seen. It was busy, both on water, & on the beach – we couldn't decide if summer had arrived or if it was a 'Bastille Day' effect. The sailing schools were busy, using us as a turning mark, people were hunting shellfish & climbing rocks, & the terns were fishing the whole bay.
<![if !vml]>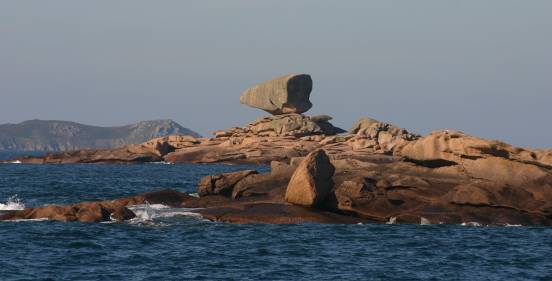 <![endif]>
We first came here about 10 yrs ago, whilst on a walk in the area & Doug has always wanted to return with his own boat when conditions were favourable, so an ambition achieved.
<![if !vml]>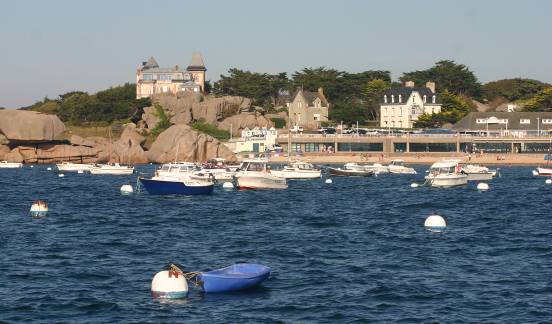 <![endif]>
The day was rounded off as night fell (soon after 11 pm) with another firework display, & our cockpit was a real ringside seat.
Friday 15th July. A 6.30 am start to try to catch some favourable tide. Once out of the bay it was a mix of sailing & motorsailng in the generally light winds. The tide stayed with us for a good way. Off the entrance to the Treguier river a lot of little fishing boats & pot marker buoys were very difficult to see as they were directly up sun. There were also a lot of gannets heading west, down channel. They were travelling in their usual long strings, but with huge numbers in some. I counted 20-30 birds in several groups & another was at least 50. Do they know something we don't?
Late morning we entered the channel past Ile de Brehat leading to the Trieux river, & at 12.30 pm we tied up alongside at the visitors pontoon at Lezardrieux. 35.1 nm.
<![if !vml]>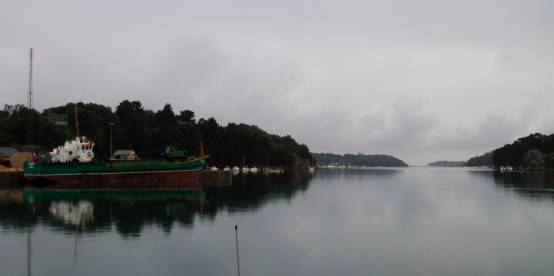 <![endif]>
We have not been to a marina since we left Le Foret 7 night ago, the longest spell without those facilities this year. We had only needed to boost the batteries one evening in Ouessant, & still had water in 1 of our tanks - & yes we had been having showers! We did need a visit to the supermarket that afternoon for a general restock.