Date Filed

14/07/2010

Palamos, Catalunya, Spain

Lat/Long

41º 50.75 N

3º 08.04 E

Content complete to – (Date | Place)

Sa Riera, Catalunya, Spain

13/07/2010
Wednesday 30th June. We strolled across the isthmus to the main harbour & ferry port. It was bustling with holiday makers & we gawped in amazement at the queue for the hot mud pools, where people were caking themselves in mud & allowing it to dry, before washing it off. The harbour was busy too, & there were more queues at a stall selling swordfish. Returning to the boat we made the short trip to the next island, Lipari with a spectacular waterfront castle, & finally topped up the fuel tank. But not water as all we could have got was non potable.
<![if !vml]>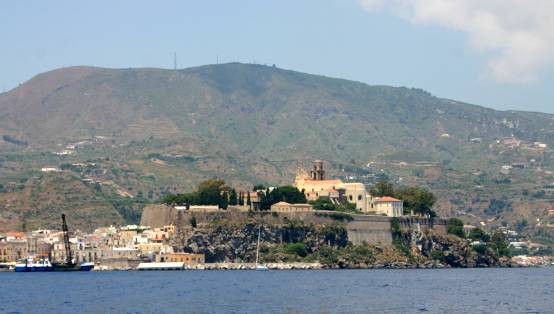 <![endif]>
Then it was round the next headland to anchor off Capo Rosso (9nm) for lunch & a swim. This was strictly a light wind daytime anchorage as it was a large area of shallow sand but with no shelter, & there were a number of boats enjoying the clear warm water. Later we moved on to yet another island, Panarea. There were views of the active volcano Stromboli, which although shrouded in cloud belched smoke with a loud rumble. We anchored in Milazzese bay on Panarea (12nm) & went ashore for supper.
Thursday 1st – Saturday 3rd July. We left Panarea, motoring between some 'dragons teeth', to 'sling shot' round Stromboli before heading for Sardinia. Although it added considerably to the mileage it was definitely worth the time. As we approached the SW corner a seaplane was scooping water for a fire – we don't know where, it certainly didn't put the volcano out!
<![if !vml]>

<![endif]>
We passed the island's town & ferry port & turned along the N coast. The active part of the volcano came into view where a lava field runs down to the shore, there were regular belches of smoke & accompanying noise, & at one point almost the length of the lava field appeared to steam. It was midday so we stopped the engine & drifted for 20 minutes watching in awe.
<![if !vml]>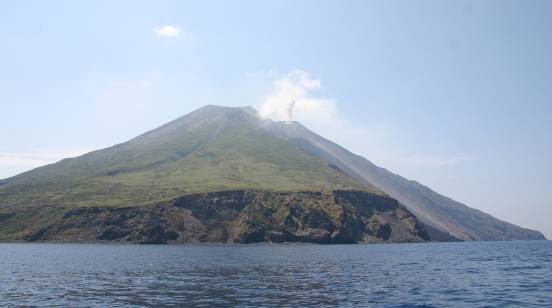 <![endif]>
Then it was on again, motor sailing in the light winds.  Light winds were forecast for the next few days, but with plans for several days at sea it was better to have quiet weather. The forecasts proved correct, so we did a lot of motor sailing. That evening we turned the engine off, trailed a line astern & went for a dip. Salutary to find we could only just keep pace with the boat 'sailing' on windage alone. Then a brief proper sail before the wind dropped overnight. We had several brief visits overnight from dolphins either jumping alongside or riding the bow wave. Midday (2nd July) a large turtle passed by. Mid afternoon we put the asymmetric kite up, which added a knot of speed, 3 classic yachts crossed our track, we assume they were racing, & at least 12 dolphins came & played on the bow. We took the asymetric down for the night & reverted to motor sailing. Some more dolphins came by & as we approached the SE corner of Sardinia a large ship - haven't seen many.  Arrived at Villasimius, Sardinia, around 9am Saturday 3rd July & went to fuel berth.
280.4 nm                                 2 nights at sea
The first place we have visited for the 2nd time.
It was a steaming hot day, but we had chores to do – wash (boat & ourselves), laundry, provisions, gas, water. We did a lot of walking to shops, stores etc. Late afternoon the weekending Italians arrived in droves, so we abandoned plans for a meal ashore & visited the supermarket yet again.
Next morning (4th July) a relaxed start across the bay of Cagliari. Mid morning brought some breeze & a beat to our anchorage behind Capo di Pula on Sardinia's S coast, with the ruins of an old Roman town (Nora) on the cape. 25 nm.  The beach was busy with Sunday crowds. Mid evening the wind changed & a swell rolled in so we moved to the other end of the bay.
<![if !vml]>
<![endif]>
Monday 5th July. Deciding we had had very good views of the ruins of Nora from the boat, we made a leisurely departure first sailing, then motoring when the wind came on the nose for the 24 nm trip to Port Malfatino. Although the bay next door was crowded with holiday makers this one had only ourselves & a French boat at anchor. The water was clear & you could swim to your own private beach.
Tuesday 6th July. An early start, motoring against a headwind forecast to increase.
At 9am Sugar 'n' Spice notched up 15000 logged nm since we have had her.
We passed some rafts of shearwaters off the island of San Antioch, SW Sardinia before arriving at Carloforte on another smaller off island, San Pietro, just after midday, where we were directed stern on to a pontoon. 35 nm.
<![if !vml]>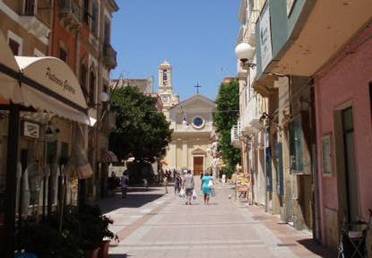 <![endif]>
Carloforte was a very pleasant Italianate town with narrow winding streets & cool leafy plazas. The next day (7th July) we strolled up the hill to the town walls & castle, then round the busy quayside (as well as the inevitable shopping for provisions). The wind stayed strong from the NW, the direction we intended to go next, justifying our decision to stay put.
Thursday 8th & Friday 9th July. An early start motoring initially motoring round the N of San Pietro. There were vast numbers of fishing net markers in the shallows, we thought at first it might be a tunny net, but it wasn't spaced out enough so we have no idea what they were for. Then it was a mix of sailing, motor sailing & motoring, depending on the vagaries of the wind. We had some visits from dolphins, one with 6 or 7 jumping in the bow wave, another when the bigger bottlenose dolphins arrived & did some lovely tailstands. At tea time on the Friday we arrived at Menorca, & anchored in the Mahon anchorage of Cala Taulera.
189 nm                                    1 night at sea               lots of motoring
Saturday 10th July. A quick 3 nm trip via the fuel berth to Mahon Marina. Then we walked into the town, via a long flight of steps, to play tourist for the day. We passed Mahon on our travels 2 yrs ago, but did not visit as it was very busy, & had always intended to remedy this.
<![if !vml]>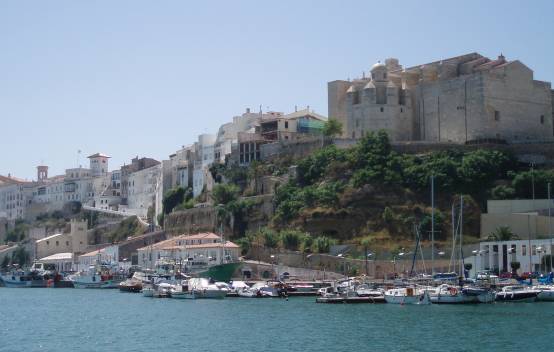 <![endif]>
We enjoyed wandering the compact town with its many plazas, a large open market, found lunch in a pleasant bar run by a british couple (Jimmy & Patsy) with a harbour view, & finally found the best supermarket we have encountered in ages (we re-stocked the Branston sauce!).
Sunday 11th July. Some chores – Doug engine oil change, me laundry – then a midday departure. To our surprise there was fog in the harbour mouth – the radar went on as a large ferry came in & heaps of 'Sunday' powerboaters roared around. Luckily the fog was very local & we were soon sailing up the coast, with the genny poled out. We anchored in the little Cala Mica on the Menorcan N coast. 25 nm.
It was busy with people enjoying the beach & water, but it was Sunday, & Spain were in the World Cup final, so gradually everyone departed & we were left with another nice bay all to ourselves. I admit we did listen to the football on the radio, we felt we needed to know the result, & yes, Spain won.
<![if !vml]>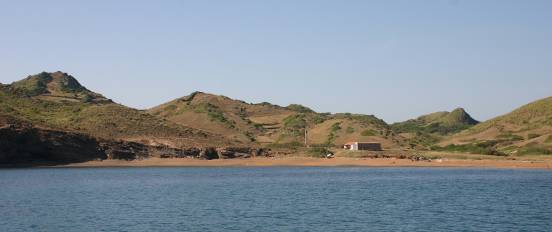 <![endif]>
Monday 12th & Tuesday 13th July. A mid morning departure from Cala Mica, & with a sailing breeze. Early afternoon the wind veered & dropped so we hoisted our big spinnaker, which we carried until evening when we took it down for the night. There were some fleeting flashes of dolphin fins, & more ships around as we neared the Spanish mainland. Breakfast time we anchored  in Cala de Sa Tuna in the Costa Brava, mainland Spain. There was not much room as like a lot of places now the space has been filled with mooring buoys, so we moved around the headland of Capo Negre to Punta de la Riereta & were re-anchored by 9am.
118nm                                     one overnight
The coast here has shear cliffs interspersed with sandy bays surrounded by the inevitable tourist developments. Fortunately these are mostly low buildings & are set amongst the local pines. The cliffs have some spectacular crags, caves & rock formations.
<![if !vml]>

<![endif]>
As the day progressed the bay got busier with holidaymakers using the beach, boats, swimming & fishing. A number of lads were 'tombstoning' off the rocks & into the water from the rocky sides of the bay. Good spectator sport!