Date Filed

2/5/2010

Polace, Mljet, Croatia

Lat/Long

42º 45.26 N

17º 38.92 E

Content complete to – (Date | Place)

2/5/2010

Polace, Mljet, Croatia
In Gouvia we checked in & did our usual recce of the local facilities.  The marina itself was very busy with flotilla fleets fitting out for the start of their season, in about a weeks time.
On the Friday (23rd April), a rather grey day, we headed in to Corfu Town (about 6 kms south by bus & a very busy main road so we were glad we hadn't been tempted to try cycling it). Strolled through the old town & old port (under the walls of the New Fortress!) on a mission to see Port Police to obtain our exit papers. Found we had not got one particular document with us so needed to collect it & return. Did some 'tourist' bits, the New Fortress, with magnificent views & extensive underground tunnels, then a bus to the hamlet of Kanoni  (named from its one cannon on the hilltop) overlooking 2 small islands.
<![if !vml]>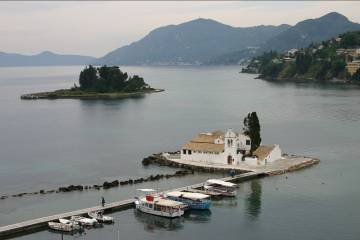 <![endif]>
One (Mouse island) according to legend is Odysseus's ship turned to stone by Poseidon, & the other, Vlacherna with a small white convent is a much photographed popular tourist site. Had a nice lunch in a café overlooking the islands & watched coach loads of tourists arrive for a 5 minute 'viewing'. Next collected our errant document, & on to the Port Police for the 5 minutes of formalities for the exit stamp. Then a walk round the shore side of the old town (very reminiscent of Valletta), the esplanade & gardens, to the Old Fortress. This has a super location on a rocky outcrop & is completely encircled by water (sea on 3 sides, a moat on the 4th). Surprise, it was still open & free entry, & the views were still good, although the highest parts were gated off.
<![if !vml]>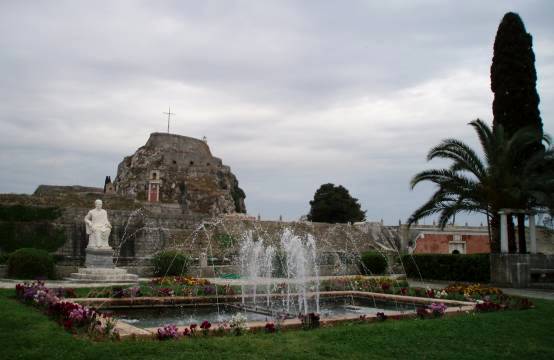 <![endif]>
Finally rounded off the day with an extravagant coffee in the arcaded Liston (a copy of the Rue de Rivoli in Paris) before heading back to the boat.
Saturday morning (24th April) it was boat chores & seeking of weather information for the sea area between Corfu & Italy. The choice, depending on the source one used, was a wide variety of wind strengths & directions! & that is exactly what we got.
We set up the baby stay in case we needed the small jib, & left Gouvia as intended at 2pm, first motoring in no wind through the channel between Corfu & Albania.
Rounding the NE corner of Corfu we were sailing, just laying the course with full sail,
then it was motor sailing with the wind on the nose, then more wind, a different direction & the small genny & one, then two reefs in the main. Next motoring in no wind again, until the wind came in on the nose again & increased steadily until we arrived at Brindisi marina in a F6 at 10am (9am Italian) on Sun 25th April. 114 nm.
A fairly strenuous overnight passage. Tied up & crashed for a few hours!
Monday 26th April. A day in Brindisi. A total surprise – a 20 min walk, via the monument to mariners, a huge rudder, then a ferry ride across the bay to the main town.
<![if !vml]>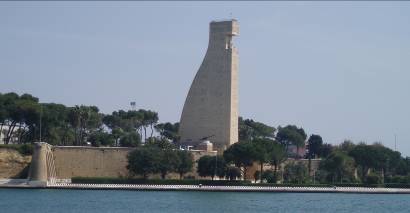 <![endif]>
There walk up the steps that are the final piece of the Appian Way from Rome, the archaeological museum (some lovely pottery, C500BC), art gallery, walkway around a super excavation under the new theatre (rivals Sage in Newcastle), all free for a signature! Finally a fawlty towers lunch – food excellent, bill suspect - & back to the boat by the same route. A very nice town.
<![if !vml]>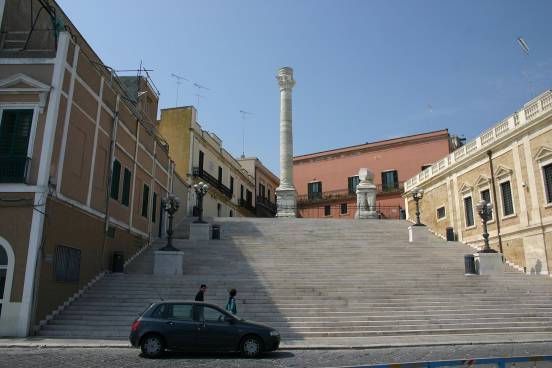 <![endif]>
Tuesday 27th April. A very prompt start up the Italian coast, light wind on the nose so motoring as we didn't want the extra (slow) mileage. Mid afternoon we decided that it would be better to put in a tack & head to Croatia.
Early evening saw some dolphins, then some fast sailing & more small dolphins. Very little other traffic, a ferry, a cruise liner, some fishing boats. Finally some larger dolphins very close to the Croatian coast & then we tied to the customs quay at Cavtat, Croatia just before 9am Wednesday 28th April. Within an hour we had done the formalities & moved on to the main town quay. Then it was our usual recce, some provisioning & an early supper.
<![if !vml]>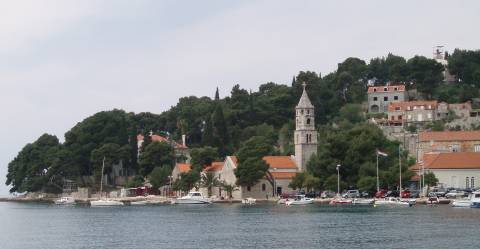 <![endif]>
Next day (29th April) we headed up the coast, passing close under the walls of Dubrovnik, & turning inland under a high suspension bridge up a steep valley to Kamolac, & Dubrovnik Marina (the most expensive yet!) in a very spectacular setting.
<![if !vml]>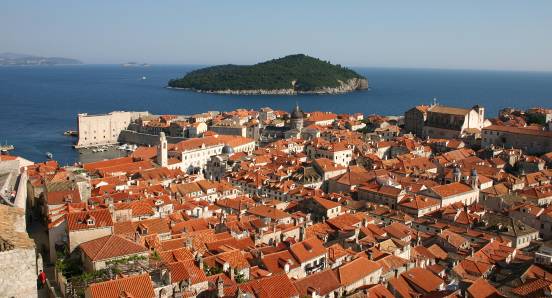 <![endif]>
Then it was a bus to the City, to walk the walls & enjoy the general ambience before a pleasant supper, with sociable fellow diners, before returning to the boat.
Friday 30th April. Some chores & provisioning before we left for an 8nm motor to Lopud island. We saw some dolphins south of Koloce island – nice to see them so close inshore - & anchored in Plaza Sunj, a bay with a sandy beach on the south of Lopud. People were swimming so we took our first dip of the season (Doug dived on the anchor) & then enjoyed the surroundings.
<![if !vml]>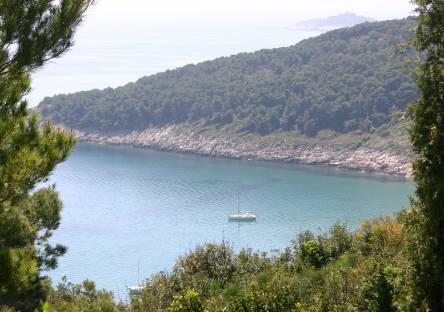 <![endif]>
Saturday 1st May, a public holiday in Croatia, we went ashore early to walk round the island before it got too hot. A very pleasant 8 miles up & down along the coast, through woodland, the little town & past several small churches & a ruined castle.
The bay was busier when we returned with more local boats.
Then it was our planned afternoon move 16nm north (motoring – light wind) to anchor at Prozura on Mljet island. There were a few small open boats with people fishing about, but most houses still appeared closed for the winter!
The wind picked up overnight, as forecast, with nasty gusts & when we awoke next morning (2nd May) we realised we had just started dragging. So it was an earlier start than intended to move 12nm further up the Mljet island to Polace, a deep sheltered inlet.