Sugar

'n'

Spice

– Diary October 2008
Wed 1st Oct
By 00.30 the thunder, wind & rain had increased considerably. We both dressed & started an anchor watch. At times this was solely watching the instruments as you couldn't see the length of the boat for the rain, let alone the shore. The wind, as well as increasing was shifting around considerably & at one point during the next couple of hours we saw the wind swing through 360° & touch 50 knots.  A rather tense time.  At 03.30 things abated sufficiently for us retreat to bed again, very grateful that the anchor had not dragged, & we were still in the same place.
In daylight the bay looked calm again & the boat seemed unscathed (& probably far less ruffled than us by events ), so with a now light wind, predictably on the nose, we motored to Valletta. Arriving at midday we found the main yacht harbour at Msida full, but were able to go directly to a pontoon on Manoel Island, where we had arranged for the boat to be lifted out in a weeks time.  19nm.
<![if !vml]>

<![endif]>
From leaving the UK in April with our objective of getting the boat to Malta for the winter achieved
Total logged distance                        3335.2nm                                            [Engine hours  275.6]
From
Thur

2nd Oct to Mon 6th Oct

We spent afloat at the Manoel Island yacht yard pontoon. We were very busy during this time doing all the jobs that one generally does over the course of the winter - engine & equipment maintenance, removal & stowage of sails, spray hood etc, cleaning inside & out, & especially jobs that are best done afloat.

<![if !vml]>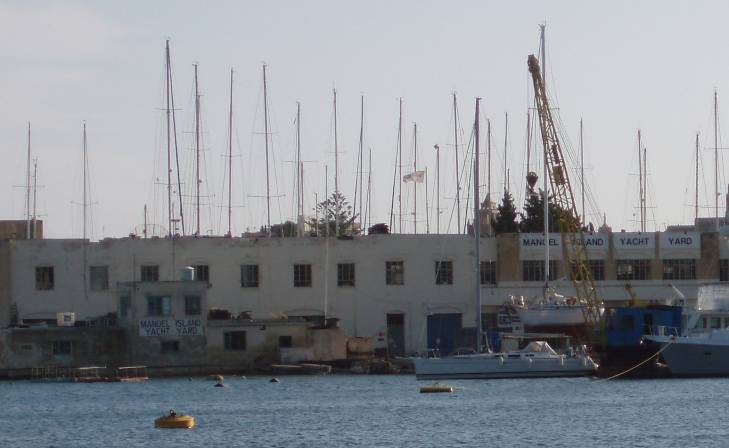 <![endif]>
It was lucky we have been to Malta on previous occasions as apart from scouring Sliema & Gzira chandlers & shops for various parts & spares we didn't do much sightseeing.
Our 'tourist' breaks were to spend Sunday afternoon in Valletta, just enjoying the ambience of the old City. Then on Monday, our friend Sandy, who lives on the Island, arrived on her motorbike for coffee in the cockpit. It was nice to catch up, if rather briefly, & I think it was a change for her too, as she has not been on a yacht for a while.
Tues 7th Oct
Sugar 'n' Spice was lifted out at 9.45am, moved into the yard & propped up on wooden props as is normal in this part of the world, even if we find it unusual. This all took place in a booked 2hr slot, very different in organisation to our yard in England.  Our first impressions on the use of props is that they are far kinder to the boat as the load is spread over far more supports than a metal cradle.
<![if !vml]>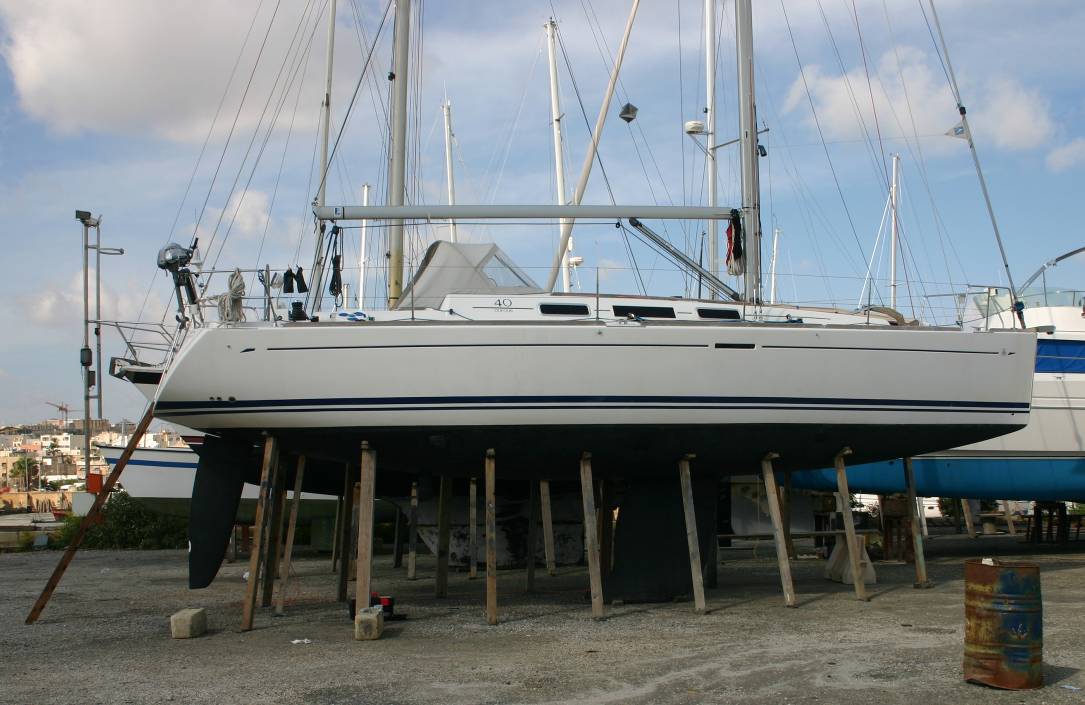 <![endif]>
Wed 8th Oct to Fri 10th Oct
More chores, this time the ones that can only be done out of the water & the things that are being left as late as possible.
Then on Friday we flew home.