Sugar

'n'

Spice

– Diary June 2008
Sun 1st June
Up early for a walk out of town that the tourist office had told us about.  Not that long, but very pretty along a stream with old mills.  The final mill we came to – Fausto's – produced a miller who arrived about 5 seconds after us & proceeded to do a complete demonstration of the milling process (all at no charge) for just the 2 of us.
<![if !vml]>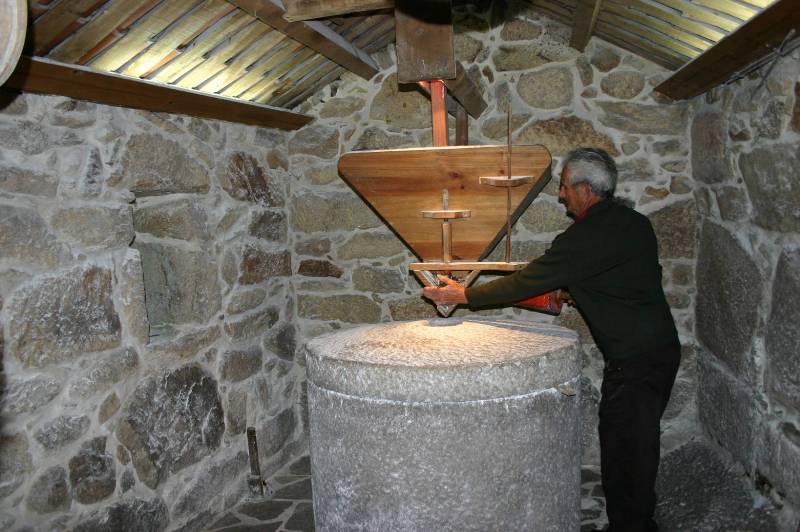 <![endif]>
Back at the boat about lunchtime we left Cangas with just the genny for the 7nm to the Cies anchorage again.  Very lovely with its silver sand beaches.  We took the canoes to the beach & had a swim – water still coolish.  Plastic legs, or his cousin, came back to see us again, he still seems to like apple cores!
Mid evening the Customs (3 of them) arrived in a rib to check our papers!  Before they departed they also said we should have obtained permission prior to anchoring in the area, but it was not up to them to enforce.  After they had gone we rechecked the pilotage information we had but could find no reference to this, even on up to date Pilots.  We & the other foreign yacht in the anchorage stayed put for the night.
Mon 2nd June
We left the Cies anchorage with the islands looking particularly idyllic with their rocky hills & golden beaches, motoring as no wind, & did the 8nm to Baiona marina for fuel & provisions.
After a paella lunch we walked the walls of the old fort which guards the entrance to the harbour & which now houses a modern Pousada.  Then for good measure we did it again, but on a lower path outside the walls & closer to the sea & various little rocky coves.
<![if !vml]>
<![endif]>
Tues 3rd June
Left Baiona mid morning for a pleasant sail down the coast & crossing the Spanish/Portugese border. We saw the occasional fishing boat, & the dolphins came & checked us out a couple of times.  The wind did its regular thing of picking up in the afternoons, so taking the main down becomes somewhat exciting especially as when we turned into our next port of Viana do Castelo, wind & kite surfers were blasting off the beach, across the harbour mouth, & our path! Very brave, if foolhardy on their part! Arrived unscathed however, (36nm) & switched time zones again – 1hr earlier than Spanish – same as BST.  The marina & river are spanned by a bridge built by the same Eiffel as a certain famous tower in Paris – another metal lattice work.
Wed 4th June
Checked out the Town & walked up the hill to the basilica of Monte Santa Lucia, with its magnificent view, over the coast & river.  We took the funicular back down, & explored the Town.  Nice squares & old buildings, but an awful lot of road works with the resulting chaos, still a very nice place.
Thur

5th June

Set off back up Monte Santa Lucia, using the funicular, for a walk we had gleaned from an information board, that started from the top.  All seemed fine until we missed a waymark & found ourselves in a village in the street of barking dogs.  When we finally decided we had to retrace our steps through barking dog street a local took pity & gave us directions. We needed to walk along a paved over water chanel (like a Madeiran levada) for about 40 minutes.  Once set on our way it was a nice walk through eucalyptus & pine forest, a pretty village, good views & just before we completed the loop at the funicular, lead to a walkway overlooking an extensive Celtic citania – pre roman, round stone houses & streets.

<![if !vml]>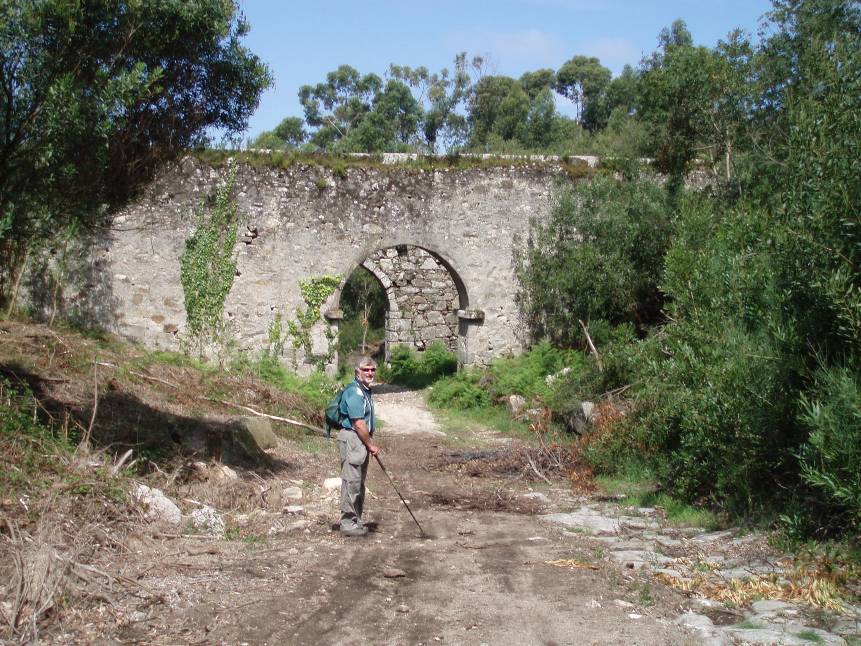 <![endif]>
Went out for a meal that included  the Portugese bacalhau (dried salted cod).
Fri 6th June
Early start, motoring in no wind to leave Vianna do Castelo.  The wind soon filled in astern so we poled out the genny.  There were lots of lobster pots, & it was very rolly because of a large swell.  Around midday our dolphin escort arrived & stayed for about an hour doing all sorts of antics.  Early afternoon we arrived at Lexicoes Marina – this is the most convenient to visit Porto as yachts are not encouraged to go into the river Douro & Porto proper. (35nm).
Sat 7th June
Caught the Metro to the centre of Porto. A friendly Portugese helped us work out the vagaries of obtaining a ticket, the Metro itself was a very modern efficient service, mostly overground so it was an interesting journey.  In Porto we walked, via narrow streets & the Cathedral to the Douro, which we crossed on another of Mr Eiffel's bridges, on the high level which was shared with another Metro line. The line was not fenced off & people crossed the line at will to obtain the best views of the City, the river with its traditional craft for transporting casks, & its numerous bridges.  Back at river level we had a late lunch & then found a Port Wine Lodge that was open for visits (some close on Saturdays).  Then back across the bridge (lower level this time) for more wanderings through the old town, & onto the Metro back to the boat.
<![if !vml]>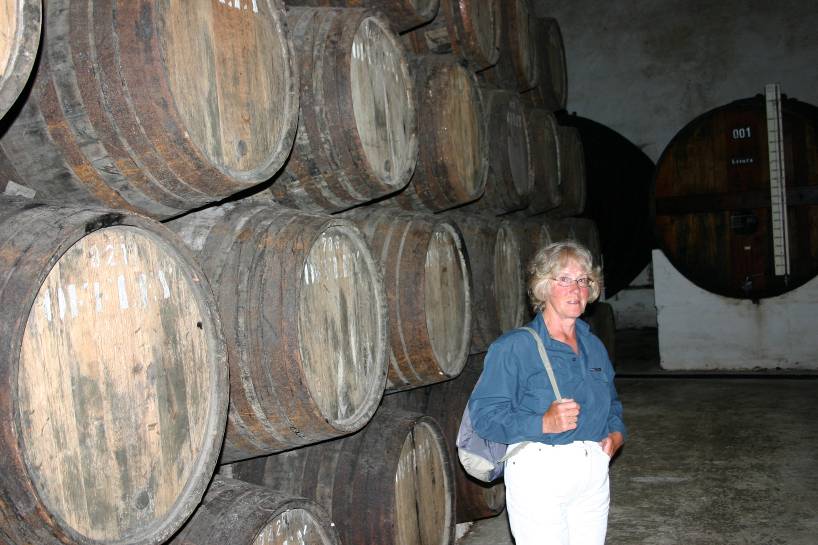 <![endif]>
Sun 8th June
Prompt departure from Lexicoes with wind on the quarter.  By midday we'd had an inspection visit from the dolphins & put a reef in as the wind rose to a N5/6.  Soon that became a 6/7 & the second, & then third reef went in, as we were broaching on a big swell. More dolphins arrived about 6pm & stayed for a couple of hours.  They were having a ball, surfing on, & leaping out of the waves, riding our bow wave & diving underneath the boat.  I felt exhausted just watching, & hanging on as we careered along.  The wind eased a bit as night fell.
Mon 9th June
We had a spell motor sailing to charge batteries, & around 6am with the wind down to N3/4 re-hoisted the full main, only to find the 2nd reefing pennant chafed through.  Doug managed to rethread this when the wind went lighter still.  He says some dolphins supervised in the bloggers absence (catching zzzzz…s).  After a brief spell motoring (no wind) we were able to pole out the genny in a 4, then early evening it went to a 5 & the first reef went in again.  Then we rounded Cape Sao Vincente, on Portugal's SW corner & decided not to brave the fishing nets of the next bit of coast til daylight.  So…
Tues 10th June
just after midnight we dropped anchor behind Pont do Sagres, Algarve, & had a peaceful night's sleep behind the cliffs topped with walls of a fort.  257nm.
Woke to a lovely sunny day – tempted to jump in for swim, but nobody on the beach was in the water, so gave it a miss.
Left anchorage mid morning for a motor, then a 'drifting' sail in at most a force 2. There were fishermen on the cliffs, using rods & I reckoned they were at least 60ft up.  A porpoise passed us going the opposite way & Doug tried fishing. No success although the gannets seemed to be catching something.  Gybed round Ponta da Piedade with its grottos & strange rock formations & arrived in Lagos marina early afternoon.  16.5nm.
Lots of people about when we went to explore, but no shops or chandlery open. Then we discovered it was a Spanish Saints day (bank holiday) which we hadn't looked up.
(We had visited Lisbon a few years previously when touring by car so decided not to re-do it this time, hence this longer leg)
Wed 11th &
Thur

12th June

In & around Lagos.  First stop was boatyard for a replacement pin holding sheaves for the reefing pennants in the boom, & the cause of our 'chafe'.  They very kindly cut & shaped a piece of steel rod on the spot & offers of payment were waved aside. Great goodwill & 'job done' in about 15 minutes for something we expected to be difficult to sort.  Next was supermarkets for provisions, but like the UK they had a fuel strike, so the deliveries were not coming through, very confusing to us on top of the bank holiday.

There were storks flying over the marina & nesting – large untidy heaps of sticks - on roofs, chimneys & electricity pylons, all sites kindly supplied by man!

On wednesday Portugal won another round in Euro 08 & the town went mad for the evening.

On the thursday Andrew & Sandie Firebrace came to lunch on board.  They were long time members of HPYC & having spent time in Lagos with their own boat have now moved to Portugal, but further inland in the hills.  It was lovely to catch up with them, especially as Sandie had been very ill & is now hopefully on the road to recovery.

We took their advice in the evening & went to a little fish resturant that the locals use, for a sardine supper.
Fri 13th June
Late morning departure from Lagos.
<![if !vml]>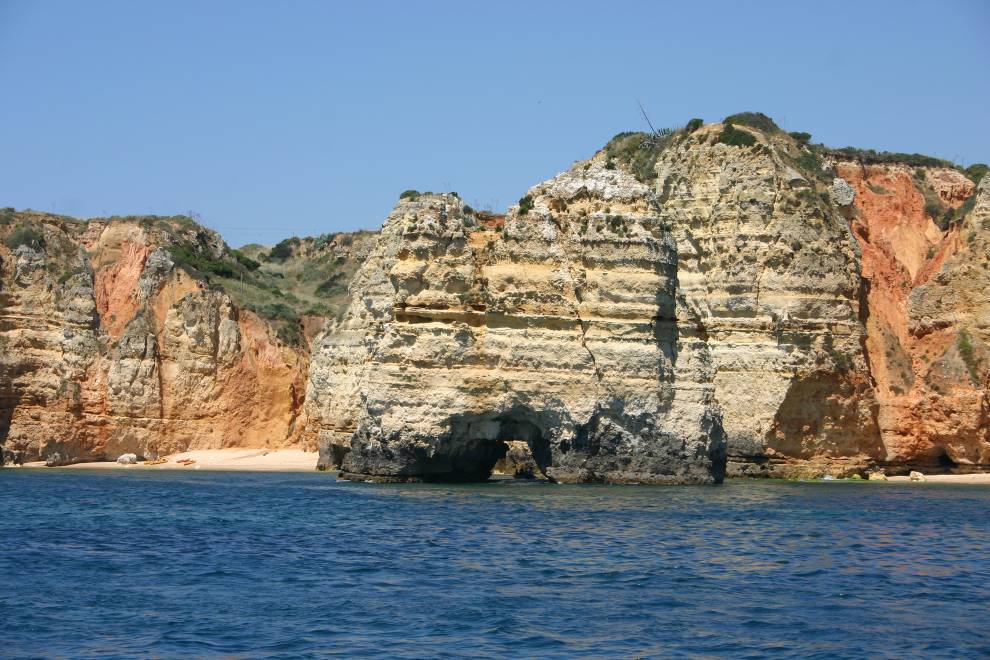 <![endif]>
Motored along the Ponta da Piedade coast (to west of Lagos) for a better look at the caves & grottos, then we turned east, unfurled the genny & drifted along the 9nm to Portimao. Anchored inside the harbour mole on the Ferrugia side.  I had a swim & it was all very peaceful until a boat inshore started dragging its anchor. The owners had gone ashore so several inflatables from other boats went to the rescue & jointly succeeded in re-anchoring her further out. We could only watch, as having no plans to go ashore, our dinghy was still in the locker.
Sat 14th June
Early morning start (to catch rising tide at destination) from Portimao anchorage.  Wind non existent in patches so alternating between sail & motor. Just past Faro we caught up with a racing fleet, all under spinnaker, & saw what we thought were 2 flying fish.  Our objective was the islands to the east of Faro, rather reminiscent of the Friesians. We turned into the channel behind them & anchored in Praca Larga, N of Culatra Isla, at about lunchtime.  38nm.  We had been expecting a very quiet anchorage akin to the Alde, & instead there were wetbikes & various speed boats ferrying people about, music & shoreside cafes, well I suppose it was the weekend. So it was an afternoon people watching, not wildlife! To our surprise the noise subsided early in the evening.
Sun 15th June
Departed the Culatra anchorage about 9.30am & despite crowds of small fishing boats got the main hoisted just inside the river mouth.  Once out there was a melee of fishing boats, various types of bird (gulls, young gannets, shearwaters) & dolphins. Obviously the place to be fishing.  With a westerly 4 we poled out the genny, & about midday (portugese time) crossed into Spanish waters again.  Predictably the wind increased in the afternoon & we needed a reef.  Arrived in Mazagon marina near Huelva early evening (but the hour later in Spain).  56nm.  Fairy terns were fishing over the marina, for such little birds they were making an awful racket as they squabbled & chattered over their catch.
Mon 16th June
Morning departure from Mazagon under full sail.  Again the breeze picked up & we needed a reef, then extra rolls in the genny.  As we neared Cadiz a small warship appeared to be practising for his 'yachtmasters' exam with sound signals, etc by the book.  Arrived in Puerto America, the marina for Cadiz about tea time.  46nm.
The marina is a bit of a step from the City along one of the harbour moles.  This had nice views over the sea & City, & potentially nice gardens, but was very in need of some tlc.  A shame as we, & presumably others, walked it a good few times during our visit, starting that evening  when we strolled in to find a tapas supper in a café.
Tues 17th June
Early start & another walk along the mole to do some chores & provisioning.
Then into the City again to walk the walls & narrow shady streets, wander through the gardens & squares with their flowers & fountains, & generally be a tourist.  We had been here before, but were still able to find new sites, while revisiting other favorites.
Wed 18th June
A prompt departure from Cadiz with full main & genny, as the wind (from the west for what seemed weeks & currently west) was forecast to turn east – just what one does not want for the Straits of Gibraltar!
<![if !vml]>

<![endif]>
Within an hour it had died & the excitement was spotting & avoiding long strings of fishing lines being laid by small boats working with a larger fishing vessel.  Then there were some loud explosions from a military practise area.  It didn't seem to be a prohibited area & the fishing boats were unperturbed.  We continued motoring until midday when there was enough of a S.Easterly to sail on. Within 10mins it had risen another force & the first reef went in, soon followed by the second as the wind continued to rise.  With a big swell left from the weeks of westerlies this made for a very character building beat around Cape Trafalgar, but we were passing other yachts motoring, & I imagine some turned back.  We arrived at Barbate marina, dodging the tuny nets at the harbour entrance, at about teatime after 49nm.  After the formalities (always time consuming in Spain & Portugal) & sorting out the boat & soggy gear we just relaxed for the evening.
Thur

19th June

Early start from Barbate, to beat the wind, motoring with no wind.  Then it arrived, on the nose force 5, with a very nasty sea so we motorsailed .  Just before Tarifa we watched a plane scooping water from the sea to bomb a fire high on the hills – I imagine because it was threatening a line of wind turbines.  After Tarifa island we entered the Straits of Gibraltar, although the Rock itself was shrouded in haze.  We threaded our way across the Bay between anchored ships, & tied up in Marina Bay, Gibraltar just before 2 in the afternoon. 35nm.

A 'reminder' stroll around the town & along Main Street.
Fri 20th & Sat 21st June
In Gibraltar.  Usual provisioning run, but in an 'English' supermarket (Morrisons) – odd to be able to get all the old favorites.
Then a cable car trip to the Upper Rock to visit the cousins (apes), who seem totally unfazed by all the cameras clicking away at them.
<![if !vml]>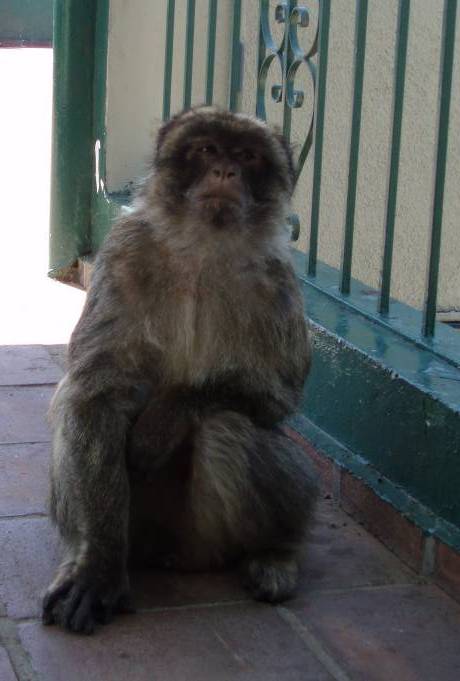 <![endif]>
Strolled down to the middle station to pick up the cable car down, & then had a walk round the Botanic Gardens near the base station.  In one shady pool the 'stepping stones' turned out to be terrapins. No wonder the stepping stones were odd sizes.
Saturday more round tuits, & more strolling.  Main Street was busy with buskers, firemen doing a charity 'hose' run & a band of Redcoats playing.
Sun 22nd June
Departed Gib via the fuel berth, on a full sail beat.  On the East side of the Rock we had several forays from dolphins, & another early afternoon visit as we carried on up the coast.  Tea time the wind went light, the engine on & we got into Fuengirola mid evening after 61nm.  Spain beating Italy in the footie & another exuberant Town!
Mon 23rd June
Made our number with the Port, then a motoring start in very little wind & a hazy day.  About lunch time it filled in enough for us to hoist the kite for virtually the rest of the day.
Tea time a first for us – a swordfish jumped out of the water abeam of us, & then obligingly jumped several more times so we had a really good view – a real silver sword about a metre long, coming clear of the water in a gleaming arc.
Mid evening & 58nm we anchored off the little town of Calahonda, with 60m of chain out. Another long day.
<![if !vml]>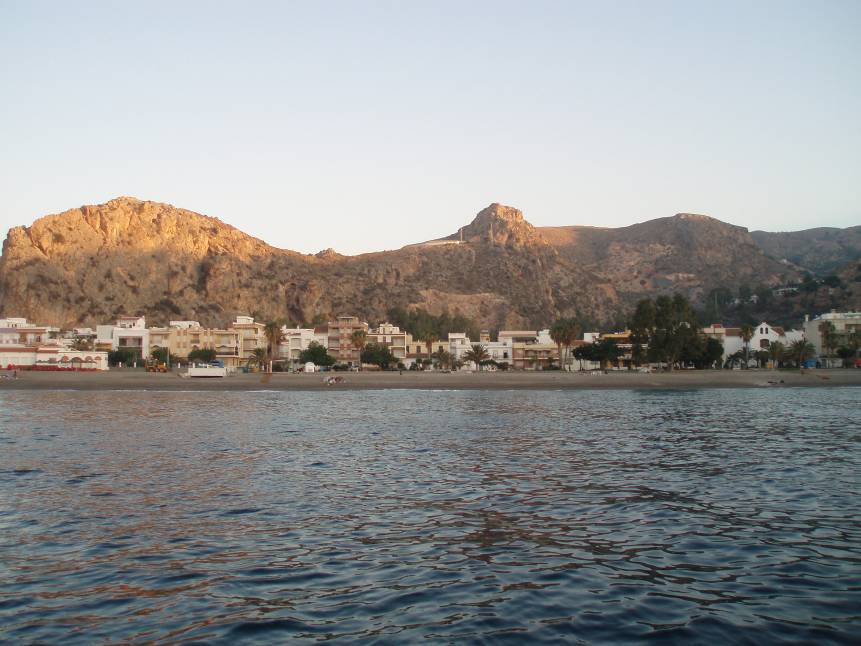 <![endif]>
It looked a very nice town, & we later discovered (as it went dark) that it was a local fiesta day when the villages light bonfires along the shore. I counted at least 14 & these were large piles of wood so they flamed high for a long time, & the locals stayed up too.
Tues 24th June
Early departure, although the people of Calahonda were already tidying their beach, as despite there again being virtually no wind a nasty swell had developed which made the anchorage uncomfortable.  It was hazy again, a great pity as this stretch of coast would be pretty spectacular with its dramatic headlands & the Andalucian mountains behind.  The wind played with us, & we had short spells when we could sail, then it would die & we motorsailed again.  We saw a few fishing boats & some dolphins passed us 'on a mission' – the nearest fishing boat!  A small ferry popped up out of the haze, & further out some large rig or cable vessel was being escorted by several guard vessels.  Early evening we got to the anchorage at Cabo Gato, even in time for a swim.  66nm.
Wed 25th June
Depart the anchorage, for a light airs full sail beat, staying a bit closer to the coast so we could see the coast.  The day's interest was seeing, in close succession 2 turtles.   No idea of the species, the first was about 60cm, the second about half the size.  As far as we know turtles are not likely to be swimming in company, so it was a coincidence seeing 2.  Tea time the wind dropped & we motored for a spell, saw another swordfish jump, & arrived at an anchorage at El Hornilla, Puerto Aguilas.   63nm & 2 attempts to get the anchor to bite because of weed.
This anchorage was in a very enclosed bay with a small islet, home to gulls sheltering one end, & part occupied by numerous lobster pots.  We were surprised no one else was anchored there.
Thur

26th June

In the morning diggers were working reshaping the hill above the bay at El Hornillo.  There is apparently a mammoth development underway so in a few years time it will not bea secluded anchorage, a currently it is not a daytime one because of the dust from the work.  We motored away & soon were able to beat along the coast in a F3, predictably on the nose.  As we rounded Cabo Timosa it went light & variable & we motored into Cartagena.  36nm.

After a sort & tidy we went out to look around & have supper.  It was another round of the football, but seemed much more subdued even though Spain won again.
Fri 27th June
Part chores & part explore.  After walking through the town centre we took a lift to the Citadel up on a hill overlooking port & waterfront.
<![if !vml]>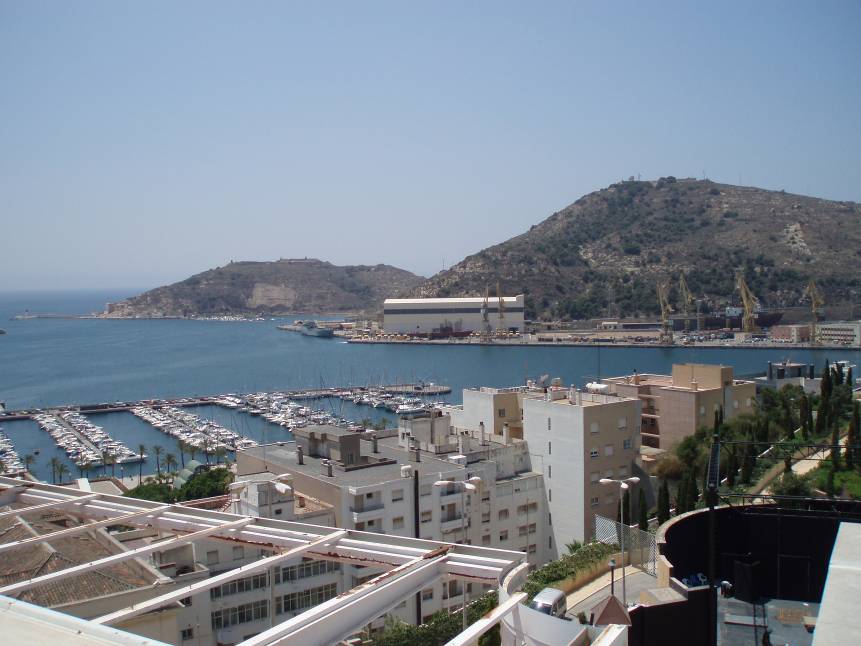 <![endif]>
In the mirador there we found a gang of peacocks, the source of a lot screechy noise the previous night.  Still, one of the chaps did display beautifully for us.
Sat 28th June
Another day in & around Cartegena.  Watching the waterfront was a constant source of activity, with its wide promenades & looked especially good at night with all the floodlit buildings reflecting across the harbour.  The variety of noise was interesting too, with opera competing with discos, & all with the peacocks!
Sun 29th June
Departed Cartegena nearly catching one of the stern mooring lines.  It had hooked over the bottom rung of our boarding ladder which we hadn't spotted when we dropped them.  Fortunately a boat opposite had & called out, so another lesson learned, luckily no harm done.
We had a beat along the coast passing wild rocky headlands with cliffs to deserted beaches, until we rounded Cabo de Palos & were surprised by the legoland & rubiks cubes of La Manga & other resorts stretching away northwards. We were able to crack sheets for Puerto Tomas Maestre & the entrance to the Mar Menor, a large inland sea( about 12m by 6m) which is separated from the Mediterranean by a sand bar, now covered in holiday developments.  We went in on the 4pm bridge raising & after another leisurely sail with just the genny anchored behind the little island of Perdiguera, with just half a metre under our keel!  39nm.  As it was sunday & a holiday area there were a lot of boats already there, but gradually they departed & we were left to ourselves & the birds (mostly gulls with young, & terns fishing). Perhaps the fact Spain were playing in the Euro football final had something to do with it.  They duly won & we knew because of the 360degree firework display.
Mon 30th June
We stayed put, swam, took the canoes round the island upsetting the gulls, watched people come & go, & had a thoroughly relaxing day.
This time we didn't have the place to ourselves overnight as several other British boats arrived together & anchored in a raft.
There was a spell of thunder & lightening overnight, but it only brought spits of rain & luckily no wind.