Sugar

'n'

Spice

– Diary July 2008
Tues 1st July
Prompt departure from the anchorage to catch the 10am bridge opening out to the Mediterranean again. Soon able to sail & arrived at Torrevieja about lunchtime after 21nm.  The usual masses of paperwork, complicated by the fact we wanted a berth for longer this time.  But they found us one albeit in a fairly tight corner to get into.
Then our usual reconnaissance of the town.
Wed 2nd July to Sat 5th July
In & around Torrevieja. Very hot, but we caught up with some chores & round tuits & did the usual provisioning runs.  Doug did an oil change – the second since we left Levington, & I wound him up the mast to check the wind instruments.
One day we took the bus to some Salinas on the other side of Torrevieja, a part called La Mata, which is now a nature reserve.  We walked a trail there & were lucky enough to see some flamingos & (totally new to us) some black winged stilts.  Not surprisingly the name is an exact description, a black & white bird with great long spindly pink legs, about the size of an avocet.  And yes there were some of those there too, for comparison.
<![if !vml]>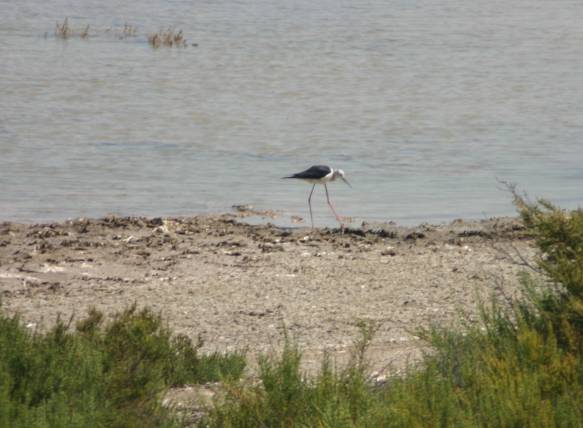 <![endif]>
We found lunch in La Mata, & then walked a length of beach & prom before catching a bus back.
On the Saturday we got a lift from John 'the hat', a marina resident, to Alicante airport, for our flight home.
Sun 13th July to Wed 16th July
Returned from the UK on the Sunday, to be collected by 'the hat'.  Nice of him as our flight was late in. 
Boat seems fine, but the wind is now strong from the NE – on the nose for the Balearics, our next intended destination, & not set to improve for a few days at least.  There are dire tales coming through from some locally based powerboaters who left for Ibiza as we returned to England.
On the Monday we dodged stormy downpours to do some provisioning, only to find as we returned from the supermarket that we had to wade to cross the roads – the rain had been so heavy that they were flooded about a foot or more deep in places!
Tuesday we checked out a 'green' route along the route of a disused railway line thinking it might yield a nice walk, only to find a long straight concrete road. Disappointing.
Wednesday was the Fiesta of the Virgin Carmen, the patron of seafarers & fishermen, so shops closed early, or didn't open at all.  There was a parade of sail through the harbour in the evening, followed by a superb firework display.  Not only were the manmade fireworks terrific, but Mother Nature put on an amazing lightening display, starting with sheet lightening out to sea which changed to forked lightening as menacing black clouds drew closer.  I don't recall seeing fireworks with a lightening backdrop before.  The Virgin must be pretty powerful as the last (man display) firework died away & only then did the heavens open.  The rain left the decks coated in red dust too.
Thursday 17th July
On the belief that last evenings storm was a 'clearing shower' we made a prompt departure to the fuel berth & then from Torrevieja, & headed up the coast. Most of the morning the wind stayed light so we motored, then the expected breeze filed in as we rounded Isla Tabarca (a nature reserve) & we started a beat towards Alicante. The wind dropped again & then filed in & increased  as we passed Benidorm, so we put in first one & then the second reef. About 8pm we crossed back from west to east of the Greenwich meridian, & anchored off Punta Mascaret for the night.  (61nm).
Another place with lots of development on the go, which was losing most of its anchorage (we had the one & only swinging space) & beach to 'works' for apartments & an extension to the aptly named Greenwich marina.
Fri 18th July
Prompt departure & after passing Calpe & its spectacular rock the breeze kicked in with a N or NE 2 to 3 for a nice close hauled sail. We upset a much bigger Spanish yacht, who having motored past us decided to sail, but then had to start his motor again to stay ahead.  After a midday spell of motoring in light wind then were able to sail close hauled again, until early evening we anchored in Cala Jondal, Ibiza.  (63.5nm).
[Cala means cove or bay & they are used as anchorages as they are sheltered at least from some directions, are often very attractive, but also as there is a shortage of berths in the islands especially for visitors].
Cala Jondal is very close to Evissa, the main town, & the whole time we were there there was a constant coming & going of boats of all shapes & sizes, but with a preponderance of large many crewed powerboats & yachts.  We decided the important indicators were - a) number of satellite domes,  b) number of 'toys' hung off the back!  No chance of competing, but good entertainment.
Sat 19th July
Stayed in Cala Jondal.  People watching, swimming & a run ashore for lunch at a beach café.
<![if !vml]>

<![endif]>
Sun 20th July
Late morning departure from Cala Jondal, motoring to charge the batteries, west & then north between Isla Vedra (another spectacular rock) & Ibiza itself . We passed some very crowded calas then anchored at Estacia des Dins on Isla Conejero. (14nm). It too seemed fairly busy, but several boats departed later in the day so we moved position to better holding, & at the end of the day there were ourselves & another Brit. The swell coming into the bay made it a fairly rolly night.
Mon 21st July
Motored the 4nm across the bay to the anchorage at Sant Antoni de Portmany (Ibiza's 2nd town). The usual exploration & provisioning. The harbour & anchorage were busy with ferries, fishing boats & yachts & again there was a continuous changeover.  The discos & revellers were still going strong at 6.30 next morning. 
Tues 22nd July
After a wait (theoretically in a queue – which didn't really seem to exist) we got into the marina for water, & then motored (battery charging) to Cala Binirras, near Puerto Sant Miguel, & anchored behind  Islote Bernat – described in the pilot as looking like 'a statue of the elderly Queen Victoria'! (12nm).  The evenings drama was a Spanish yacht dragging its anchor not once but twice. On both occasions another Spaniard went aboard & let out more chain to stop her hitting Queen Vic. The occupants had gone to supper at the beach resturant & other people had chased around to find them, but they seemed oblivious to the hassle they had caused, & only after the second instance did one of them stay on board. The other entertainment was someone playing drums on the beach – very nice & to our surprise it finished 11pm ish – early for Spain.
<![if !vml]>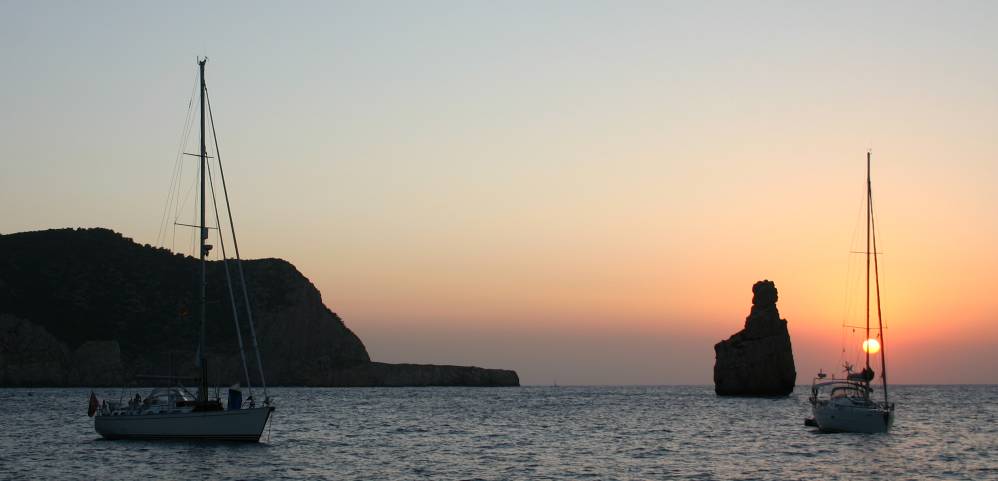 <![endif]>
Wed 23rd July
We stayed at anchor in Cala Binirras, but took the dinghy round to Puerto Sant Miguel. What a difference a bay makes. We found a whole holiday resort with hotels, shops & crowded beach, so it was soon back in the dinghy to our much more peaceful cala, for swimming, snorkelling & canoeing, & the evening drumming session! But no more escapee boats.
Thurs 24th July
Moved on 4nm to Xarraca Bay, a tiny secluded cove in the corner of a bigger bay. Later a very large powerboat anchored a bit further out & a group of 4 ladies gave us a cheery wave as they swam to the shore, a distance of about 1/3rd of a mile each way, wearing sun hats & chatting continuously. We were amused & impressed when 'the hats' went by two more times in the course of the day – we'd only done it twice.
Fri 25th July
Prompt departure from the anchorage motoring in light wind. We had the inflatable dinghy on the foredeck, the first time we have tried that & it seemed to work OK with a few bits to sort out. There were occasional boats about, all like us motoring as they crossed the Canal de Mallorca, between Ibiza & Mallorca. Late morning we saw in the distance what we thought was a porpoise – nice as there has been a lot less wildlife to see as we get further away from Gibraltar.  The wind picked up soon after midday & we had a brisk sail to our destination of Santa Ponsa, SW Mallorca, where we anchored in the bay close to the town at 5pm. (48nm). Did our usual reconnaissance, this time mainly to find where to 'park' the dinghy & find water.
Sat 26th July
Provisioning  & then we met some young friends, Chris & Amanda & their 2 young daughters for lunch They live & work in Peruga, the next town so were able to meet us in Santa Ponsa. It was a very pleasant interlude & I shall have to report back to Chris's mum back home. Found metered water supply & added several cans worth to the tank.
Sun 27th July
Did a 'water' run before leaving Santa Ponsa heading west with main & poled out genny. Waved to Peruga as we passed it, & as we got to the Dragonara Passage to head North the wind dropped & went on the nose so the engine went on. The coast was very dramatic – more rocks, well cliffs actually – & we anchored at Cala Deya. 26nm. Very narrow, very pretty & busy beach til quite late in the evening.
<![if !vml]>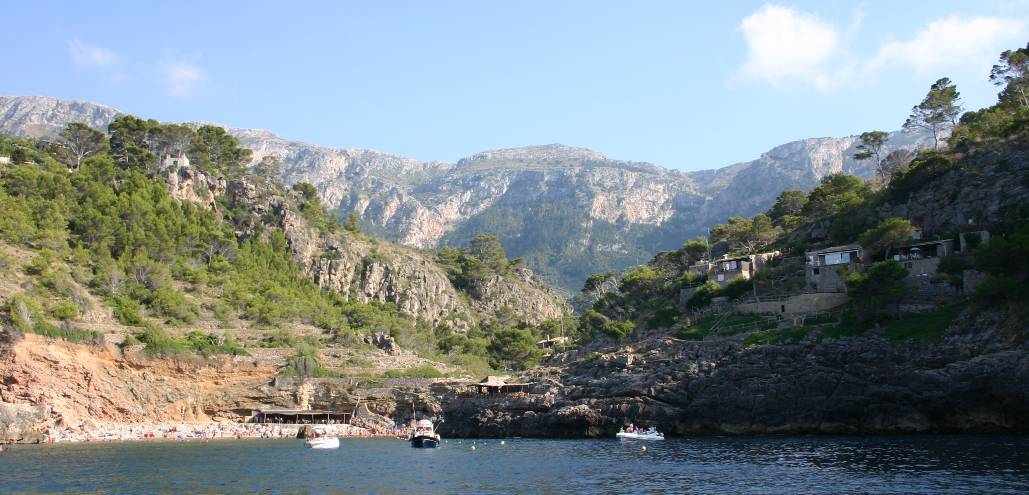 <![endif]>
Mon 28th July
Walked up a narrow road & then a hill track to the village of Deya ( a couple of kms from the Cala) with its connections to Robert Graves. Very attractive & sprawling up & down the hillside.
Then moved on 4nm to Puerto Soller & anchored in the harbour.  Usual stroll & reconnaissance.
Tues 29th July
Caught electric tram to Soller several kms inland & then electric train to Palma for some sightseeing - along the sea front, past the Cathedral & around the narrow streets of the old town, before returning by the same route. The trams/trains are about 100yrs old & in pristine condition & are used by both tourists & locals.  They pass through several tunnels on their journey through the mountain ridge along the Mallorcan west coast, with spectacular views over Soller.
<![if !vml]>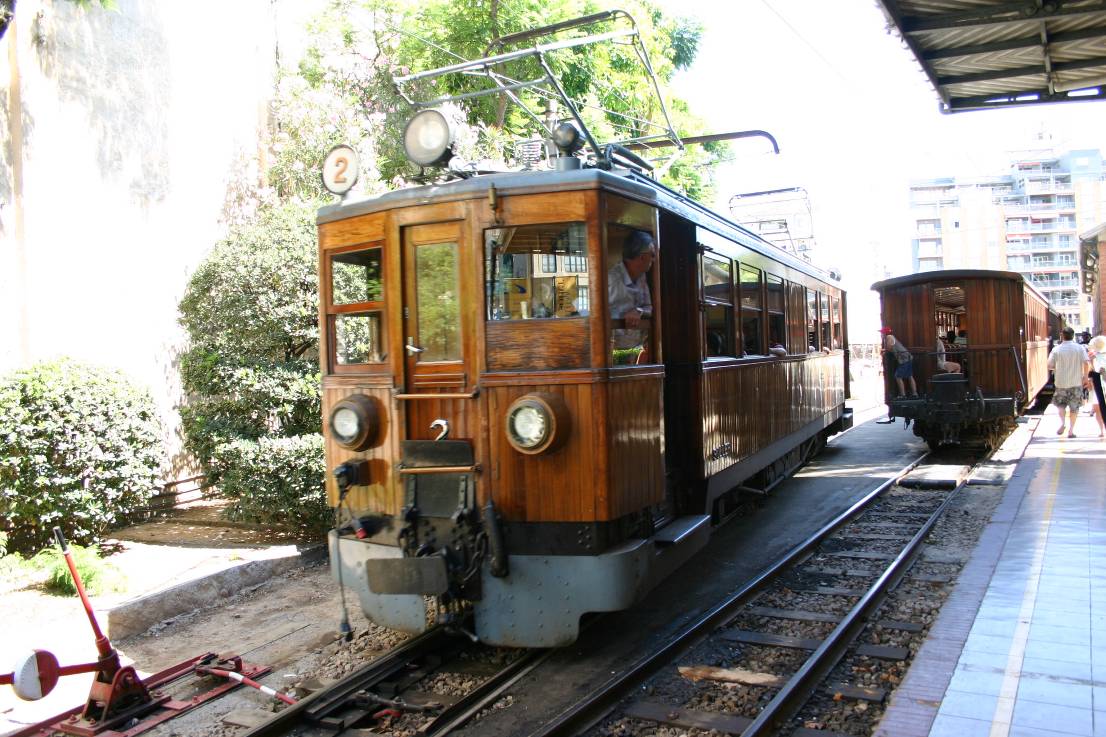 <![endif]>
Wed 30th July
Chores, water runs & another tram trip, but to look at Soller itself this time. A pleasant town with a relaxed feel & attractive old buildings.
Thurs 31st July
Left Puerto Soller to find log not working. On inspection it was encrusted with tiny barnacles like concrete, & that was after just 3 nights at anchor.
Another major trip of 8nm under motor for charging to Cala de la Calobra.
A very spectacular Cala with a cleft in the rock where a 'torrent' runs out after heavy rain. (Dry when we saw it). On the land side it is reached through tunnels cut in the rock.  The beach was fairly busy, a number of lads were 'tombstoning' & boats of all shapes & sizes were coming & going. A lot came into the bay just to look at the scenery.  At dusk there were only 3 remaining.