Sugar

'n'

Spice

– Diary August 2008
Friday 1st August
Took the dinghy to the beach – first people there! 
<![if !vml]>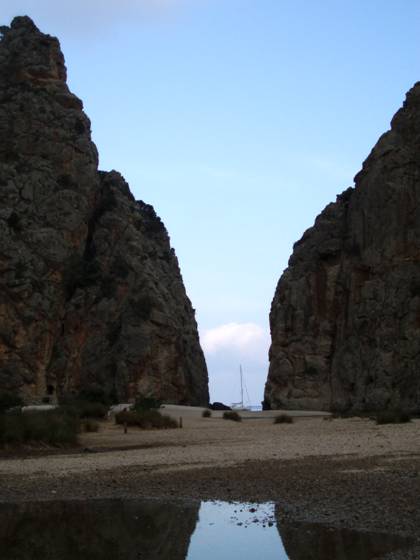 <![endif]>
Then walked up the gorge for a bit, it would be very dramatic when the water is running, there were various warning notices. The floor apart from the stream bed was covered in shrubs & home to various small birds, & we encountered some goats who seemed able to defy gravity up & down the cliff faces. Returned & walked through the tunnels linking to the next beach & a little tourist harbour, then back to the boat, up anchor & started to beat up the coast, full sail at first then we needed a reef. Late morning a pod of dolphins crossed our stern, but did not stay – bottlenose I think as they were bigger & greyer than the common dolphin we have mostly been seeing.  Early afternoon we bore away round Cabo Formentor & anchored in Cala Murta for the night. 30nm. It is common practice here for people to dive to check their anchor has set, or at least swim over it with a mask. Not something we would normally contemplate in our murky home waters. Here Doug actually moved the anchor away from a rock so it would set in sand!
Sat 2nd Aug
Mid morning departure for the 5.5nm to the anchorage at Puerto Pollenca – large area, but fairly shallow.  The bay of Puerto Pollenca has a Spanish Naval seaplane base in one corner & just after we had anchored a seaplane came in, landed & shortly after took off again, so we had a really good view. Went for usual recce & a walk along the prom.
<![if !vml]>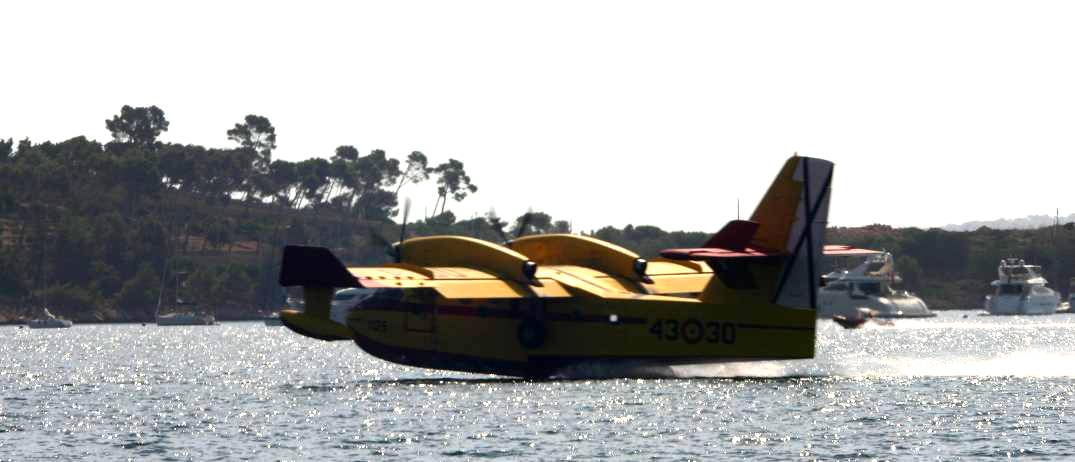 <![endif]>
Sun 3rd Aug
Went by bus a few kms inland to the town of Pollenca, which had a huge & good Sunday market, filling all the little streets. We climbed the 365 steps that lead to the Calvari, & a good view, & wandered to the outskirts to look at the Roman Bridge before finding a pleasant bar for lunch. The market yielded some lovely fruit & veg, then it was back to Puerto Pollenca & the boat.
[In the Balearics it is common to have the Port some way from the town proper as this was the first defence against the Moors, when the port was abandoned if attacked.]
Mon 4th Aug
Ashore, while theoretically still cool, to walk a track through the foothills behind Puerto Pollenca. This took us past a large old farm, & along a relatively green valley, with more goats, across the neck of the Formentor peninsular to look down on another little cala. Returning to the boat we left the anchorage & went round the next bay to Puerto Alcudia, with a lunchtime stop at Cala Pinar along the way. 12nm. Another large , but shallow anchorage.
Tues 5th Aug
Ashore & caught bus to Alcudia. This town has had its medieval walls restored, so the look very smart. It holds a regular street market, which we found full of tourist knickknacks & not very useful in terms of provisions. Just outside the walls we found the Roman remains including a forum & amphitheatre, & walked back through these to Puerto Alcudia.
<![if !vml]>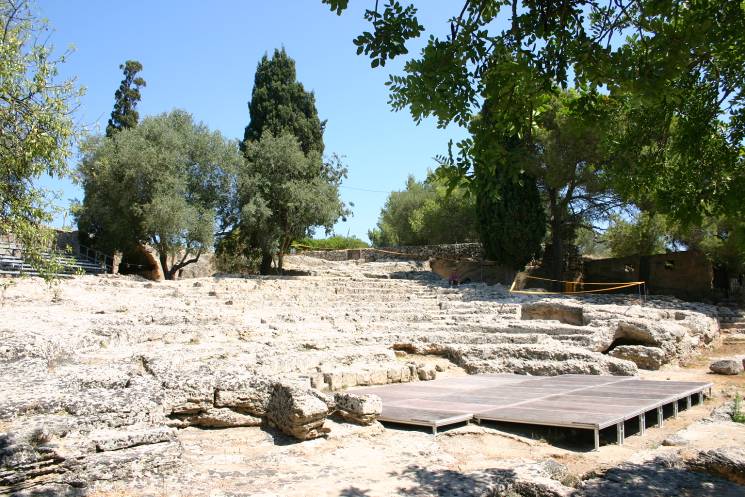 <![endif]>
Wed 6th Aug
An early morning trip to the fuel berth for diesel & water successfully beat the queues there, then it was back to the anchorage to go ashore for provisions, & then a late morning departure for  Playa Coll Baix just N of Cabo Menorca (5nm). Very clear water, but early evening a very uncomfortable swell picked up so we went back to an anchorage behind Isla Ancanada near Alcudia for the night. (4nm).
Thur

7th Aug

Prompt departure from the anchorage, first motoring in no wind, then some sailing interspersed with motoring or Doug fishing (usual result) when the wind dropped off. We set the brollies as sun shades. About tea time anchored in Cala Con Saura, Menorca – 38nm.  A large cala with 2 beaches. We swam ashore to one beach, walked across the rocky headland between them & came back from the other – able to walk most of the way, it was so shallow.
Fri 8th Aug
A windy morning so we stayed put at anchor, & did more swimming & snorkelling later.
 

Sat 9th Aug

Moved 5nm along the coast to Cala Trebeluja. An enchanting little cala with footpaths leading up over the headlands each side & a stream coming in at one corner. We took the canoes up the stream for about a mile, first through a wooded gorge & then an area of reedbeds, until it got so narrow we had to turn round. Lots of birds flitting about in the reeds (not easy to identify), some large grey heron whose fishing we disturbed & then, feeding on a carcase, were some terrapins (or turtles). They slid underwater & disappeared as we approached, but were back eating again when we turned back.
Sun 10th Aug
Fairly early departure from Cala Trebeluja (motoring, no wind). We took a brief detour to look at Cala Covas – very narrow & already with quite a lot of boats anchored, but quite spectacular with cliffs either side with numerous caves & then on to anchor briefly in a busy Cala Binebeca. I canoed ashore to check out the facilities while Doug guarded the boat against 'dodgems' – round motorised fun boats. On our way again we had a brief sail before the wind died again & we entered the huge natural harbour of Mahon.
<![if !vml]>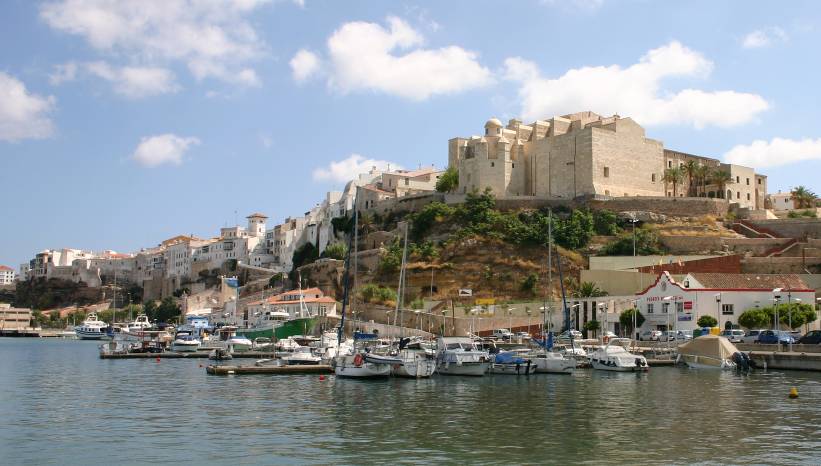 <![endif]>
We were looking for water which we finally found at the fuel berth (although it was closed for fuel, to the dismay of a Portugese yacht), but we were impressed with what we could see of Mahon & surprised at the extent of its waterfront. It seemed impractical to try & anchor & visit for just an hour or two, so that will be for another time. Leaving by a different channel we unfurled the genny & sailed on to Cala Es Grau (or Grao – depends on which book) where we anchored for the night. 33nm. We rounded off the day by canoeing to the little village & visiting the local fish resturant for supper – very nice & we managed not to get wet bottoms.
Mon 11th Aug
A prompt start from Cala Es Grau found us sailing as soon as we were out of the cala. We had some tidying to do as the canoes had been left draining overnight, but once we had cleared them away we poled out the genny & had a glorious sail. Mid morning Doug saw the spout from a whale, then we both saw it spout again & the back break surface. Exciting. Apart from that we saw the occasional ship, a few seabirds & the wind stayed a force 4 or 5 varying between S & SE so we were alternately poling out the genny or not. We only had the engine on late evening to charge the batteries.
Tues 12th Aug
The wind & our progress continued through the early hours. Early morning a single dolphin jumped in our wake, then mid morning things got more boisterous & we put in first 1 reef, then the second & arrived at Bandol, Southern France at around lunchtime, having logged 198 nm. You could smell the pines! A pleasingly fast passage under sail the whole way. Also our first marina for a month.
They even put on a search & rescue demonstration with lifeboat & helicopter on the quay that evening.
Wed 13th Aug
Explored the town & found a seafood lunch for Doug.
Thur

14th Aug

Relaxed start from Bandol & E along coast with a mix of motor & sail depending on wind. Quite dramatic cliffs & hills behind. 18nm & a lunchtime arrival in Toulon. Good timing as a NW gale forecast meant lots of boats were seeking shelter & early evening we watched them come in in droves.
Fri 15th Aug
Watched & waited as the gale materialised. Very wearisome with the noise & movement.  Is this the dreaded mistral?
Sat 16th Aug to Tues 19th Aug
In & around Toulon.
Saturday Doug off colour so we did some chores & had a look at the market, followed in the evening by drinks on board Bryanne, another D40 with owners John & Jane & their friend Stewart, over from Hong Kong. Very pleasant.
Sunday we went along the coast path to the resort part of the city, Mourillon, with lovely, albeit busy beaches. There was an air display with some very good teams of jets doing formation flying & various breathtaking stunts.
Monday we took the cable car up Mount Faron for a very pleasant walk along the ridge. Spectacular views both south over sea & city, & north with a shear drop to the valley floor & on to more hills & valleys.
<![if !vml]>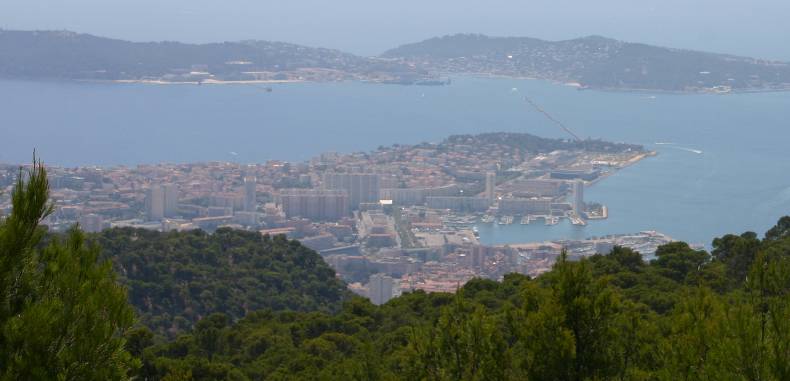 <![endif]>
Tuesday we caught the train along to Hyeres & the airport for a trip home.
Tues 26th Aug
Return from UK in time for a provisioning run & meal out at a waterfront resturant.
Wed 27th Aug
Sort boat & depart for a very slow sail in very light winds to anchor at Baie de Langoustier on Isle Porquerolles. 10nm. This is one of the group called Hyeres island, & being part of a nature reserve is wooded & very attractive. The island & anchorage were also very busy.
Thur

28th Aug

Relaxed departure, motoring as no wind, for Corsica.  This trip was a real contrast to our passage from Menorca, as apart from 30mins in the early evening the wind did not materialise at all, so it was motoring for all but that half hour!  The flat sea did make it easy to spot things though, & most other pleasure craft were motoring towards France not away from it. There were also a few ships, mostly ferries on similar tracks to us, & some escapee inflatable toys that had been taken over by birds.  About midday I watched an odd dome shaped bit of flotsam, wondering if the autohelm would make a bee line for it, when the 'dome' raised its head & a very big turtle paddled leisurely by. We also saw groups of dolphins on 2 occasions but they were shy & passed by in the distance, then  around 6pm a whale (checking the books we think it was a sperm whale) about 20m long passed by. Fortunately it knew the rules of the road & passed port to port about 100m off.  It was a very dark night with no moon, & we were invaded by dragonflies, presumably attracted by our lights. It made going to the chart table quite a hazard with them all buzzing furiously at the screen & any interlopers.
Fri 29th Aug
With dawn we were able to chivvy the dragonflies away, although some corpses remained in lockers for some time.
Then just after 7am we anchored at Cargese, on the west coast of Corsica. 114nm & lots of engine hours!
After a couple of hours nap we went to explore the town, which sprawled up the steepish hillside to two churches facing one another, a 'Latin' & a Greek orthodox (they had once had a colony here).
<![if !vml]>

<![endif]>
Sat 30th Aug
After a morning stroll round the headland & back through the town again we departed for a nice sail across the bay, past the Isles Sanguinaires to anchor behind point de la Parata. 14nm.
There were lots of coming & goings as sightseers toured the point to view the islands & a small slipway on the beach also had lots of 'traffic' including jet-skiers who came out past us at very slow speed (no wash) with cheerful grins & waves before hitting the throttle further out.
<![if !vml]>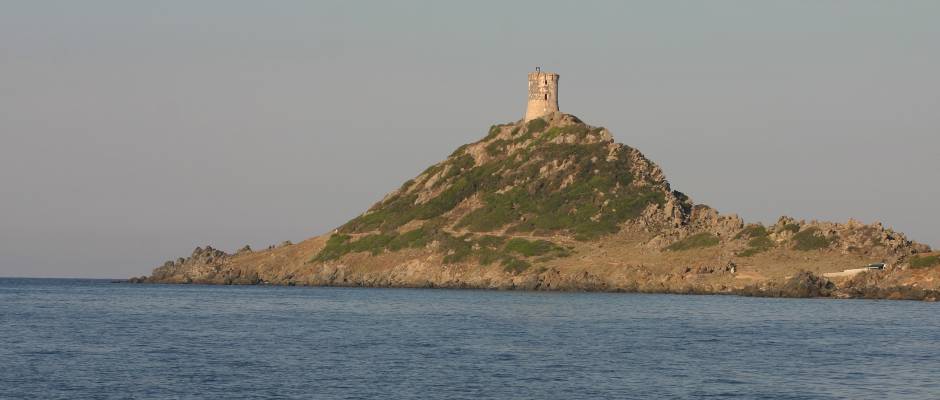 <![endif]>
Sun 31st Aug
A short morning trip to Ajaccio where we fuelled up before going into the Vieux Port Marina. On reporting to the Captainerie we were told to come back at 2pm (now almost midday) & it was emphasised that that meant moving right out of the marina. We were more than somewhat amazed, so filled the water tank & complied by moving to the anchorage in the port, so their attitude saved us the night's berthing fee! 8.5nm after all the fiddling about & we did need 30m of chain.
We spent the afternoon exploring Ajaccio, but found less to see than we expected.